Safari decoration-Today we do not decorate houses, we decorate important moments! Yes, as I tell you. Increasingly, the details and decoration become important in the most special and happy situations of life: parties, events, weddings, birthdays and births … they join the fashion of handmade and dress up to create really magical environments that Do not go into oblivion like that. With this in mind, today we propose a post with decoration different from what we usually use when we talk about home.
We try something more ephemeral but if you like it. It will remain forever in the memory of those who shared that special day with you. The themed children's parties increasingly appeal to children and adults. It only takes a little ingenuity and imagination to fully customize these moments and fill them with fantasy. So today we are going away from Safari. Do you come with me? Keep reading how can I keep a clean home when I live with a nasty roommate.
Baby shower safari decoration: Start with the invitations!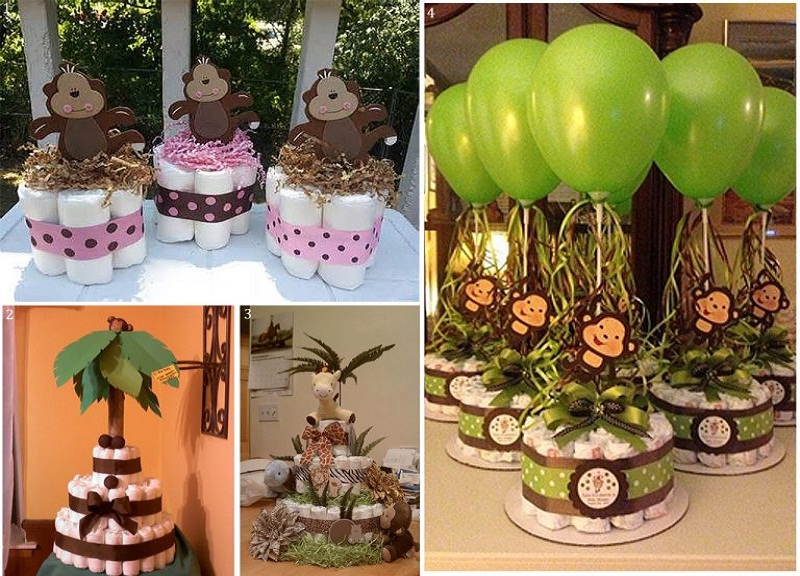 If you are going to set up a themed party it is important that you do not forget any details, starting with the invitations, which will be the first clue for our guests to open their mouths. Be inspired and find ideas that reflect the essence of your party, to avoid transmitting an erroneous message. Today there are plenty of resources to mark invitations and labels with style. Do not hesitate!
Look for a reason that is related to the theme we are dealing with, such as the funny bananas we see in one of the images, but if you want a good start … A good and personalized passport can be the beginning of our spectacular safari. What do you think of the idea?
Increasingly, baby showers are becoming more popular in our country. An original and fun way to welcome our little one can be to prepare a fun party with safari decoration.
Mountains of diapers and sweets with a wilder and more adventurous air can be a great combination, and although it is a theme that comes to mind for children's parties, there are also options for girls that I have loved! Changing the colors and with a little more delicacy … tachyon! Here we have some safaris the sea of ​​glamorous, do not you think?
Add a plus of fantasy to the decoration of safari-style children's parties
The setting will be very important to ensure success in our theme party. To get a perfect safari decoration, look for items related to safaris or the jungle to help you create a climate full of magic and fantasy. It is not necessary to fill everything with things, simply some well-selected details will suffice.
There are a lot of ideas and inspiration to put into practice but above all, if you want the most adventurous essence to be reflected in your party, here are the 7 essential elements that will help you get a Safari decoration:
Safari decoration: the essentials of Decor
Animal prints: Animal prints cannot be missing for your safari decoration. Zebras, giraffes and leopards will add that wilderness to your party. You can find some napkins of animal print paper what do you think about the idea?
Fruits: And if they are tropical, better! Bananas, pineapples, coconuts, watermelons … will give a lot of play when it comes to decorating and it will also be a healthy and refreshing snack. Do you cheer up with some fruit skewers?
Animals: To make our safari decoration a success … animals can not miss! Stuffed animals, plastic dolls, cardboard cutouts … Everything goes!
Green and brown: They are the basic colors to get a safari decoration but we can always do a reinterpretation to achieve different effects: With a touch of pink we will get something more feminine and if we bet on more pastel shades it will be perfect for elegant babies … we decided to!
Vegetation: Vines, palm leaves or the famous leaf that comes to mind when we think of the jungle, better known as Adam's rib. No need to plant a tree in the middle of the room, with a few leaves will be enough to get the green effect that we are looking for and if we cannot always resort to crafts!
Adventurous accessories: Some adventurous details such as typical explorer hats, binoculars or compasses will be the final icing to finish putting us in situation.
Party decoration: With so many safaris do not forget that it is a party! Some balloons, some pompoms and some fun sackcloth pennants will give the festive touch to our original celebration.
Safari decoration for birthdays with delicious delicacies fresh from the jungle
I encourage you to add a fantastic point to the food and the presents in a creative way: animal-shaped cookies, animal print trays, bananas for monkeys, peanuts for elephants and some animals walking around the candy bar.
But you can also put imagination to the containers and containers you use to present the delights of your party:
Do not forget the cake either! nowadays they are authentic marvels with fondant but if you are more of homemade cakes and simple, customize your cake with some details that remind us of the jungle, some cute plastic animals can be good allies What do you think?
Finally, the fun has to be guaranteed. Help your guests spend their pipe in your party. Ingenta some fun game, a pinata, costumes or a photo call and finally think of some funny detail to finish your party safari high. Do not lose detail because there are surprising proposals that you will surely love!
Dress up our celebration and fill it with details and love is what will make our celebration even more special and become something magical and unforgettable. So I encourage you to get down to work because I'm sure the effort is worth it.
Tags:
Baby shower safari decoration
,
Safari decoration