You want to give your home a different, striking and special touch? Then white walls can be perhaps a little bland, so the thoughts we show you today that yes you can like … This is different prints for your walls; You can dress the flowers with stripes or tropical drawings. And you can enter through different materials and techniques. Want to know how to create original environments and personality? We'll tell you then.
Wallpaper for your walls
One of the most common look that your wall is a nice patterned ways through the placement of wallpaper. Contreras a lot of reasons ideals, depending on the style you want to give your house more modern or more classic, romantic or vintage, if it is for a youth room, children's or master bedroom …
Geometric forms
A pattern that I really like and that we saw a few days ago in the tiles is geometric. It helps you create highly original and colorful if you bet stays vivid hues, but you can also choose softer colors if you wish. The important thing are the lines and design. These prints can introduce them with wallpaper, vinyl or even painting your walls if you're crafty in this brush. The result, as nice as this:
Adhesive vinyls
Like I said, the vinyl become another option to decorate your walls. You can choose different patterns, including letters and phrases. They are easy to install and allow you plenty of possibilities.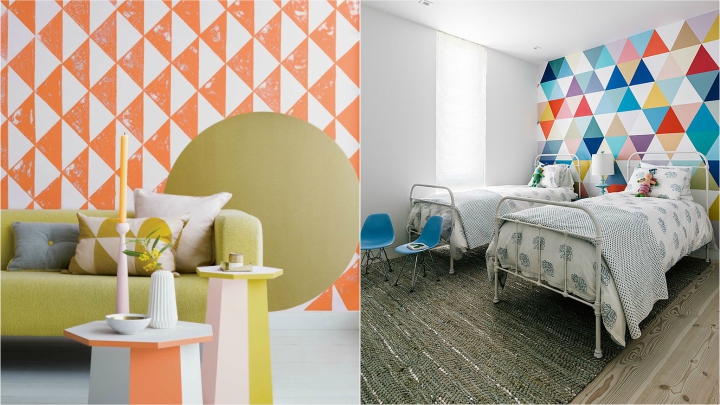 Moles
Another pattern that I like very much for the walls is the moon. You can put small or large adhesive vinyls points along the entire surface of your wall, thus providing an amused and original your stay.
You may also like to read another article on houseilove: What is the best color for my home?
Walls of flowers
On the other hand, flowers are a few patterns that look much on the walls. They allow you to design a decoration with country style or Provencal, with touches very romantic . It will be great if only you let a wall with this pattern combined with the rest in neutral tones to highlight much without overloading, since depending on how the drawing is complete all pared with it can be a bit overwhelming. You can choose small or large flowers in soft tones more vivid colors, with tropical style if you like.
A mural
If you know someone who draw and paint well it's time to decorate your walls with a beautiful mural. For example, if it is for a teenager room will look great with style graffiti, for a child's bedroom are ideal motif of his favorite cartoons, clouds or stars, and if it is for a stay of adults my preferred choice are the illustrations.
A wall or all?
It depends on the chosen theme to decorate your walls, because if it is something soft and light you can fit on every wall, but if it is a powerful print is recommended that you book only for one of them, to become point focal length of stay and attract all eyes. Click http://www.windowsfs.com/ to know more reviews.
Tags:
Stamped decoration
,
wall decoration