Approaching the Christmas and decorating your home can not miss a tree. If this year you want to do something different and original I encourage you to try one of these three crafts . They are three different designs and easy to make with which you will create a very special decoration for your home. We get to work to make our personalized Christmas tree.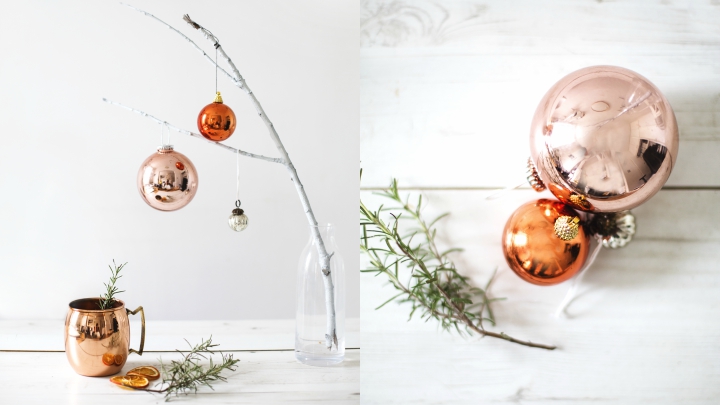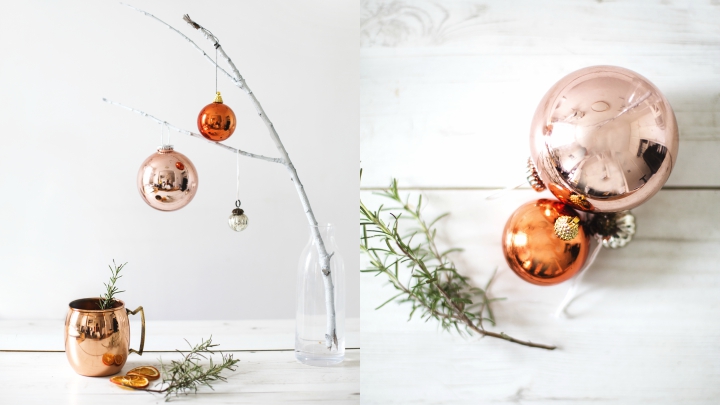 One branch it may be enough
The first DIY I teach you is from The Lovely Drawer blog and it can not be simpler or more beautiful at the same time. Simply place a branch in a glass container and hang some balls in one of the smaller ones that come out from the big one. Make sure they do not weigh much so they do not break.
You can create a beautiful composition by adding some fir leaves, for example. The contrast of green is precious in the set.
Christmas trees with books
The second idea I have seen in the Media tinker blog. If you are passionate about reading you will love this Christmas tree. In this tutorial they have worked making holes in books. If you do not want to do it, you have several options: buy old books that cost you very little money, take notebooks and paint the covers so they look like books or make them yourself with some folios and a little cardboard. If you drill holes to pass the structure the tree will be much firmer and safer.
These are placed upside down open in the middle but, before putting them in this way, paint them in green and gold tones, for example, so that they have a very Christmas color. If one of the covers you especially like you can leave it unpainted.
Assemble the rod
As explained in the tutorial this step was more difficult than expected. It is about that the books are in the position that you want and it may not be at all easy to thread the rod and hold everything as you wish. It's a matter of patience. If you use a stick that is too flexible, the tree can be tilted. Every three books a spool of brown thread has been placed.
You may also like to read: 5 decorative ways to wrap Christmas gifts
The final decoration
Once you have mounted your tree, you will only have to place the lights and the star on top. And look how beautiful it looks.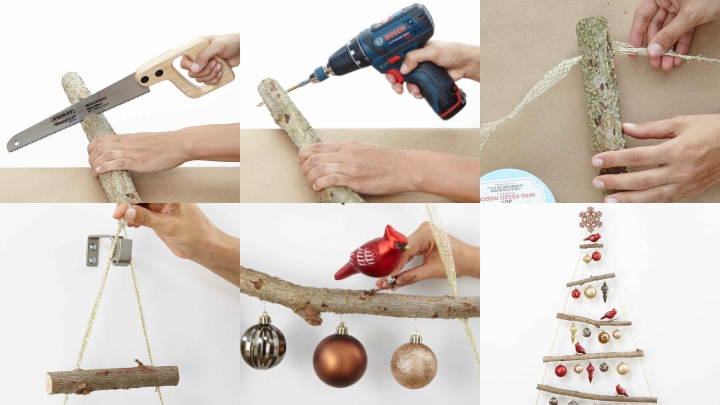 Tree with branches
The third tree is the work of Martha Stewart and to do it you will need six branches, a saw, drill and bit, brass cable, a rope and Christmas decorations.
Step by step
First cut the branches into pieces, from smaller to larger. Choose your measurements for the hole you have available for your tree.
Next, drill a hole in each end of each branch, a few centimeters from the edge. Do it on the diagonal so that the tape that passes through all the holes is straight.
Next, cut a piece of string long enough for both sides of the tree, and leave a little more at the ends to make the knot on the top and hang it on the wall. Turn one end and pass it through the holes on one side, from the smallest branch to the largest branch. Tie a knot under each one so that they stay securely fastened. Repeat in the other side.
It's time to decorate … you can put balls, some bird or any other adornment that you like. It will be the moment of the total customization of your Christmas tree, so put Disney balls, white balls of Nordic style or a thousand colors.
Tags:
Christmas trees