Your bedroom's primary purpose is to be your personal haven. It's where you rest after a long day, and it houses your personal belongings like clothing, shoes, etc.  However, when you have a bedroom that measures about 80 square feet, it can be difficult to fit all your things, let alone a queen-sized bed. But fret not because you can still make the most out of your sleeping space, no matter how small it may be.
You don't necessarily need a lot of space to create a comfortable bedroom. There are various ways to make the most out of it – from adding more storage to modifying some parts of your room. Here are some tweaks that you can do to maximize your small bedroom: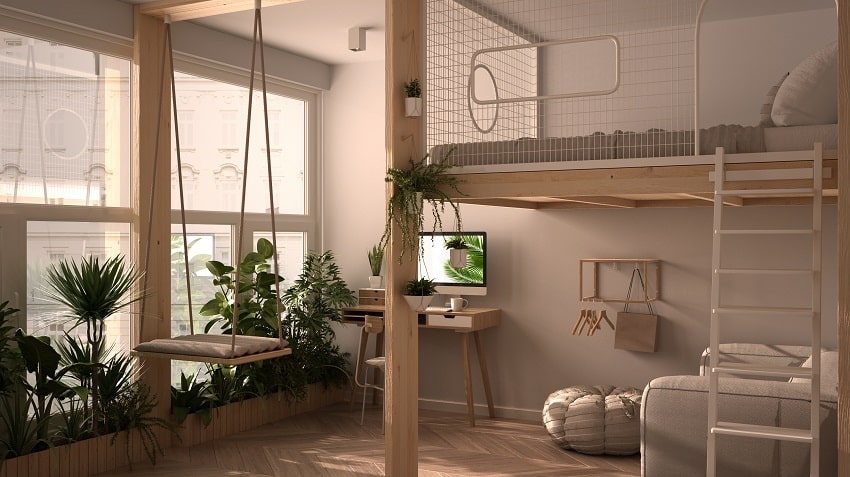 Increase Your Storage Space
While it can be a little difficult to keep your room tidy due to space constraints, it's not entirely impossible. There are creative ways to organize and keep your bedroom clutter-free. Creating more storage to store your clothes and other stuff is one way to organize and maximize your small bedroom.
It can be challenging to get a good night's sleep when your room is crowded. So, the first thing you need to do is get rid of the stuff you no longer use. Next, turn the free spaces into storage areas to keep your things away from view. One of the smartest – and probably easiest – ways to do this is to use storage containers or bags and put them underneath your bed. Another option is to add a trunk at the end of your bed. It may occupy some space in your room, but it can be helpful as you can use it as storage and as an end-seat at the same time. 
Optimize Your Bedside
Aside from the containers under your bed and adding an end-of-bed trunk, you can also increase your storage space by adding bedside tables to stash away your clothes and other essentials. The possibility is endless as you can also use it to store books, pillows, and other small items. You can also maximize it by putting a lamp on top of it as an extra light source during the night.
However, if you're worried that a bedside table might take up too much space, you can choose to mount a floating nightstand next to your bed. It will allow you to have more room underneath to keep clutter-free. Hanging other furniture in your bedroom can be a great idea if you have limited floor space. 
Opt For Double-Duty Furniture
Having a small bedroom shouldn't limit you from adding more furniture. Another easy and cost-efficient hack to maximize your small space is choosing pieces that can offer multiple functions. Doing this helps limit the amount of furniture in your bedroom, save space, and significantly increase your storage space.
Apart from a bedside table that can also act as a storage and nightstand, you can also add a bookcase that can double as a room divider. A dresser than can double as a TV stand can also be a great addition to your room. Ideally, these pieces of furniture should accommodate as many items as possible so you can make the most of them. Just find the right spot in your space, and these pieces can greatly help maximize your bedroom. 
Install Floating Shelves And Cabinets
If your double-duty furniture, chest drawer, and bedside table are taking up too much space, you can install floating shelves instead. They can help keep your room clutter-free and free up more floor space in your tight bedroom. You can use open shelves to keep your books, plants, and other personal objects that you want to display.
On the other hand, you can opt for floating cabinets to keep your clothes and other unused items you want to put away. It's best to install them as close to the ceiling as possible to allow more floor space. Just ensure not to put too heavy items in the cabinets and have a sturdy ladder ready should you need to get or retrieve your things. 
Incorporate A Loft
You can also consider adding a loft in your bedroom if you have limited floor space but higher ceilings. It's one of the best space-saving solutions for small rooms and can make your bedroom look bigger. The loft is ideal for a sleeping area with seating, closets, or working space underneath. It'll turn your room into a multipurpose and compact space and make it more stylish and functional. However, adding a loft platform can only be an innovative and ideal solution to your small bedroom dilemma if you don't mind climbing into your bed from time to time. 
Conclusion
Every square foot count when you've got a pint-sized bedroom. It's good news you can still turn it into a cozy instead of cramped space through some creative modifications. You can also make the most of your small bedroom by finding spots that you can turn into either a workspace or a free space where you can move around. Now that you've learned some tips to do it, it's time to transform your small bedroom into a comfortable and functional space!