The holidays are a magical time filled with joy, togetherness, and celebration. As the days grow shorter and cooler, excitement builds for festive gatherings with loved ones. Twinkling lights, evergreen wreaths, and the scent of cinnamon and pine fill the air. There's no better time than Christmas to spread cheer and create lasting memories with friends and family.
One of the best ways to set the tone for a warm and welcoming holiday season is through your elegant Christmas decor. Your home decorations reflect your style and flair for entertaining. Whether you prefer a classic look with rich traditional colors and accents or a contemporary minimalist vibe, your decor choices help create an ambiance that sparks joy.
Follow along for Christmas decorating ideas, tips, and inspiration to turn your home into a winter wonderland, no matter your decorating style or budget. Let's make this holiday season extra special with elegant decor that wows your guests and makes lasting memories.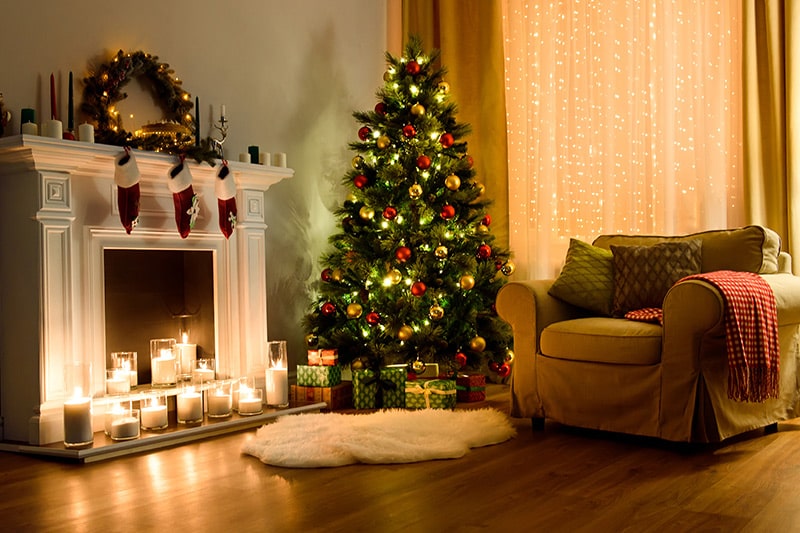 Plan Your Holiday Elegant Christmas Decor Theme
The first step in creating showstopping Christmas decor is deciding on a cohesive theme or color palette. This helps inform all your design choices and pulls each element together into a thoughtful, intentional look.
Consider what vibe you want to cultivate in your home during the holidays. Are you dreaming of a cozy, classic Christmas reminiscent of beloved childhood memories? Or do you prefer a glamorous, modern atmosphere with metallic accents and candlelight? Decide whether you want your decor to feel traditional or contemporary.
You can also choose a color scheme for your Christmas decor. Classic red and green instantly evoke the holidays. But don't be afraid to think outside the box with unique color combinations like burgundy and gold, icy blue and silver, or emerald green and champagne.
Once you settle on a decor theme or palette, stick to it throughout your home for consistency. Infuse meaning through decor that has personal significance for your family. For example, display treasured handmade ornaments from your childhood or incorporate greenery collected on a recent hike with loved ones.
Most importantly, choose a style that sparks joy and fits your personality. With a clear vision in mind, you can start collecting pieces or DIY projects to build the holiday decor of your dreams gradually.
Elegant Christmas Decor Outside and Inside
Elegance is all about sophistication and refinement, and it can be easily achieved in your Christmas decor. Here are some tips on how to create an elegant Christmas look both inside and outside your home:
Outdoor Christmas Decor
Use white or warm white lights. White lights are more elegant than colored lights, and they will create a soft, inviting glow.

Decorate your trees and shrubs with lights and garlands. Be sure to choose lights and garlands that complement the color of your home.

Add a wreath to your front door. A wreath is a classic Christmas decoration that can add a touch of elegance to your home's exterior.

Place a few potted evergreens on your porch or patio. Evergreens are a symbol of the holiday season, and they will add a touch of greenery to your outdoor space.

Add a few festive touches to your mailbox and lampposts. You can decorate with lights, garlands, or even small ornaments.
Indoor Christmas Decor
Use a monochromatic color scheme. Choose a color scheme that you love and stick to it throughout your home. This will create a cohesive and elegant look.

Use natural elements in your decorations. Evergreen branches, pinecones, and berries are all great ways to add a touch of nature to your Christmas decor.

Decorate your fireplace. A fireplace is a focal point in many homes, so it's important to decorate it for Christmas. You can hang a wreath above the fireplace, place stockings on the mantel, or even put a small Christmas tree in the hearth.

Add a centerpiece to your dining table. A centerpiece is a great way to add a festive touch to your dining table. You can use candles, flowers, or ornaments to create a centerpiece that reflects your style.

Decorate your staircase. Your staircase is another great place to add Christmas decorations. You can hang garlands on the railings, or place ornaments on the steps.
Elegant Christmas Trees
The Christmas tree is the beautiful centerpiece and focal point of your holiday decor. Make it shine with elegant adornments that complement your theme.
For a glamorous tree, opt for metallic ribbon garlands and ornaments in golds, chrome, or colored mirrors. Wrap gifts under the tree in coordinating paper. Add crystal tree topper stars or light strands to make it sparkle.
A natural, organic tree decor looks stunning with natural elements like pinecones, cinnamon sticks, dried oranges, grapes, and magnolia leaves. Wrap a neutral linen tree skirt around the base and use hemp rope or twine to make rustic garlands and bows.
Choose deep red ornaments mixed with cream-colored accents for a more formal, classic Christmas tree. Accent with faux fur garlands, velvet bows, or tartan plaid ribbons. Finish off the tree with Christmas flower blooms for an elegant touch.
Or take tree decor in a more modern, abstract direction with colorful sculptural ornaments and light strands layered throughout for visual depth. Place wrapped gifts in complementary colors underneath.
No matter which decor style you choose, look for quality materials like real wood, velvet, and glass. Lead your eye upward with ornaments getting larger toward the top. Add personalized ornaments with family photos or names. Pick a treetopper that aligns with your theme, like an angel, star, or bow.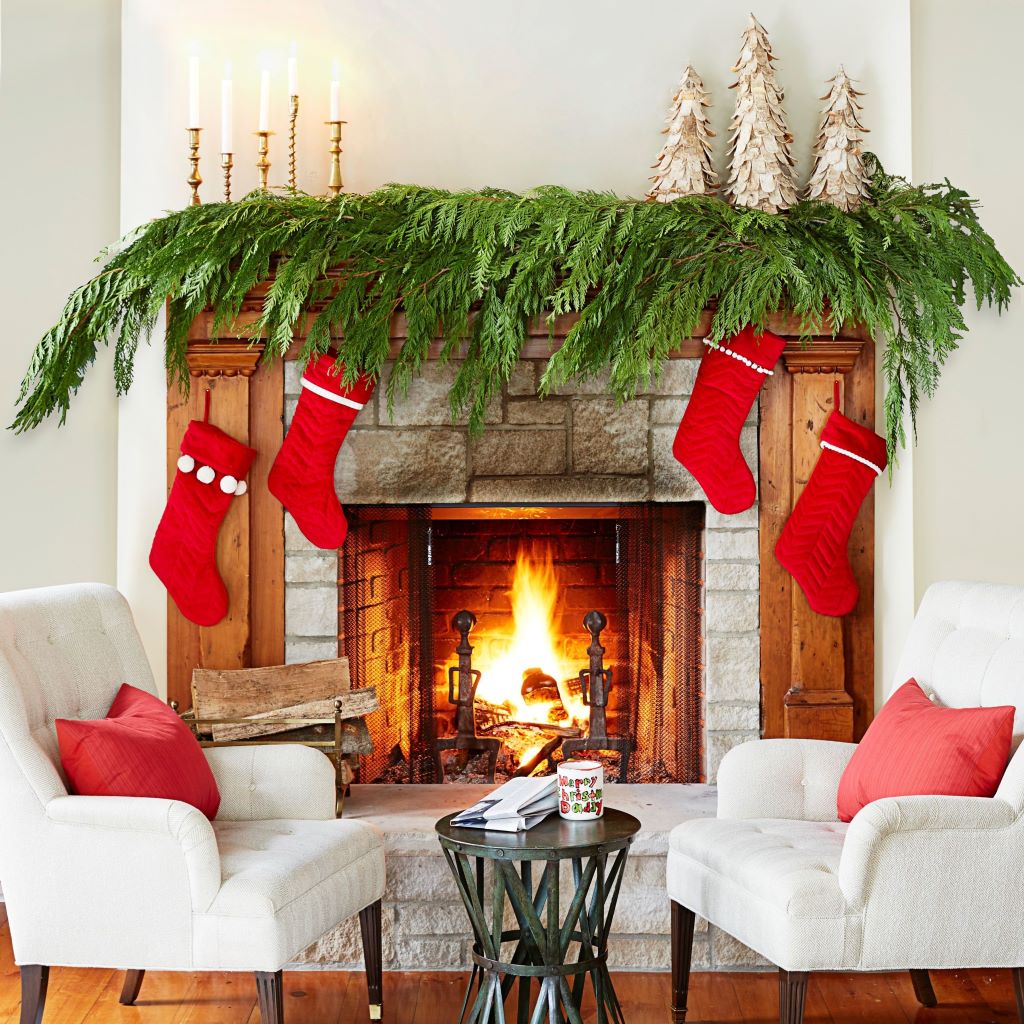 Festive Mantels and Fireplaces
The mantel or fireplace makes another excellent focal point for elegant Christmas decor. Decorate it from edge to edge to create a statement display.
For a warm, inviting ambiance, adorn a garland along the length of the mantel. Accent with clusters of red berries, pinecones, and metallic ornaments or candlesticks. Arrange stockings embroidered with family member names across the mantle. Lean a panel of Jospehine wallpaper against the wall above for a posh accent.
Or take a more modern approach with floating shelves in lieu of a mantel, styled minimally with a sparkling holiday candle, fresh eucalyptus, and ceramic decor. Place wrapped gifts or a live tree on the hearth below.
Include personal touches like nostalgic family photos in gilded frames or children's handmade ornaments. For a thoughtful gift, fill stockings with classic Christmas treats and small trinkets for discovering on Christmas morning.
However you style it, the mantel is the perfect spot for holiday greenery, from a full garland to simple sprigs of noble fir, magnolia, or holly. Their festive greens and pops of red berries instantly evoke the Christmas spirit.
Dressing Up Staircases and Banisters
Another area ripe for holiday decor is the staircase and banister leading to the second story of your home. Use garlands, lights, and more to infuse this highly-visible transitional space with Christmas magic.
For grand staircase decor, wrap the banister posts with lush garlands accented with red bows. Weave ribbon through the balusters. Outline each step with classic greenery like fir, magnolia, and holly bushes. Dot twinkling string lights along the garlands and ceiling above. The warmth and sparkle transform an everyday staircase into a focal point.
Alternatively, take a minimalist approach to decking the stairs and railing. Adhere white twinkle lights along the handrail and outline a few stair risers. Add simple holiday floral like red amaryllis or white roses in glass vases on select steps. The crisp, understated decor allows the beauty of your staircase architecture to shine.
For a child-friendly staircase, hang personalized stockings for each family member along the railing. Let the kids decorate the spindles with their handmade paper ornaments and snowflake garlands for a spirited display.
However, you dress them up, decorating the stairs for Christmas helps spread festive cheer from the moment guests walk in your front door.
Dreamy Outdoor Christmas Decor
Extend your elegant Christmas decor outside to make a statement curb appeal and entrance. The outdoor decor also provides a festive backdrop when viewed from within your home looking out.
For showstopping outdoor holiday decor, wrap lush garlands around porch columns and trail them along porch railings. Accent shrubs and trees in your front yard with strings of warm white lights. Line the walkway to your front door with metal luminaires or lanterns housing electric candles.
Place a pair of Christmas trees on either side of your front door decorated with ribbon, pinecones, and faux snow. Top with a coordinating bow or treetopper. Hang a hearty wreath on the front door itself and embellish it with holiday accents like holly leaves and berries.
For outdoor Christmas decorating, think of layers of light. Outline rooflines, windows, and architectural details with mini twinkle lights or laser lights. The magical glow makes your home feel warm and welcoming during the long winter nights.
Use outdoor-safe ribbons, garlands, greenery, and ornaments to deck surfaces like porches, potted plants, and lampposts. Look for materials made to withstand the elements like faux wreaths and greenery. Pick outdoor accent pieces that coordinate with your indoor decor.
Outdoor holiday decor announces to the neighborhood that your home is ready to celebrate Christmas in style. When combined with elegant indoor accents, it provides a seamlessly festive backdrop for holiday gatherings with loved ones.
Tablespaces for Holiday Meals and Parties
The dining table provides a canvas for creativity when designing a festive Christmas tablescape. Use holiday linens, chargers, dinnerware, flowers, candles, and decor to set the stage for elegant holiday meals and parties.
For Christmas Day dinner, dress the table in your best holiday linens like a red or green tablecloth layered over a natural jute runner. Roll silverware in complementary napkins and nestle on top of the charger plate. Choose decorative Christmas china patterns for salad, dinner, and dessert plates.
Adorn the center of the table with a bouquet of seasonal flowers like roses, lilies, and hypericum berries floating in a mercury glass vase. Surround with gleaming candlesticks and a ring of pine sprigs, pinecones, and cinnamon sticks for organic texture.
Or take a more modern approach with a minimal white tablecloth and matching napkins in a sleek linen material. Use matte black and gold-rimmed dinnerware for an elegant color combination. Style the centerpiece with architectural twigs and curated winter accents in mixed metals.
For a holiday cocktail party or open house, craft a festive bar or drink station. Use cotton lace table linens in jewel tones like emerald or sapphire. Display glass drink dispensers filled with holiday punches or cocktails. Accent with fresh cranberries, rosemary springs, and pomegranates. Layer white twinkle lights underneath bar trays for an ethereal glow.
With mindful design choices, your holiday table decor can reflect your personal taste while cultivating seasonal warmth and cheer. Elevate the everyday to something extraordinary.
Christmas Decorating for Small Spaces
Even small spaces can shine bright with Christmas magic. Follow these tips for decorating apartments, dorm rooms, and other cozy holiday nooks.
Make the most of apartment balconies and patios for holiday decor. Wrap garlands around the railings and accent with red bows and bells. Hang outdoor string lights above for a cozy winter glow. Use an outdoor tree or wreath to adorn sliding glass doors.
For dorm rooms, stick to minimal, multipurpose decor like washi tape with Christmas motifs to border doorframes and mirrors. Wrap string lights around bed frames or desks. Decorate with a small artificial tree on top of a storage bin or crate that can be packed away after the holidays.
Opt for tabletop trees to save space. Place them on counters, desks, side tables, bar carts, and more. Decorate mini trees with fun themed ornaments like a popcorn and cranberry garland or mini cookie ornaments.
Strategically place wall Christmas decor like wreaths, garlands over doors, and framed holiday prints. Hang decorative stockings from curtain rods or furniture to spread cheer without taking up floor space.
Candles and lanterns provide festive holiday sparkle while taking up little room. Cluster them on shelves, mantels, and tabletops. Use battery-operated taper candles for worry-free ambiance.
While small spaces limit room for decor, they provide a cozy, intimate backdrop for enjoying the simple pleasures of Christmas. Focus on a few statement decor items you can display creatively.
DIY Christmas Decorations
Adding handmade accents to your holiday decor infuses it with heartfelt meaning and personality. DIY projects allow you to create decor exactly tailored to your unique style. Plus, making decorations together builds anticipation and holiday memories with loved ones.
Here are some elegant DIY decor ideas:
Handcraft personalized stockings using faux fur, velvet, or wool blend fabrics. Add metallic embroidered names at the top.

Make giant ornament ball garlands from Styrofoam balls and acrylic craft paint. String them together and hang over stair railings and mantels.

Glam up plain glass vases and votives with ribbon, washi tape, and paint designs. Cluster them throughout your holiday decor.

Design nature-inspired ornaments like mini wreaths, cinnamon stick stars, and dried citrus slices embellished with ribbon.

Craft personalized gift tags and signs using lumber scraps, stencils or stamps, and calligraphy.

Sew classic quilted Christmas tree skirts and pillow covers, adding whimsical holiday fabrics and trims.

Knit stocking caps for evergreen shrubs and trees in your yard, decorating with faux holly and pinecones.
The DIY options for Christmas decor are endless. Not only do handmade accents save money, but they infuse your decorating with sentimental value that families cherish for years to come.
Christmas Decor Ideas for Kids
Children bring a sense of wonder and imagination to holiday decorating. Include kids in planning and designing Christmas decor to create a festive home everyone enjoys.
Have kids make construction paper chains or 3D paper snowflakes to string across windows and entryways. Provide craft supplies like glitter, puff paints, and stickers so children can personalize ornaments for the tree.
Let kids pick new holiday knickknacks as Christmas gifts to add playful personality to your decor. Purchase a new holiday-themed Lego set for assembling and displaying each year.
For younger kids, set up a Christmas corner with a small tree surrounded by kid-friendly decor such as plush toys, toy trains, picture books, and stuffed stockings. Let them arrange ornaments on the lower branches.
For older kids and teens, provide a budget for selecting statement decor pieces that express their unique style, like from Target's Hearth & Hand collection. Allow them to take charge decorating their bedroom door or designated section of the Christmas tree.
Kids gain a sense of ownership over family holidays by contributing creatively to the decor. Display their handmade projects with pride and let their whimsical style shine. The memories made will become treasured traditions you revisit each holiday season.
Christmas Decor for Pets
Our furry friends are part of the family, too. Include pets in festive Christmas decor with pet-friendly accents.
Make sure pets have a safe space away from decorations they could knock down or chew on. Avoid fragile ornaments or toxic plants like poinsettias. Place breakable decor up high or behind closed doors.
Leash pets when decorating to avoid accidents like getting tangled in lights or swallowing tinsel. Consider using pet-proof fiber optic or LED lights. Display plastic, non-breakable ornaments toward the bottom of the tree.
Capture the holiday spirit with a pet Christmas tree surrounded by their own toys and treats. Or hang personalized bone-shaped stockings and doggie advent calendars filled with goodies.
Set out plush pet beds and matching throws in holiday patterns. Make pup-friendly wreaths with felt ornaments. Deck your pet's crate or carriers with garlands. Let them don reindeer antlers or a Santa hat for a festive holiday photo op!
While exercising caution, include your fur babies in Christmas with pet-safe decorations and activities. Their holiday excitement and playful energy will bring extra joy.
Sustainable and Eco-Friendly Christmas Decor
As environmental awareness grows, many families are opting for greener holiday decorating options that reduce waste. Follow these tips for more sustainable, eco-friendly Christmas decor.
Rather than buying a new artificial tree each year, invest in one high-quality pre-lit tree that can be reused annually. Or purchase a living potted tree or wreath that can be planted outside after the holidays.
For fresh-cut trees and wreaths, buy locally from Christmas tree farms that replant trees each season. After the holidays, recycle your tree and use trimmings for backyard compost.
Seek out greenery and garlands made from natural, biodegradable materials like rattan, jute, paper, and raffia. Look for sustainably harvested options versus plastic.
Use LED light strands which last longer and use less energy. Swap out old incandescent lights for energy efficient LEDs. Place lights on timers to conserve electricity when not in use.
Choose reusable fabric gift wrap, gift bags, and ribbons. Wrap gifts creatively in scarves, tea towels, or newspaper comics. Opt for recyclable paper gift wrap or make your own from brown paper.
Craft DIY ornaments and decor from recycled and repurposed materials at home, like egg cartons, fabric scraps, and paper tubes. Give orphaned decor new life by sprucing it up.
With thoughtful choices, you can reduce waste from holiday decorating while still spreading seasonal cheer. Follow the three R's—reduce, reuse, and recycle.
Budget-Friendly Tips for Holiday Decor
Creating a magazine-worthy holiday display doesn't have to put a dent in your wallet. Follow these tips for elegantly decorating your home for Christmas on a budget:
Take inventory of your current holiday decor first. Get creative remixing pieces in new ways or adding small updates like ribbon garlands or metallic spray paint.
Shop discount home goods stores like HomeGoods, Tuesday Morning, and Dollar Tree for decorative holiday accents at affordable prices. Check for sales at craft stores.
Use natural elements freely available like greenery clipped from your yard, pinecones, berries, and winter blooms bought in bulk. Repurpose items around your home like decorative books, fabric, and candleholders.
DIY as many decor elements as possible like personalized stockings, nature-inspired ornaments, and signage made from wood scraps. Watch free craft tutorials online.
Stick to a consistent color scheme and style throughout to get a cohesive upscale look. Small matching details like metallic ribbon or faux snow blankets pull disparate items together.
Focus budget on big impact items like a festive tree topper, decorative pillows, quality holiday candles, or a showstopping wreath for your front door. Add other elements around those statement pieces.
With savvy planning and creative flourishes, you can deck your halls with elegance and holiday spirit, without the hefty price tag. Use what you have and DIY the rest for custom Christmas decor.
Tips for Storing Christmas Lights
Untangling a knotted mess of Christmas lights is no one's idea of holiday fun. Avoid post-Christmas headaches with proper light storage techniques.
Check lights for broken bulbs or frayed cords before packing up. Throw out damaged strands. Organize by length and color in clear plastic totes or zipper bags.
Wrap cords loosely around cardboard wrapping paper tubes or empty paper towel rolls. This prevents kinks and knots from tightening. Label each roll with the type and length of lights.
For lights attached to wreaths or trees, carefully unstring them first. Coil them in a large loop, taping the end in place. Set coils in storage containers side-by-side to maximize space.
Alternatively, hang lights neatly on the walls of a dedicated storage room or basement space. This allows the wires to remain untangled while freeing up containers.
For delicate mini bulb strands, wrap each strand in tissue paper before coiling or packaging in rigid containers. This prevents breakage during storage.
No matter how you store them, keep light strands away from direct heat, moisture, and pests. Place in cool, dry areas like under beds or on closet shelves. Your future self will thank you!
Caring for Christmas Trees
A fresh-cut Christmas tree serves as the glorious centerpiece of holiday decor. Care properly for your tree to keep it looking its best throughout the season.
Start with a quality tree from a reputable lot or farm. Seek locally grown options for maximum freshness. Choose a tree with supple needles that do not easily fall off when touched.
Cut 1-2 inches off the trunk before placing the tree in a stand with water. Check water daily and replenish as needed. Consider a stand with water level indicators.
Position your Christmas tree away from major heat sources like fireplaces, heating vents, and direct sunlight, which accelerate drying. Mist the branches occasionally with water to supplement.
Remove any decorative plastic or nylon tree wraps indoors, which block water absorption. Avoid using harmful spray-on snow flocking.
After Christmas, recycle your tree if possible. Many towns offer Christmas tree collection for mulching or lake fish habitats. For disposal, remove all decorations first.
With attentive care and watering, you can enjoy a beautiful natural Christmas tree in your home during the most wonderful time of year.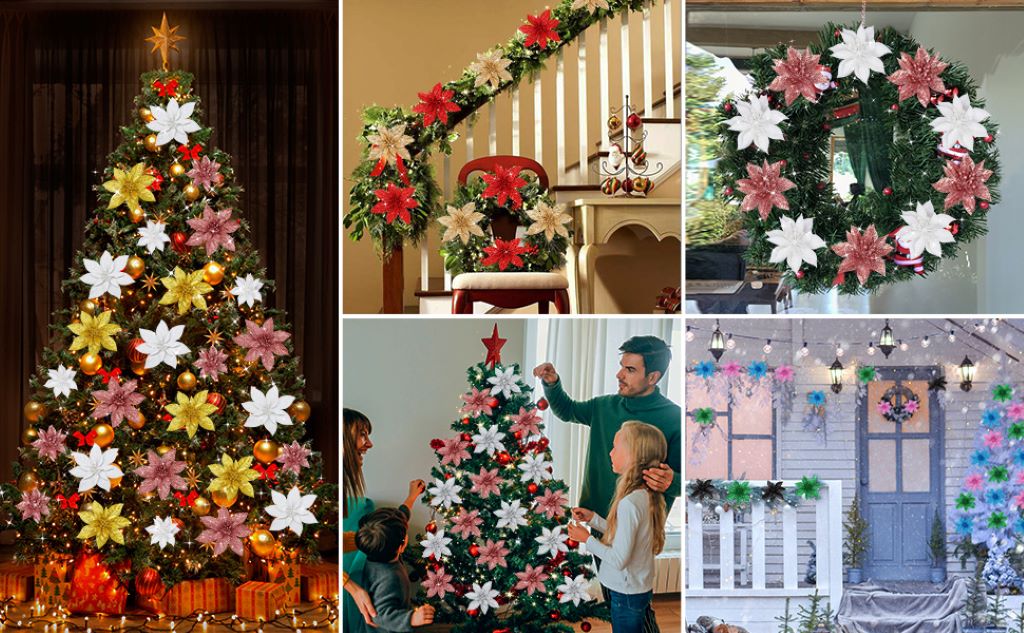 Incorporating Christmas Plants & Flowers
Seasonal plants and flowers are a lovely way to bring the outdoors into your home for Christmas. Look for hardy varieties that add festive hues, scents, and organic texture.
Traditional Christmas flowers like poinsettias, amaryllis, cyclamen, Christmas cacti, and paperwhites are holiday favorites. Display in well-drained containers near bright, indirect light.
Evergreens like fraser fir, pine, cedar, and juniper have enduring scents and foliage. Use small potted varieties as tabletop trees or mantle accents. Water twice a week.
For unique floral color, try Christmas roses, orchids, camellias, carnations, or parrot tulips. Place in bud vases or mix bouquets for centerpieces.
Snip greens like fir, pine, magnolia, and holly from your yard or a Christmas tree lot. Use throughout the house in garlands, wreaths, and arrangements.
Add organic interest to mantles, entryways, and tablescapes with winter fruits like persimmons, pomegranates, and citrus. Intermingle with pinecones, berries, and vines.
Live plants infuse spaces with the smells and feels of the season. Remember to water and reposition houseplants toward light sources to maintain their holiday beauty.
Christmas Decor in Nontraditional Colors
Red, green, gold, and silver dominate most Christmas palettes. But don't be afraid to deck your halls in unique, unexpected shades and combinations.
Vibrant jewel tones like sapphire blue, emerald green, or ruby red add drama. Pair with crisp white and metallic accents for chic contrast.
Go for an icy look with simple elegant christmas decor exclusively in cool silvers, crystals, and powder blues. Mimic the sparkle of fresh snow and icicles.
Monochromatic color schemes in tones like indigo blue or deep burgundy create rich, elegant depth. Add warmth with gold, ivory, and cream.
For an organic feel, use neutral browns, tans, and beiges layered with lush greens. Accent with natural textures like wood, linen, and rattan.
Pink is a fresh alternative to traditional red.Opt for blush, fuschia, and candy tones. Coordinate with rose gold, champagne, or black for modern Christmas flair.
Unexpected colors help set your holiday decor apart. Use whimsical, personalized combos that bring you delight. There are no rules – let your creativity shine!
FAQs
What are some quick tips for decorating my home for Christmas?
Start with the basics like a wreath on your front door, Christmas tree, holiday throw blankets, and themed kitchen towels. Add statement accents like a pretty tree topper, soft white lights, and fresh garlands over mantels and railings. Display a few sentimental and handmade ornaments. Finish with festive candle displays throughout.
Where can I buy unique Christmas decorations on a budget?
Check discount stores like HomeGoods, Dollar Tree, and Walmart for affordable holiday decor. Shop sales at Michaels, JoAnn Fabrics, and Kirklands. Buy bulk greenery and nature elements from flower markets and Christmas tree lots to make your own decor.
How can I incorporate Christmas decorations into a small apartment?
Focus on tabletop accents like mini trees and wreaths. Hang garlands along walls or ceiling trim rather than a whole tree. Use wall decals, string lights around windows, and personalized stockings. Opt for smaller holiday figurines versus life-size.
What are quick tips for neatly storing away my Christmas decor?
Pack ornaments carefully by category in plastic divided containers. Wrap wreaths in old sheets or bubble wrap. Use storage bins and clearly labels for easy identification next season. Keep decor stored away from heat, moisture, and pests.
How can I create an elegant tablescape for a holiday dinner party?
Use your finest table linens, plates, and glassware. Adorn with seasonal flowers, fresh fruits, candles, and greenery as a centerpiece. Accent with gold, silver, or white decorative touches that complement your color scheme. Use name cards, festive napkin rings, and place cards.
Final Verdict
The holiday season is a magical time brimming with meaningful traditions, delicious treats, and quality time with loved ones. Setting the backdrop with thoughtfully simple elegant Christmas decor makes these special moments even more memorable.
Whether you prefer traditional or modern, budget-friendly or over-the-top, tasteful decor choices help spread seasonal cheer that sparks joy. Transform your modern fireplace into a festive focal point for Christmas by stylishly decking it with natural elements, elegant accents, sentimental touches, and pops of holiday flair, ensuring that every corner of your home reflects the warmth and joy of the season. May these Christmas decor ideas and inspiration spur you toward creating holiday displays you'll cherish for years to come. Let your creativity run free as you make this festive season bright through the art of elegant decorating. Fill your home with wonder to light up your holidays and lift your spirits during the most wonderful time of the year.
Tags:
Christmas elegance
,
Christmas style
,
elegant decorations
,
festive atmosphere
,
festive home
,
holiday decor
,
holiday interior
,
home transformation
,
seasonal ambiance
,
stylish ornaments