Immersed fully in the summer terrace, we all look for outdoor spaces to enjoy free time and ours. But what if we had a small outside corner at home? No matter what size we have, a terrace, balcony or a garden with a pool. The summer season invites you to enjoy the outdoors and have a corner to relax, a meal outside or read a good book lying in the shade. They are small pleasures available to everyone. Therefore, today I want to show you how to get your summer terrace in three steps. Inspiring ideas and simple guidelines so that this unique space captures the splendor of sunny days thanks to plants, furniture, and small details.
SUMMER TERRACE THE PLANTS
Whether you have a wonderful garden or, simply, small planters, the plants are the decorative element par excellence when creating a fresh and pleasant space. Turn your pots around and eliminate those plants that have not been able to withstand the inclemency of winter. Replace them with geraniums, dahlias, or any cheerful flower, brimming with color and resistant to heat. Read more: 10 ideas – where to store spices in the kitchen
Although, if the plants are not your thing, as it happens to me, you have options, such as creating small beds by combining stones of different shades with sand or tree barks or, placing the succor cactus and aloes. If you are lucky enough to have a porch area or arbor, use the hanging pots. They are a beautiful visual and fragrant resource, which will always look great and, with them, you will get an original and unique "tropical" atmosphere.
Another option very trend that stands out in spaces without many meters, vertical gardens are, the latest in design decoration, very refreshing. Choose a specific support of shelves at different heights where you can place a series of plants that will form a vegetable wall of the most striking and original.
SUMMER TERRACE THE FURNITURE
Let's review the garden furniture so they look their best. If we seek to give a new air to the whole exterior, you can choose simply to change the cushions of the seats, chairs, and loungers. Play with the seasonal colors without fear and opt for large and fluffy cushions, giving priority to comfort, in very cheerful colors such as yellow, turquoise or pistachio. The contrast between these colors and the dark wood or wrought iron is really beautiful. If, on the other hand, you have a lot of external space, the idea is to create different environments. An area to eat or dine with a table for outdoors and that suits your needs. A relaxation area with a set of sofas and low table as a chill out, classic sunbeds, a wooden bench or wrought iron, in the market there are multiple options for furniture and finishes .. With a little imagination, you can get your garden and terrace area, this summer, the center of the house. Read more: 5 best green ideas for the veranda
SUMMER TERRACE THE LIGHTING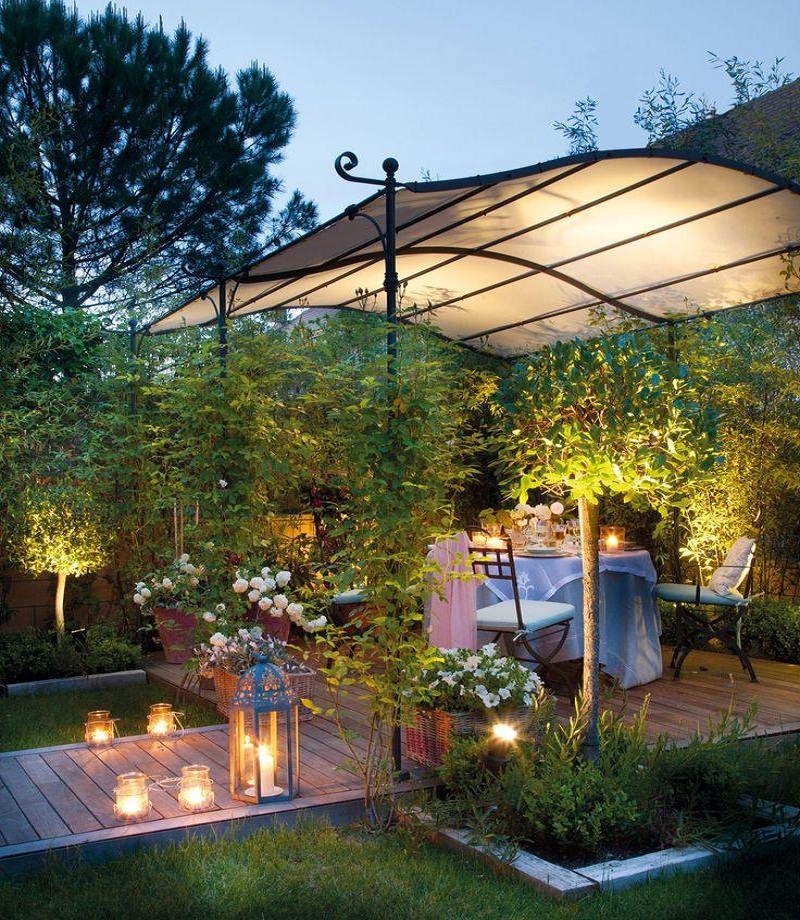 Lighting is one of the important points in this type of setting. The candles for a nocturnal dinner and the solar torches to illuminate the garden will create a magical atmosphere and, if you do not have a pool, a small fountain or a mini artificial pond will put the icing on your particular summer paradise. Some basic colored bulbs or garlands will make the exterior a unique space.
It may like also: http://bixideco.com/apartment-with-scandinavian-style-and-industrial-touches-in-poland/