Spicy spices give comfort to the kitchen. But the spices still need to be able to store properly, otherwise, you can damage their properties. What are the ideas store spices? As an option, sealed containers are used, and the choice of shapes and design is diverse.
Spices are an attribute of useful and tasty food. They are present in any kitchen. Many housewives are interested in the question: how to store spices in the kitchen?
When storing seasonings, rules are used. It should be taken into account that exposure to direct sunlight and humidity causes damage to spices.
The interior of the kitchen should be holistic and thought out to the last detail. Ideas for storing kitchen utensils will help to supplement the situation and harmoniously complete the kitchen design. Designers offer interesting solutions for storing kitchen items, for example, frying pans – 10 ideas for storing frying pans.
Basic rules of store spices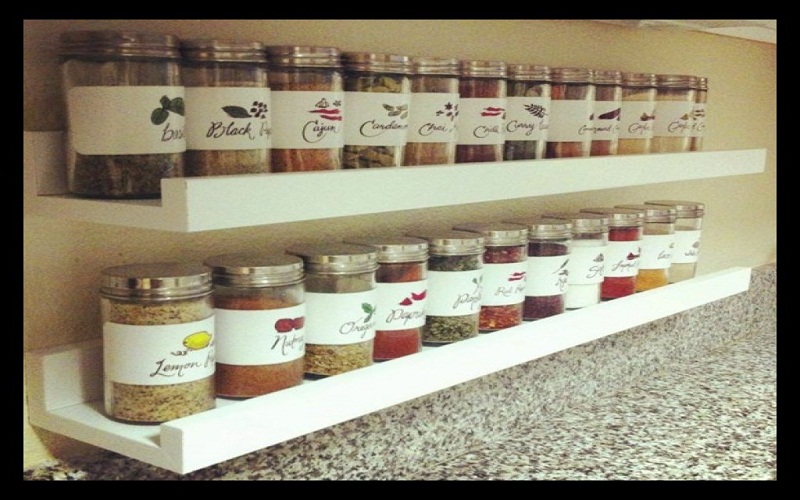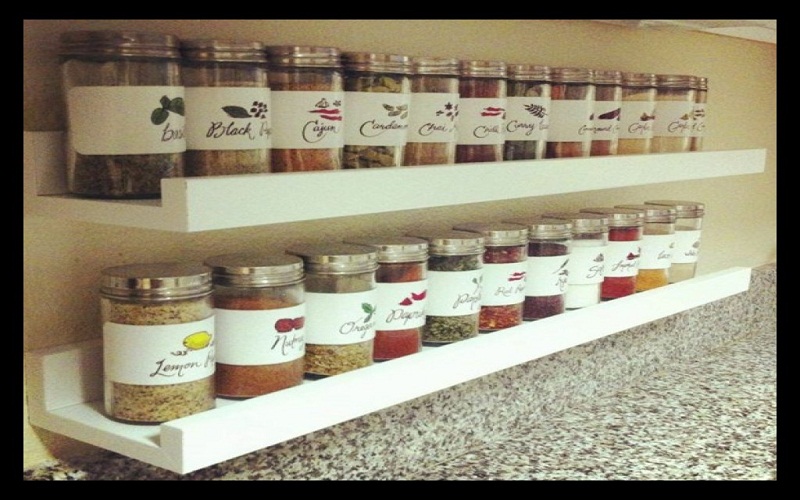 Spices should not be stored near the stove. Because of this, they can lose their properties and aroma. Rules for the storage of spices appeared even in those distant times when they were valued above gold. Read more: 5 useful tips on how to store things in a closet: features and interesting ideas
It is recommended to use jars for spices during storage. They are ceramic or glass or tin. It is not necessary to store seasonings in bags, in which they were sold. This container loses its tightness after opening.
Spices in the ground form have a shorter shelf life.
Spices do not tolerate the rays of the sun. They are stored in darkness, in opaque containers.
Some types of seasonings should be stored in the refrigerator. This applies to spices based on the red pepper.
Liquid food additives are stored in bottles of glass with tightly closed lids.
Every year it is recommended to inspect the seasonings in the kitchen. Before you remove the product for storage. It is checked for mold and insects.
It is not recommended to store bulk products in plastic bags. But if there is a problem: how to store spices in bags, then you can store the bags in a closed place. For this, a special container or shelf in the cabinet is used.
Materials for the production of spice kits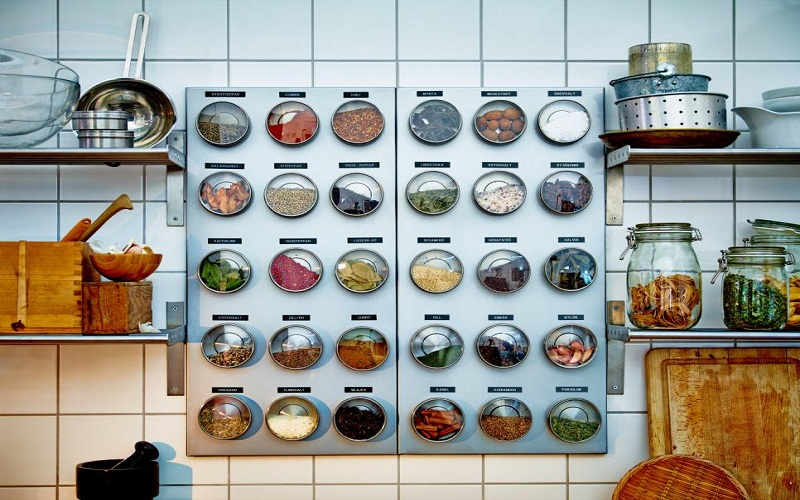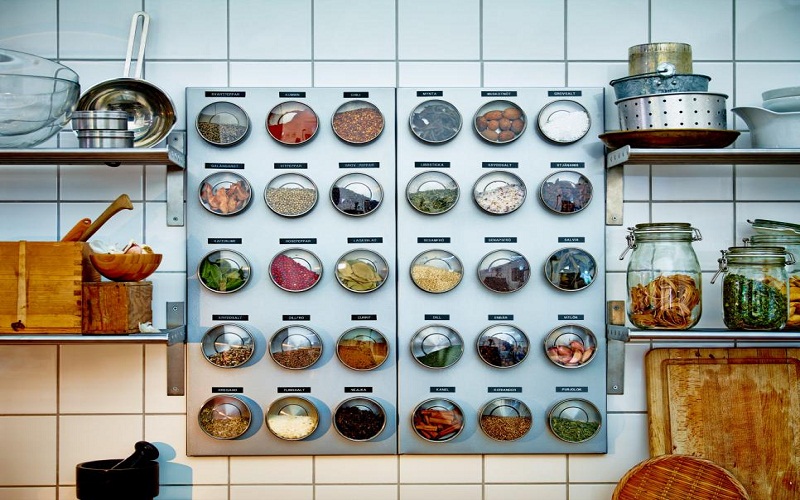 When preparing a kitchen island, spice kits are often used.
Such kits contain from two to eight vessels. Traditionally, they are jars for salt and pepper. The set includes jars for fragrant herbs and peppers.
Containers for spices can be with small holes or have a fully opening lid. These containers are equipped with a teaspoon. Read more: 5 best green ideas for the veranda
Beautiful containers are made of the following materials:
Glass can be transparent or colored and with ornaments.
Ceramic material is environmentally friendly.
Suitable products from metal, but only from moisture resistant.
From wood to light containers.
How to make stylish containers yourself?
Stand for spices with your own hands. For this, jars of glass are taken and decorated with the help of decoupage techniques. The decor is used for painting with acrylic paints and ornaments made from bright beads.
Of the used things, original storage tanks are created. The original solution is the use of packages from dragged tic-take. An old set of gouache is also useful. The jars are well cleaned and washed. Then they are primed with paint and painted with stylized patterns. Such accessories are suitable for the kitchen in country style.
You can give a second life jars of coffee. They are covered with cloth, and original containers for spices are obtained.
To decorate it is possible to empty jars from under a cream. Or even jars of drinking yogurt, bottles of liquors or beautiful jars of jam.
In order not to store spices in sachets, they can be poured into sewn canvas sacks.
Interesting spices storage ideas
To create order in the kitchen for a long time, it is necessary to organize the storage of food and kitchen utensils correctly. To save space in the kitchen and to optimize the cooking process, the following methods of storing spices are used:
If the kitchen is small in size and a small number of cabinets, then you can use a multi-level pedestal on one of the shelves.
A mobile tray with small holes can be stored anywhere. At the same time, free access to each container is provided. It is recommended to use special stickers on the caps of the tanks.
A convenient solution is a tray of spices, which moves to any place.
The walled storage of spices will free up space in the lockers. To do this, a multi-level rack is used, which is mounted to the work surface. In this case, spices are stored in test tubes.
An interesting option is chrome rail with containers for spices. It is placed on the wall of the working area. It differs with practicality and looks stylish.
Ideal for storing drawers. They help keep the spices on hand and at the same time hide them when there is no such need. Labels are placed on the caps if the containers are located in the vertical position or on the side parts if they are inclined.
Look narrow and long shelves. They are placed under the hanging closets and close to the stove.
Small containers with condiments are installed on a special holder. The part is stored in a conspicuous place, and stocks can be placed inside the lockers. And, as necessary, pour out the empty containers.
Spice jars on magnets are attached to the refrigerator wall.
A wooden or metal shelf is attached to the cabinet door. At the same time, special pockets of cardboard or cloth are attached to the door, where the seasonings in the bags are placed.
Some manufacturers offer interesting devices for storing seasonings. There are racks in the form of a carousel or rotating devices in the form of a Ferris wheel. This design does not take up much space and can hold 20 jars.
Spice can be made a separate vertical rack. The original solution is a niche in the wall, which is finished using plasterboard. It is convenient to accommodate all the jars.
Spice storage has features. If you follow the rules of storage, the seasonings will fit stylishly and organically into any interior.
It may like also: http://www.npoblogs.net/bathroom-clean/
Tags:
basic rules of store spices
,
ideas store spices
,
store spices