The spearmint (or color mint, as you like) is a tone that conveys serenity, light and freshness. It is beautiful combined with others such as gray or white, for example, and to evoke such tranquility is ideal to introduce it in the baby's room.
We want this stay to be synonymous with calm, beauty, joy. That's why I encourage you to, if you like, bet on the mint for your walls, furniture or accessories. To discover all its possibilities we will see some ideas that will help you to use it in an almost dreamlike way in the decoration of this space. I hope you are as passionate as I am!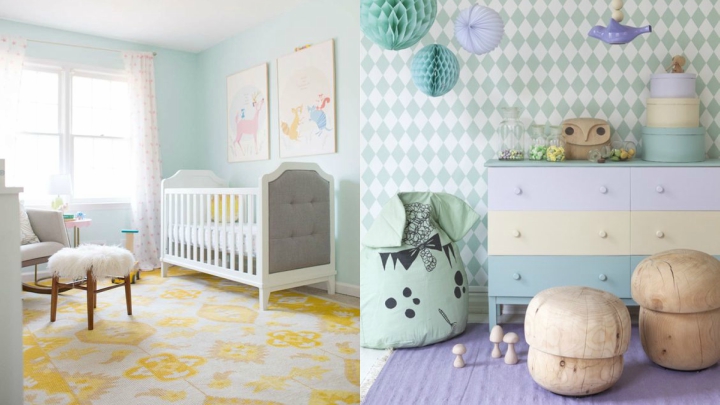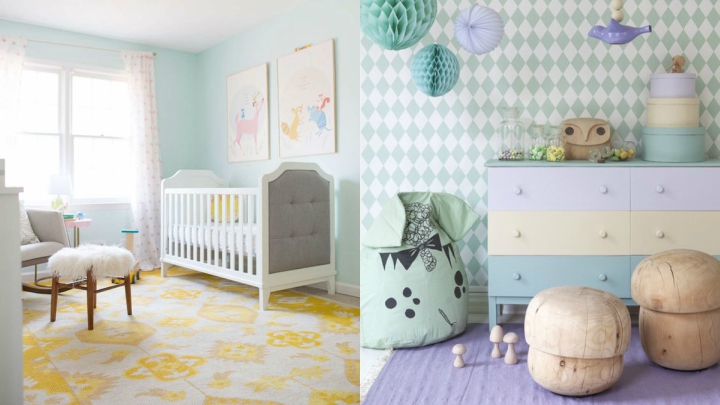 Mint green on the bedroom walls
The first idea I propose is to paint the walls of the baby bedroom in mint green. You have several options. On the one hand, you can give this tone to all the walls. Being within the range of the cakes will not be aggressive.
Although if you think that you can get tired or it seems too much you always have the possibility of leaving it only in one of them . And you can paint it completely or only the bottom part, for example, as we see in the photo on the left. In this case the valance we see that covers two walls.
How to combine mint green
Mint green is a soft color. To enhance its brightness the white will be one of your best companions. In the baby's room they are two perfect allies, since the result will be very serene. With gray is also great. And if you want to give it a touch of intensity you can enter small details in other more vivid colors. Lavender, red, yellow or black will create beautiful contrasts with mint.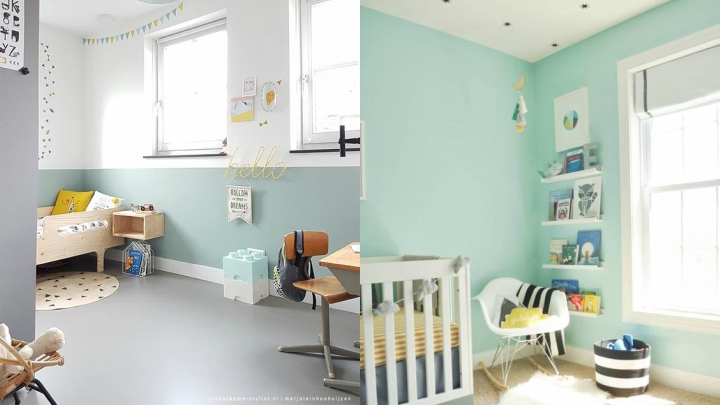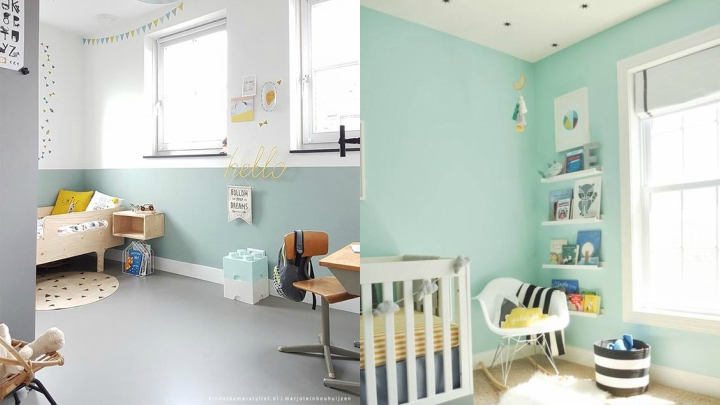 The textiles
Another very effective way to bring this color to your child's bedroom is to do it through textiles. The blanket of the crib, the sheets, the cover of the cushions, a rug or even the curtains. As I mentioned before, being a soft tone is easily usable in virtually any room.
You may also like to read: How to Decorate Baby's Room with Wallpaper
Color mint in the details of the baby's room
If you want to introduce mint green in the baby's bedroom but you do not feel like touching the walls you can do it through small decorative details. A cushion, a painting, a rug, a stuffed animal … You can even get a chest of drawers or a rocking chair, for example, that have this shade. On the white base of the wall they will look beautiful.
Mint green wallpaper
We return to the walls but, in this case, I propose that you place wallpaper with some pattern in this tonality. I love rhombuses or polka dots for children's rooms, for example. Although surely you find the perfect print for your baby's bedroom.
A reconnection with nature
Serenity, freshness, luminosity, calm, tranquility … All this is what transmits green color to us and that is why it is so beautiful and so special for the baby's room. In addition, it is a way to reconnect with nature, since it also moves us to these environments that perhaps we visit less than we would like, submerged in the whirlpool of the city and day to day.
Tags:
baby room
,
Decorate
,
mint tones