Gas meter boxes are often damaged and unsightly. Not all installers bothered to put them in sensible locations in the first place, so they get struck by moving furniture and the door hinges snap. Outside, their doors are often torn off my high winds.
Many people don't realise they can replace a damaged door or even the entire cabinet for themselves. And they aren't expensive if you don't have to move the meter. You are not allowed to move a meter yourself, but most housings just fit over the meters, so they don't have to be moved.
Sprucing up the meter cabinet can be a DIY job. Here's how to easily replace a door.
Getting a New Door

Begin by measuring up the door accurately and checking the type of hinge and lock. You can identify the type you need at https://www.meterbox.co.uk/. Check whether you need a door with a turn-key or a slam-shut lock. If in any doubt, the supplier can always give you the best advice about suitability and fitting.
An obvious difference between boxes is that they can be recessed entirely into the wall, semi-concealed or wall-mounted. There are also external boxes for meters that are sunk into the ground. Of course, if you want to change the type of box, it may mean paying for your meters to be moved. There is some advice about this here: https://www.citizensadvice.org.uk/consumer/energy/energy-supply/your-energy-meter/move-your-gas-or-electricity-meter/.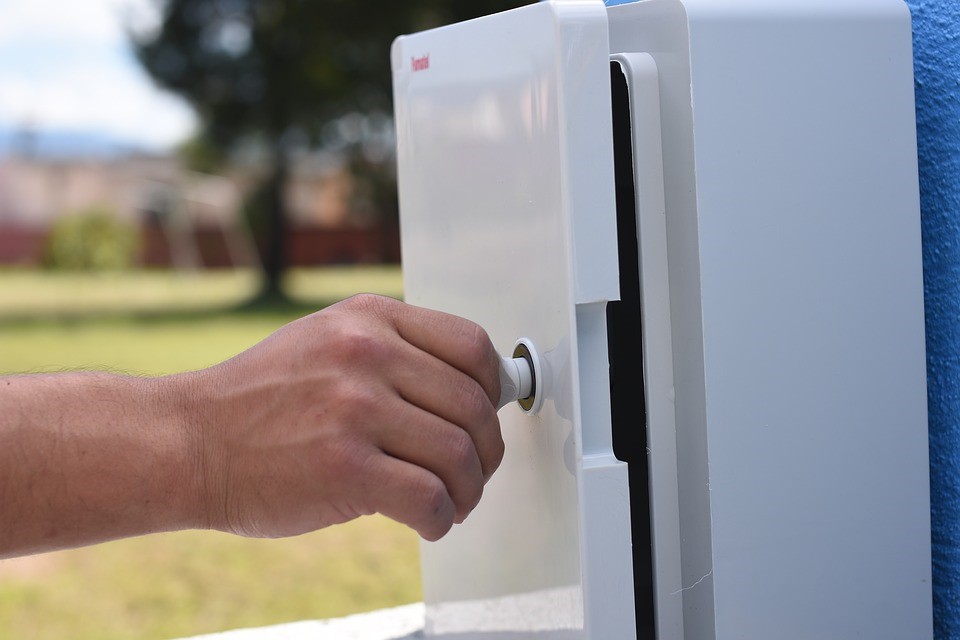 Removing the Old Damaged Door

If they haven't already fallen off, doors are easy to remove. Usually, there is a solid pin in the bottom hinge and a spring-loaded one in the top. Teasing down the top pin with a screwdriver usually releases the entire door.
If your cabinet has a door with two ordinary hinges, you can release them by knocking out the hinge pins with a hammer and nail. If you can access it, it's better to do the bottom one first. That way, the weight of the door remains supported while you do the second.
Fitting the New Door

Tap the pins into the new door – solid in the bottom, sprung in the top. You can now easily slip the bottom pin into the corresponding hole in the casing and slip the top one in by holding down the pin until it clicks into place. Job done!