If you are someone who like having friends in your home to enjoy an evening in good company ideas I teach you today you will like very much. It is to install a bar in your house, a corner in which to be comfortably chatting with them, enjoying their company and good drink prepared with care and designed to be shared with a relaxed conversation. With these proposals, plus you get to do it in a very decorative way. Are you ready for your visitors as they deserve?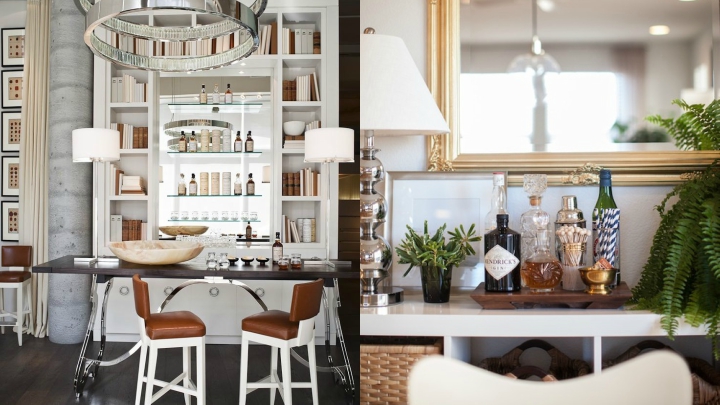 Not just a place for bottles
With these ideas you will not only find ways to place your decorative bottles and glasses, but get design a thought to sit and be comfortable talking and enjoying your company area.
A special cabinet
The first thing you can do is put a special cabinet where to place these bottles and even the glasses in sight. These two ideas are very different and allow you to design a very decorative environment in both cases. You can opt for a more robust furniture that makes you the time bar and storage place, as the example on the left, or by a simple but effective wooden cart, simpler but very decorative too.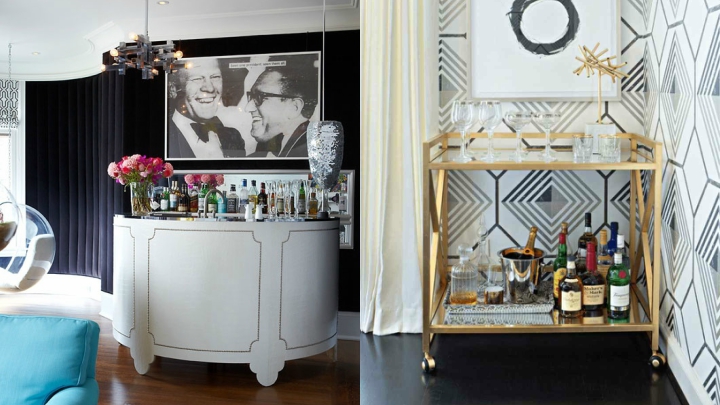 An independent or shared room
The choice of one or other decoration depend on the space you have available for it, because if you have a separate room for it you can put a bar, stools, even a play area and other relaxing with sofas. If this bar you going to integrate into the living room, for example, maybe you have space only to place a cart or a bar cabinet and a decorative sheet in that corner where you place it.
Bar stools
The decor I like this type of bars at home is the one that includes a bar, albeit tiny, and a few stools. With this you can design a most special corner, with seats that are also decorative. In addition, it is a practical space where your friends can sit and keep you company while you prepare some cocktails delicious. You can put a piece of furniture to store your bottles tightly closed so they are hidden or are open to view. Add a decorative sheet with a subject line and you'll see what coolest corner get created.
You may also like to read another article on houseilove: Tall apartments
Bottles as decoration
There are bar furniture that is hidden so that, if they are in the living room, there are no bottles in sight. But another idea is precisely the opposite, i.e., let them look and are, by themselves, a decorative element of the bar area.
An island
Another idea for your home bar, especially if you have enough hollow for it, is to place an island. In this space you can prepare your drinks and your friends will have more space to stay around chatting. It is similar to the bar but for larger rooms, so you can make the most of all available space.
A mobile bar
And if you have the space, almost even to put a fixed bar, you can create a mobile. With a cart like we have seen before, for example, or some even higher, you can take the party to the room you like. For more home improvement tips visit http://savourytraveller.com/.
Tags:
home bar area
,
Ideas