White walls are not necessarily synonymous with bland decor and lifeless. White is a color that provides purity and serenity; is a very appropriate tone if you want your house to breathe an air of tranquility, and cannot miss if you like Scandinavian style. But if you want to give some joy to your white walls, quiet, today you will see several ideas, to introduce small details (or larger, if you want) to get renew its appearance providing a special touch of color and style. Let's see how you can. Too easy!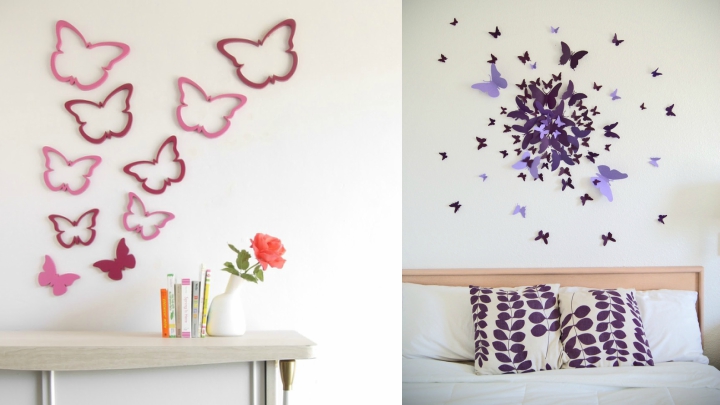 Paintings, photographs and films
One of the handiest and simultaneously effective solutions. Sometimes it can suffice with picture, film, photograph or poster style you like to give new life to a white wall. If you choose with bright colors will highlight much; You can make the color is in the picture itself or in the frame, for example. Also, another alternative is to make compositions with several of them. Customization is assured.
Wall Decal
A blank canvas is an ideal stage for placing a decorative vinyl . No need to drill holes and are easy to install. There are so many possibilities! Drawings, flowers, geometric prints … A variation is to place strips of washi tape to decorate your wall, as pictured on the right. Is not it a very happy result? And easier, impossible.
Phrases
Within the decals you can opt for those that carry sentences or words to your wall. You get to send a message to anyone who reads it, and see those motivating, fun or your favorite movie sure makes you smile letters. You can also include text through pictures and films.
Paint a wall of a color
If you get tired of seeing the four walls of a given completely white room but also dare to paint them all if the change is excessive, try to paint only one of those walls of any tone you like. It can be intense or more soft, pastel tones. You'll see what a difference just do that.
Painted paper
With wallpaper you can give much joy to the white walls, especially depending on the reason you choose to do so. You can play with colors, shapes and textures and, as in the case of painting; it can be very special if you book for one of the walls.
You may also like to read another article on houseilove: To paint the house
Butterflies
If you like butterflies, this idea you'll love. This is placing several of them creating beautiful compositions on your wall. You can be more plan or volume, here I leave you with two examples very original and they will get gladden the room. And if you prefer, you can find some other decorative element similar for it, if you do not like butterflies too…
An interior vertical garden
The plants and flowers fill with joy every corner where ubiques. For nature reaches your white walls, nothing better to install an indoor vertical garden. You will create a cozy and special atmosphere.
For the more daring
If you want to customize your stay, take a brush and some paint and trace a circle on one wall .You dare? You can use your favorite color. And who says any other drawing circles … You have a blank canvas for you all. Visit http://evolutionsofar.com/ for more home improvement tips.
Tags:
brighten
,
Ideas
,
white walls