We are in full time to enjoy the outdoor spaces of our house. If you are lucky enough to have a garden with pool, or no garden, but a pool, sure we are your favorite season of the year, because few things are more refreshing than enjoy special moments here. Escape the heat around water can also be stylish, so, today we bring several ideas for decorating this space and get to design a character area in which much be fancy. Let's see how!
Umbrellas, awnings and pergolas
To avoid the incidence of the sun in the pool area is essential to put some umbrella, awning or pergola to create shadows and avoid the heat. This will also help decorate this space because you can play with colors and fabrics chosen and, in the case of the pergolas, will serve to delineate the dining area, for example.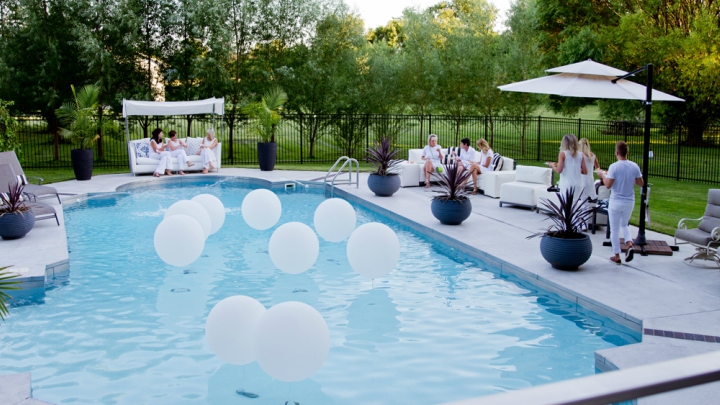 Sofas and cushions
Presents a space for relaxation. Place hammocks, chairs, sofas and cushions with natural and fresh tissues and a summery colors to design a very comfortable area and enjoy pleasant moments when not touch bathing. Near the pool deck chairs put to dry off in the sun when you leave the water.
A space for plants
You can also book a piece of your outdoor area to place flowers and plants and a touch natural, fresh and colorful your garden. There are many possibilities for this, so look for those species that better suits your local climate, see if they will be very exposed to sun and heat, if they are in shadow, etc.
The lighting
If you are someone who enjoy the pool in summer evenings should pay special attention to lighting, which is important for safety reasons but also will help you decorate this place in a special way. You can use spotlights, some lanterns that give a warm and subdued light, and there is even floating lamps to put in the water and with which you can decorate the room, creating an intimate and magical setting.
You may also like to read another article on houseilove: Decorative tricks to differentiate environments
A pool party
If you want to hold, a party this summer the swimming pool becomes the best place to gather your friends or family. You can design an area for food and drink and play with the colors of the cocktails and the food itself to decorate the event; if you put some candles, wreaths will also very nice, and you can include a place for your friends feel comfortable chatting with ottomans, chairs or hammocks with very colorful cushions.
Floats
Nowadays even with a float you can decorate your pool. And it is that if you opt for one large and fun ways will be giving a touch of fun, colorful and joy to your bathroom. The donut type are Chulis, and you can also get one unicorn. Sure well spend a very entertaining time your pool becomes a very special air with these floats. For more visit http://rewardprice.com/.
Tags:
Exterior Design
,
Ideas for decorating
,
outdoor area
,
pool