The basement is one of those areas of the house, which can benefit substantially. We saw some ideas to give different applications and today we focus on Christmas celebrations, these encounters with family and friends for those who need to have a spacious and comfortable to be together space. What about the basement? It is generally open space that offers many possibilities. Also, you will not bother anyone. But to receive your guests you must have a nice Christmas decoration that room this space as it deserves. Let's see some proposals to achieve this.
The lighting
Usually basements have little light and Christmas plays acclimate the place where celebrations take place with a lighting special. One way may be placing wreaths of large bulbs or fairy lights, slightly smaller, to give a warm touch to the place. No shortage of candles on the tables to make it more welcoming and good general lighting to make everyone feel at ease while enjoying the Christmas menu.
Christmas tree
There can be no Christmas celebration Christmas tree. If your basement is not particularly large you will have to draw on your creativity to put a smaller tree. You can also get out of the traditional and make one with a wooden slats as you see in the image on the left. It does not take place and sure to amaze your guests.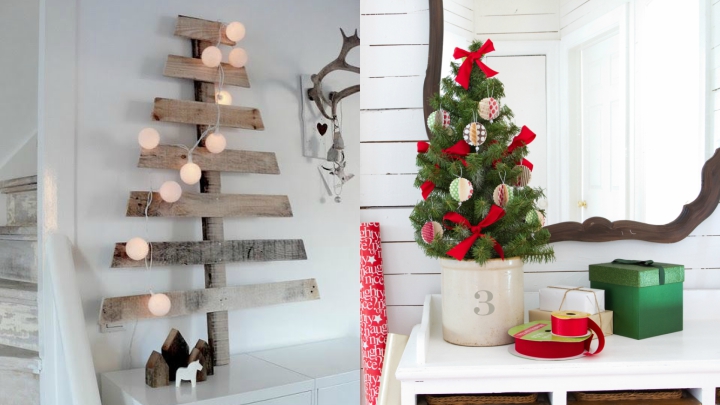 Textile
If you already have a mounted living in your basement you can decorate for the occasion by placing blankets and cushions with typical Christmas colors, such as red, green and white. Only with these little touches and you'll be changing the look of the room.
You may also like to read another article on houseilove: Ideas for decorating with fairy lights
Ornaments for stairs
When your guests get home and access to the basement a nice Christmas decorations can be found on the stairs that give access to the bottom of the housing. It is a way to announce what will be found later. Hang a wreath on the wall leading to the basement and if you can put some tinsel railing or colored balls. Or even if the ladder has missed a corner can put a small Christmas tree. Of course, when you reach the basement it is important that you find also decorated so that there is continuity with the setting of the ladder.
Special places
One of the things I like when decorating any room is to create a special and unique place .Rather than cluttering the room of things and things that may not have much sense. Therefore, in the basement also it is very cool if you design a different space, with ornaments placed on a dresser, a table with appetizers or on a chair. Look how beautiful can remain in your basement these ideas with the animal inspiration. Not long ago missing, with bulbs, some textiles and some green leaves have a nice winter decoration list.
Christmas table
If you have decided to celebrate Christmas lunch or dinner in the basement to maximize the available space you have to decorate the table for the occasion. You can put some white tablecloths with silver stars, for example, and bet on a Nordic decoration in these tones, both for the tablecloth and napkins to the rest of ornaments to put on it, like candles or fresh flowers. If you prefer something more traditional, red and white will always be a success. You can put a table centerpiece made with pine cones and have everything ready to enjoy a menu rich in good company.
Tags:
Christmas
,
Ideas for decorating