The pink is a color generally associated with the feminine, but does not have to be. It was a tone that became the color of 2016 and that has invaded all decorative spaces. We see it in living rooms, in bedrooms, in large furniture or in smaller accessories. In walls or textiles. So off prejudices and commitment to pink to decorate your home. We give some thoughts…
All the pink or small details
If pink is your favorite color sure you want to fill this key stays. You can place the quilt, cushions and curtains in your bedroom in this tone, or paint a wall and place a pink sofa in the living room … But if you prefer moderation, try to incorporate through small touches like a vase of flowers, a cushion (one is enough) or a lamp. It will also present but more discreetly.
Pink walls
Another way to introduce your decor pink through the walls. In this case, if you do not want to saturate enjoyed the stay, I recommend you opt for a soft tone as a pink suit, which give a touch of color but not too flashy. Although if you want precisely the opposite effect you're always on time to paint one of your walls fuchsia … To taste, what colors!
Rosa in the bedroom
Pink, especially in its softer shades, it is a color that invites relaxation and designs reflective and quiet environments, making it ideal in the bedroom. You can use textiles for bed, for example, both cushions and bedspreads for, or in smaller decorative items like picture frames, a lamp or a flower.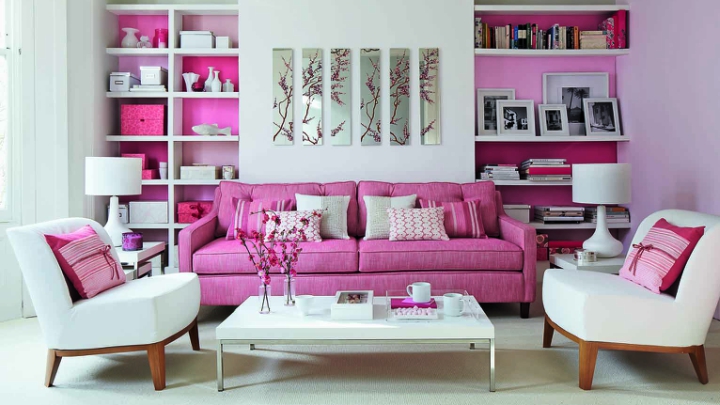 Pink salons
The living room is another room which accommodates this hue and which is very good. If you choose to include it on the wall, you can put only one and leave the rest white. If the room is small select soft tones that visually enlarge the rooms. You can also put your cushions in furniture or your most decorative flowers, filled with joy to stay.
You may also like to read another article on houseilove: Space saving ideas
How to wear the pink
If you want to play with more intense colors in your living room you can paint a fuchsia wall and place furniture in light colors to contrast or leaving the white walls and opt for a pink patterned couch or in the shade. If you do not want to give too much prominence to color, beam decorated with white base and introduces small details in pink combined with a green apple, for example. You'll see what more cheerful room.
Furniture in pink
By this I do not mean closets or large tables, but if you want, I said, for tastes are the colors. But for a harmonious and balanced decoration going to place my bet not very large furniture such as a chair, a designer chair, dresser or puff, to give a touch of color and joy to your decor but without saturating.
A pink kitchen
In the kitchen, you can add touches of pink in appliances like the refrigerator can be. If a SMEG also you're giving American retro very cool. With the rest of the furniture will get blank looks attract all …
Tags:
pink decor