When children grow up and become teenagers, their environment changes. Also the one where they spend much of their time: their room. Today we will see some ideas for decorating children's bedrooms for children, so that when their children left behind find a space in which to feel themselves comfortable and identified with their surroundings. Let's see how you can get it.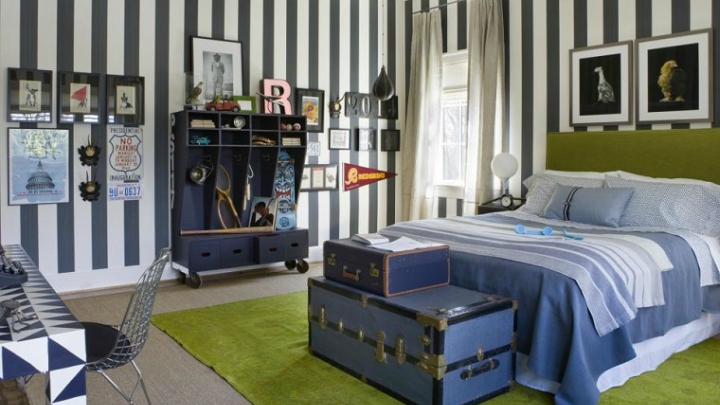 Change colors and prints
The first thing to do if you are going to transform the children's room into a juvenile is to change the colors and prints that were in it. Teens no longer want to know anything about toys, prints of animals or pastels. So pick with him the color, you prefer to prevail in this room and bet on smooth or striped patterns, for example. The fewer the stridencies, the better.
Hobby-based decoration
Although the youth is a time of constant changes maybe they are clear a hobby that passionate them above everything. It can be some sport, a certain cinematographic saga or music. Make this stay a tribute to what you like to do to your child. Look at these ideas if what he really likes is the music. You can place some musical instrument, framed albums, a turntable, etc.
A certain style
Another idea to decorate this room is to do it in a concrete decorative style. You can bet on a modern bedroom with straight lines and functional furniture, industrial style one with predominance of materials like brick or metal or other style you like most with your teenager.
You may also like to read another article on houseilove: Ideas for decorating the baby's room with Scandinavian style
Bed
The space in the bedroom will determine the size of the bed you are going to place. If you have a lot you can put a big, and if the room is rather small can use a trundle bed that can be visited by a friend who wants to stay to sleep with him. You can also put pull-out beds, with couches …
The study area
Youth bedroom often becomes studio space so you should put a desk in an area that is well lit so you can sit comfortably to do homework and study. You can put a large table that occupies the entire wall, or a wooden board with legs to clear a little space, depending on the site you have.
Leisure area
But besides a few space study you cannot miss these youth bedroom a place for leisure and relaxation. You can find great sofas to share this corner with your friends or for when you want to read or listen to music quietly.
Decorative details
The decorative details that can be included in this type of stays can be allegorical of that liking that we discussed before. If you love, Star Wars will not be short films or pictures on the walls with their most iconic characters, if you prefer basketball can be a very cool framed shirts, for example. Always keep in mind what motivates you most and encourages you.
Tags:
Ideas for decorating
,
youth dormitories for boys