The white is one of my favorites when decorating colors. It brings a lot of light to the rooms, visually enlarges the spaces, is serene and relaxing. Any doubt when you choose the ideal tonality to dress your walls opts for the white: it is a sure thing. Afterwards, you can always introduce color notes through the textiles and decorative objects that you include in the room.
The ideas I bring you today are aimed precisely at this: to give color to a white room. As a backdrop gives us a lot of freedom to play with other tones, as it hits everything and the contrast can be very interesting and effective.
The plants
Plants and flowers are synonymous with color and joy. If a room is white and you place a green leaf plant or a flower of striking colors the decoration will change radically. It will be more welcoming and special, since that natural touch will fill the room with life. Look at these examples. With very little it is possible to achieve great results.
A wall of a color
Sometimes we paint the walls of house without having studied well the light that enters the rooms, and without knowing exactly if this tonality will dwarf them more or it will not be completely well with the furniture or the chosen distribution. Before the doubt, as I said at the beginning, always opt for the target. Then, if you get bored, you'll always be able to give it a stroke of color by painting, for example, just one of the walls of the room in question. The contrast will be very cool and you will get an interesting change of image.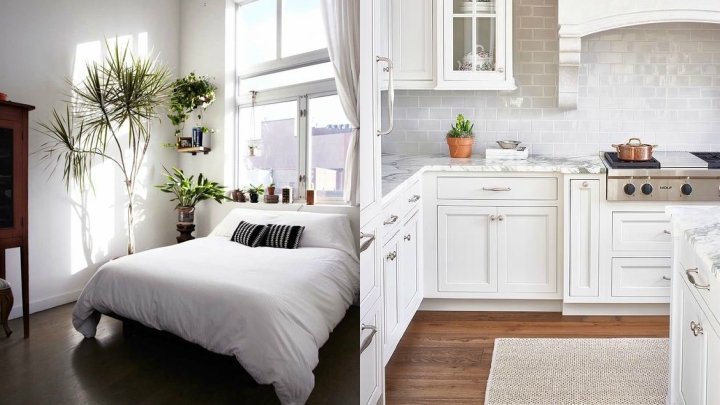 Touches of color in a white bathroom
The bathroom is one of those rooms where white is very present. If you are the protagonist of tiles and toilets you will get a bigger bathroom visually, but you can also give them touches of color through the accessories like soap dish and textiles like towels or carpet. They will be very small notes with which to create nice combinations and that will brighten the stay.
You may also like to read: Small changes you can make in your rented apartment
Color through textiles
The textiles become an excellent way to color notes a predominantly white room. In the bedroom, for example, you can play with bedding (sheets, bedspreads, blankets, duvets …) and also with carpets, cushions and curtains. These last two elements will also serve to introduce the color in the room, where it is also possible to use the white as a base tone and use the color in the fabrics used for decorating.
More ideas for coloring a white bedroom
If you have chosen the white to decorate your bedroom because you want to give that contribution of serenity and tranquility that has this color you have several options to enter color. We have already seen several: a painted wall (in this case it is appropriate to paint the headboard), textiles … But there are more. Instead of painting the wall you can put a vinyl or wallpaper, you can also place a full head of color or pictures on the bed or another wall.
Decorative elements
Finally, one last idea to give color to a white environment. The decorative accessories are an excellent choice if you want to be small touches: a painting, a vase, a sculpture … If you prefer a touch of color is larger can enter it through the furniture. It is incredible a totally white room in which there is a furniture of a striking color. Again, the contrast will be spectacular.
Tags:
white room