Living for rent has many advantages and also disadvantages. One of them is that you have little margin to customize the decor too much, especially because you do not want to invest too much in something that will later stay there or you will take it but maybe it does not fit well in the new house where you settle. Or for fear the owner can tell you something about it. In any case, there is solution for this.
Today we show you some simple ideas with which you can decorate your rented apartment. They are small changes very effective with which you will give your most personal touch without spending too much and being able to use those decorative elements again in another place. Surely, with these details you can feel more comfortable. You'll make the house yours.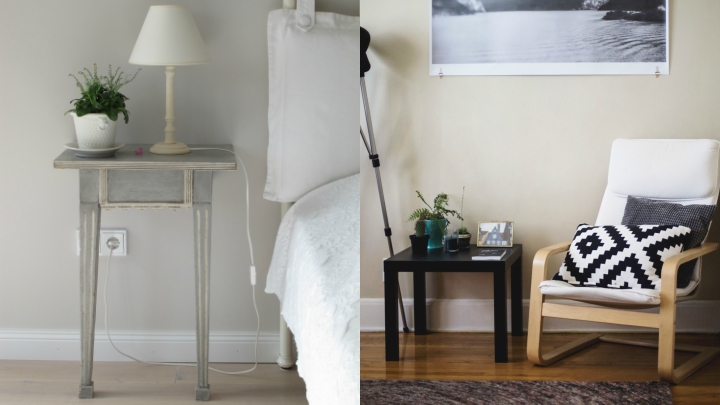 The plants
The plants always manage to make any place more cozy. Not because you live in a rented apartment, you must not worry about this aspect; In fact, it is very easy and inexpensive to make yourself with plants that decorate and give a more personal style to any stay. A fresh lavender at the entrance, a large green leaf in the living room, some cactus scattered around the house … What you like the most. He will say a lot about you and make you feel great in this house.
A change in the distribution of furniture
Another idea that I propose is not going to mean for you any disbursement. It is as easy as changing the layout of the furniture. You may come to your rental home and not think of a different way of placing the furniture, but changing them is very simple and can be very effective. If you like reading a lot, it creates a reading corner with good lighting and a comfortable chair, for example.
Furniture of IKEA
IKEA becomes an excellent option when you live for rent. Especially because it offers a very economic furniture and easily adaptable to any place, and also a very decorative storage solutions. If you do not have a lot of budget, you will not have anything to do with some elements of Swedish giant to give a more personal touch to your house. Especially if the space does not excessively large has a lot of useful things.
You may also like to read: Ideas for decorating with outdoor furniture
Tables and slides supported
If you have trouble making holes in the walls (there are more or less permissive home owners) you do not have to give up decorating with pictures and pictures. You can put them on the floor, in a piece of furniture or a shelf, and it will not be necessary to touch any wall. The result is very decorative and different, so you will give a very characteristic air to the rooms where you put them. And you will always have something in sight that is yours. You will feel the house more welcoming.
Play with textiles
If the floor is furnished and you do not like the sofa, for example, put a case of a color that you like more or a funny print. Or you can choose different cushions that decorate the living room or even some very original carpet that stands out in the room and has personality. The expense will not be excessive and you will have put your personal stamp to the decoration of the house.
Wall stickers
The vinyls are a good choice if you want to give a different air to the wall but do not want or do not let you paint it another color. Of course, afterwards you either have to leave it on or remove it to keep the wall as it is, because it is not advisable to reuse it in another location as it will have lost shape and adhesion. The expense will be minimal and the result very effective.
Tags:
Decor rented apartment