Do you know when to replace water heater? There are some tricks to perform good maintenance of our heater without having to notify any professional. Of course, if you think that you will not have enough ability to carry it out yourself, it is better not to risk. It may have cost you a lot of money, but that doesn't mean this device is going to last forever. Before dying, this apparatus will show some signs of agony.
When to replace water heater?
Remember when it was purchased, the average life of the heater is 8 to 15 years, depending on the model. After this time, you will likely need to change it for another one. Check for signs of corrosion on the heater body or if any other metal part is rusted. If it is, you should change it. Other signs of corrosion are rusty water under the heater or rust-colored water coming out of the showers or sink.
Other signs that your heater is not working well is that there is less and less hot water without adjusting the temperature; if that happens, something is not working well. Another sign that something is wrong is the humidity around the appliance. There may be some slow leakage that could worsen over time if it is not replaced if there is a flooded area, it is very difficult for the device to repair itself. You should examine the components of the burner. They could plug and rust. To verify this part, you need to remove the heater door.
It is important that check the copper connectors, look for possible indications of harmful leaks. It is why tartar begins to form. The relief valve is very important since it serves to prevent the heater from exploding due to high pressures; it allows it to flow outward the hot water or steam that accumulates inside the tank.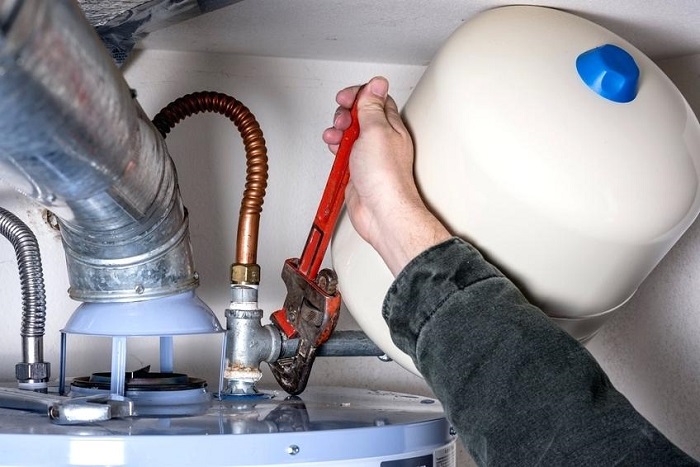 4 tips to keep a heater longer
Calculate the pressure valve once a year. To do this, the first thing to do is unplug the heater if it is electric, and if it is gas, turn on the key. Turn off the cold water supply and open the hot water, place a bucket under the valve so that the water does not leak. Turn the valve counter-clockwise with a screwdriver, then close the valve again. If you notice the presence of a water leak at the bottom of the heater, you will need to replace the valve.
Verify that the thermostat is working properly. A non-zero measurement indicates that the thermostat is broken and needs to be replaced. When this sensor fails, you will notice that the water does not heat up.
Leaks at the bottom indicate that your heater is corroded and worn inside. If you act in time, you will avoid that the area where it is flooded and above all run out of hot water unexpectedly. In this situation, the tank cannot be repaired, so you would have to replace it. If it is an old appliance, it is probably economically more profitable to buy a new heater.
Failure to heat the water can be another symptom of agony from your heater. Normally this situation occurs due to a problem in the thermostat or a sensor. In this case, it would be enough to replace the damaged part, but if your appliance is old, you will likely have to replace the heater.
Water heaters usually last from ten to twenty years of life, before changing it I recommend that you speak to a professional to find the best solution.
Tags:
replace water heater
,
water heater