If you like crafts as much as I do, this article is for you! With imagination and few resources, you can change the decoration of your pots by adding your personal style. Let's see 10 decorate flower pots ideas below.
I know how difficult it can be to find a pot that you like. It is difficult to find the ideal size, original design, and that is within budget. That's why we want to suggest some DIY ideas to give your pots a great look without spending a lot of money.
10 decorate flower pots ideas
To bring your artistic skills to light and add a lot of style to your plants, in this article we bring you many ideas to decorate your pots that will transform them into the ideal decorative element for your terrace or your living room.
Paint black and white patterns in your pots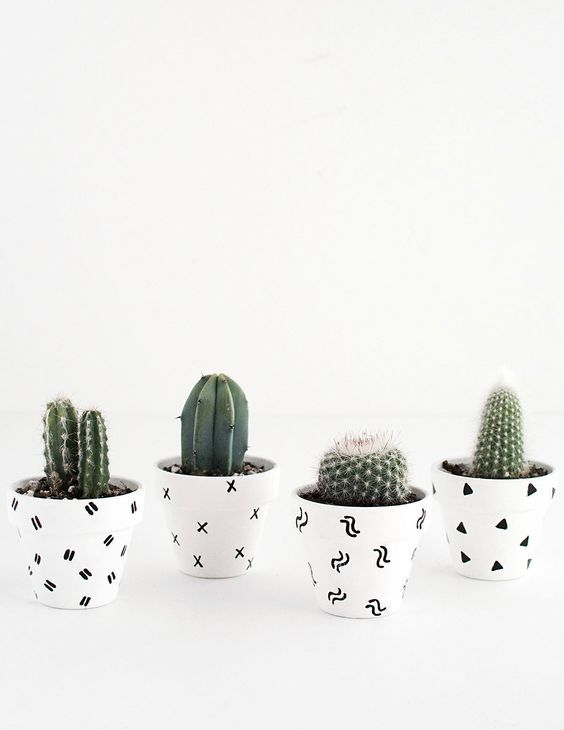 Painting is your best ally in crafts; it is an economic element and allows you to create many beautiful designs. One of the most chosen options, and that goes with any space are the black and white frames with different shapes.
This idea is for anyone, even if you are not very good at painting since they are simple and easy to make. You can even choose to make them with paint markers, which are simpler to manipulate and give the same effect.
Put a face to each plant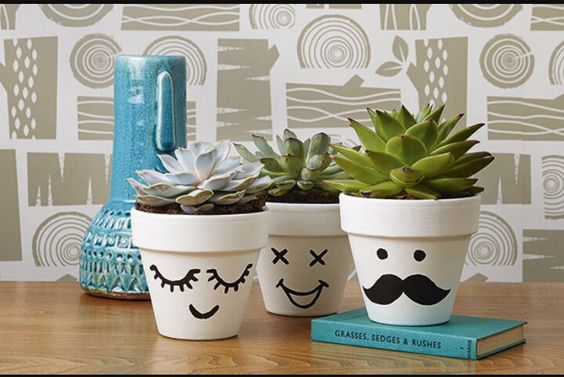 A beautiful design and also very easy to make: paint a nice face in each pot to give your plants a unique personality. You can find many different faces to draw and so you create a set of very nice pots.
Stick some eyes in your pots
To create a very original look for your plants without having to resort to painting, look for plastic eyes to stick on the pots. It is a fast and easy way to transform your plants with original detail.
Opt for blackboard paint to write on them
A good idea for your pots is to use chalkboard paint. In this way, you can identify your plants, write different messages or change frequently the design of each one.
Give a modern touch to your plants with metallic paint
To add a modern and original style, use metallic paint to paint details in your pots. At present copper tone is very fashionable, used in the modern and industrial style frequently.
Add color with gradient paint
A unique and original way to add color to your pots is by painting them with a gradient on a white background. It is a very easy technique to achieve and it will give your pots an original look.
A work of art for your plants
If you are good at artistic skills, display all your creativity in the pots to give your plants a house with many waves.
Use the same style and color palette for several pots
If you want to customize a group of pots, choose several designs and a single color palette to vary the decoration in each but keeping the same style. With this idea, all the pots will be seen as a very harmonious set.
Decorate with colorful glitter
The glitter is a resource that will give your pots a very youthful and fun style. You can cover the entire body of the pot, just the edge or the base, as we see in the photo.
Get a vintage flowerpot with decoupage technique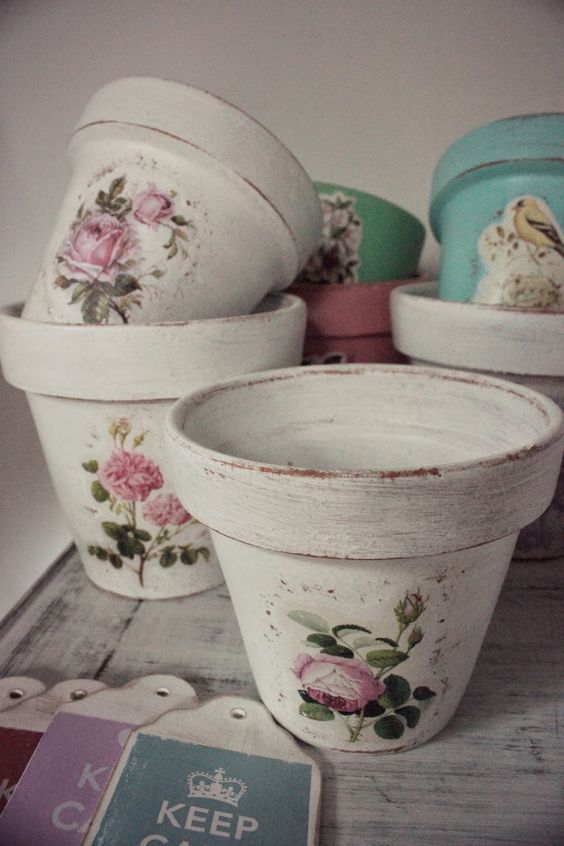 The decoupage technique is back in the fashion to decorate various elements, including your pots. It is an idea that looks great and allows you to work with any image you like, giving it a vintage and romantic finish.
Tags:
decoration tips
,
flower pots
,
flower pots ideas