There is a famous saying that "eat with our eyes". And indeed it is. A good presentation gets stimulate and whet your appetite. Not only we have to worry about the appearance of our dishes, but also for the presentation of our table.
So if you want to decorate a sophisticated table able to compete with the delicious dishes that you just cook, notes these 6 ideas for decorating an elegant table.
1. Take out the good dishes
Are you also reserving the good dishes for rare occasions like Christmas or New Year's Eve? We recommend you keep it handy for use also in special dinners or informal meetings. A trick? Choose a simple design, in fine white porcelain, to focus the attention of diners at lunch.
2. Boasts glassware
The cups and glasses help us to enhance the decor of our table. Glass, besides being the most hygienic and recommended for cooking material, it is also the most elegant. Its sophisticated and bright glare filled with glamor the dining table. Also, if the crockery is neutral color, you can play with the tones of the cups and glasses for a nice contrast.
3. Choose the appropriate table linen
A table of five holders should be well dressed, so the linen should not miss in our decor. To achieve a balanced aesthetics, our advice is that both table linen and other parts relate to each other. In other words, if you've chosen a simple and unobtrusive dishes, nothing better than to introduce some color and style using textiles.
You may also like to read another article on houseilove: Practical solutions to order and decorate your kitchen
4. Consider the style of the room
Another important aspect that we often forget is to consider the decorative style that prevails in our room. This is to achieve a certain harmony in the decoration. Therefore, if the decor of the room is contemporary, our table should also be. Both table linen and tableware, glassware and ornaments should relate to the aesthetics of our table.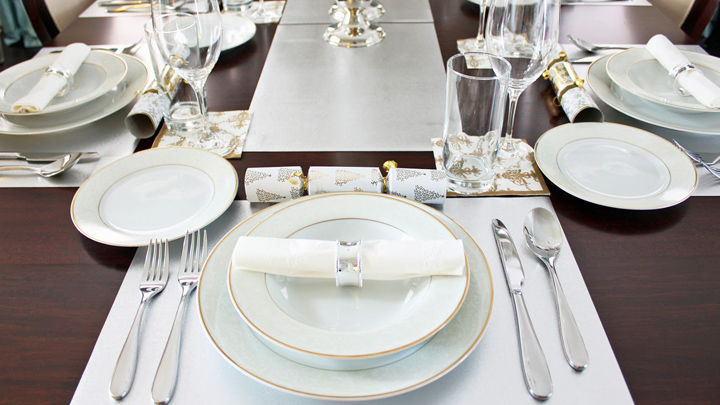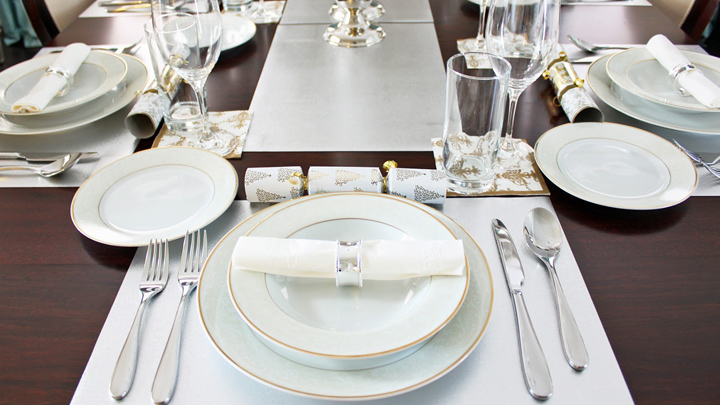 5. Dare to innovate
Dare to decorate the table with rare elements. And there is life beyond traditional centerpieces.You can opt for floral arrangements, colored candles to create atmosphere, perhaps an olive branch to surprise guests, letter or special message for each guest, wicker baskets to present the bread … There are plenty of ideas you can put in practice to decorate an elegant table.
6. Light up the table correctly
Lighting is another key aspect in the decoration of a mouthwatering table and five forks. It is illuminating this environment naturally, so food more attractive and succulent. So we put the table near a point of natural light. If not possible, the white light is the best choice.
The light should be well distributed to avoid dark areas. But at the same time, we must also avoid dazzling diners with a direct and close too light.
If the dining table is round, the ceiling lamp should be at the center of the table to achieve a uniform and general light. Whereas if the table is rectangular, the best option is to have several points of light distributed along it. As the distance between the table and the lamp, experts agree maintain a distance of between 70 and 80 cm. This prevents dazzle diners.
Tags:
table