If you also have the disadvantage of having a column in the kitchen area, you love to see the reform has done in this apartment located, completely reorganizing the spaces with the aim of achieving longer stays spacious, open and airy.
The kitchen opens directly to an office area, and communicates with the living room through an arched door without sheet. True, it has the advantage of being located in a plant that receives plenty of natural light through the windows located at the ends, but that light is enhanced by applying a color palette dominated by white and light colors on walls, ceilings, doors, moldings, countertops and furniture.
The furniture combines the INTRA-L and Santos SILK models, both in sand gray finish, two minimalist designs that fit discreetly in the interior of the housing. In the area of office remains a partition in rustic brick, a colorful detail that gives character and personality to the environment and the floor is covered with parquet in oak finish, a member extending across the floor to make a note of warmth and continuity to the set.
You may also like to read another article on houseilove: Ideas to design an integrated kitchen
But certainly the highlight in this case is that the kitchen is built around a large central island which houses the areas of cooking, scrubbing and preparation, in which the large work surface continues to be anchored in that column happens being an obstacle to become an excellent separator spaces and prints personality to stay.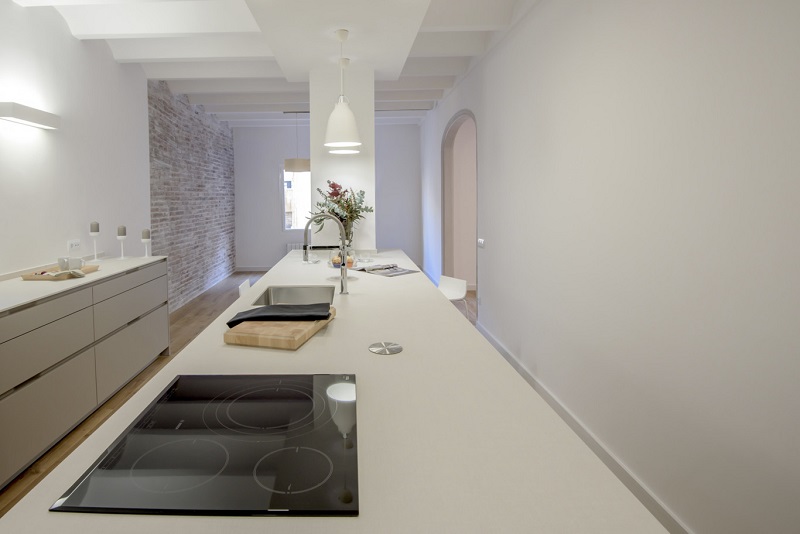 In addition the island, on its outer face, incorporates two large drawers and in the interior, a port module with buckets waste, integrated dishwasher and a plate holder module organized into three levels drawers full extraction, facilitating the organization of everything needed for cooking.
Tags:
column
,
kitchen