The bunk beds are those beds that help us economize the square meters available in the bedroom, as they take advantage of the space in vertical and so even if the room is small there may be a space for two people to sleep. They like children very much and also parents who do not have much room at home or want to use the rest of the space for other things. That's why we see them a lot in children's bedrooms.
Today we will see some ideas to use bunk beds in the bedroom that will serve you to gain breadth. You can place them in many different ways, even for three or more siblings to sleep if that's the case. Besides being a practical and comfortable solution they are also decorative. We will show it to you next.
A desk under the bed
We start with an idea that is one of my favorites. Although when we think of bunk we imagine a bed on another connected by a staircase, I would like to include this proposal because it is very decorative and, above all, very functional, as it allows you to make the most of a small space. It is about placing a desk and, over it, the bed. So you only need a few square meters to have both. If you are going to put it in a small room choose light colors to not saturate. Look how good it is!
Folding berths
One of the most interesting ways to save space is by placing bouncy berths. When they are not used they are closed and occupy no place. They are like one more closet. Arriving at night, you just have to open them and sleep. The bed can come out in different ways, wide or long, in parallel or one on top of another … There are many options.
With integrated drawers
Since we are saving space, we do it in every way. You can choose bunk beds with storage solutions such as drawers on the sides, under the bunk below or even on the stairs leading to the bed above. Once again the options are immense. Since these types of beds are usually chosen for reduced stays it is well to have an extra space to store things.
You may also like to read another article on houseilove: Ideas to optimize space in shared rooms
Not only for children's rooms
Related bunk beds with children's bedrooms because they are often greatly aided when the brothers sleep together. However, there are proposals for the elderly who are equally a hoot. Look at these two very different examples. To the left, with a rustic style, we see these two beds united in a corner of the most incredible. To the right we go to a Nordic environment where they are also wonderful.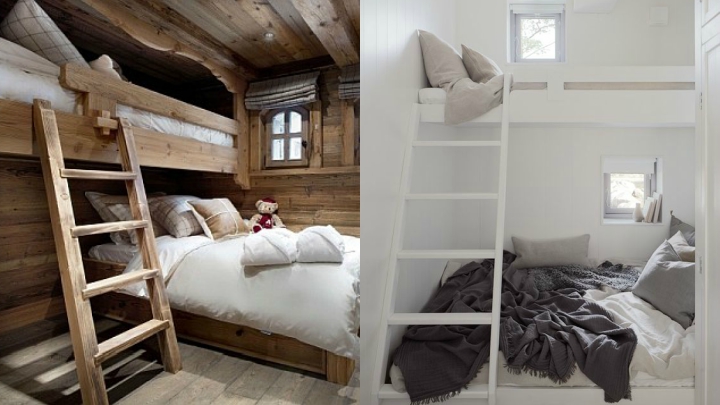 Berths converted into fortresses
To give a fun touch to the room and make this furniture even more decorative you can choose bunk beds that simulate a castle or incorporate up a slide, for example. Others seem to be inside a fairy tale or can also become a pirate ship. The imagination of the little ones has no limits.
Tags:
bedroom
,
bunk beds