As the holiday season is approaching, it's time to start decorating your home with festive ornaments. While store-bought decorations are readily available, handmade decorations add a special touch to your home. For those who are inclined towards DIY crafts, I have compiled a list of my favorite wooden Christmas decor ideas. These ideas are not unique but also easy to make, so you can let your creativity flow and make your home stand out this holiday season.
Rustic Wooden Christmas Signs
Nothing says "happy holidays" quite like a gorgeous, rustic Christmas sign displayed prominently on your front door or mantel. While pre-made signs are readily available, DIY wooden Christmas decor options allow you to customize with your unique style. Here are some of my favas: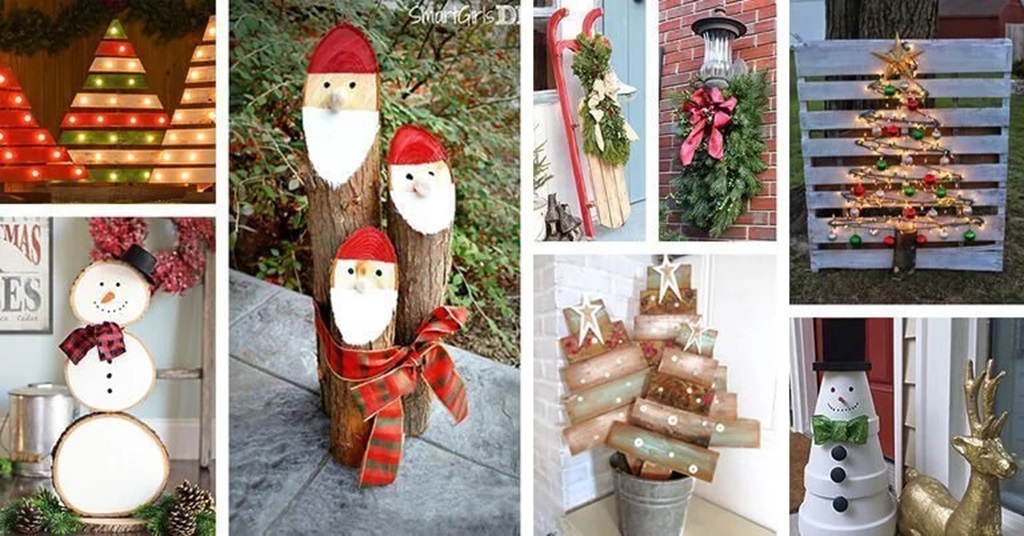 Distressed Wood Sign
This easy Christmas sign has that perfect aged farmhouse vibe, thanks to simple distressed techniques. All you need is a piece of wood, paint, and some sandpaper. I like using salvaged wood from old barns or fences for extra character.
Paint your background first, then letter your message once dry. Make sure to seal it with polyurethane so it withstands the elements. To distress, simply sand edges and spots you want to be worn. The more you sand, the more distressed it becomes. Finish by sealing again. Display outdoors with a festive bow topper.
Wood Slice Sign
Slice a tree trunk or large branch into rounds to create rustic wood slice signs. Use a miter saw with a fine finish blade for the cleanest cuts. Apply painter's tape for crisp lines when painting letters and designs.
Once painted, sand the edges lightly to smooth out any roughness. Use an outdoor sealer so they can be displayed outside without weathering. Lean against your front door or hang on the wall. So cute!
Chalkboard Sign
For a sign that does double duty, turn a piece of wood into a Christmas chalkboard. Paint with black chalkboard paint, let dry fully, then add lettering with chalk. Change up the message whenever inspiration strikes!
Use a thinner piece of wood so it's lightweight enough to hang. Add a ribbon or wire to the back for hanging. Display on your front porch railing or in the yard. When the holidays are over, flip it over to the unpainted side to have a wood sign year-round. Clever!
Rustic Wooden Christmas Decor
Now, let's talk rustic wooden decor accents to deck out your entire home with holiday charm. Many are simple to make yourself on the cheap.
Wood Slice Candle Holders
Among my favorite homemade Christmas decor projects are wood slice candle holders. They add perfect natural ambiance to holiday tables and mantels.
All you need are wood slices, tea light candles, craft paint and sealer. Paint the rings in complementary festive colors like red and green. Add polka dots, stripes, plaids or even snowflake designs if desired. So sweet!
They're also wonderful hosts for Christmas party favors. Place a tea light in the center with mini treats like cookies or candies surrounding it. Your guests get to take home the decor!
DIY Wooden Beaded Garland
Here's a great way to make your own rustic wooden beaded garland for gifting or keeping. Supplies you'll need include:
Wooden beads in assorted sizes

Hemp cording or thick twine

Essential oils (optional)
Simply thread the beads onto the cording in your preferred pattern. I like doing small-medium-large for variation. Add a few drops of Christmas scents like pine, cinnamon or clove to the beads if desired. Finish by tightly tying ends together to keep beads secure.
Drape your homemade wooden garland across your mantel, stair railing, above doorways or on the Christmas tree. Layer a few together for a fuller look if you'd like. Share the holiday spirit with friends by gifting them too!
Snowy Wood Slice Ornaments
These handmade snowy wood slice ornaments look gorgeous on the Christmas tree or hung in windows.
Use a mitre saw to cut thin rounds from a log or large branch. Paint white with brushed on "snow" using white acrylic paint. While still wet, sprinkle with iridescent glitter snow for some wintery shimmer! Seal once fully dry.
Add ribbon to hang on your tree or in other areas around your home. They make thoughtful homemade gift ideas for neighbors, teachers and family, too. Simply tie a bow and attach a gift tag. Frosty and bright!
Farmhouse Wooden Christmas Decor
The rustic farmhouse style is a perennial holiday decor favorite. Fortunately, many DIY wood projects perfectly capture that cozy, vintage vibe. Let your creativity run wild!
Wooden Pallet Snowman
One of the easiest wood projects is this wooden pallet snowman. Simply stack painted pallets in descending size order, add a face, buttons and hat – done! Use pallets leftover from other projects or find used ones for free on Craigslist.
Paint white and get creative with the facial features. Carrot noses made from orange paint or wood are super cute. Use black paint, rocks, or charcoal briquettes for the eyes, mouth and buttons. Top with an old hat, scarf or earmuffs.
Place your pallet snowman outside your front door or somewhere else visible from the street. He adds whimsical character to your home's exterior!
Barnwood Wrapped Planter
Upcycle an ordinary plastic planter into something special by wrapping it in reclaimed barnwood. Use scraps or partially damaged boards to give it an authentic aged look.
First, build an open-backed box out of your barnwood by screwing pieces together at corners. Make the interior slightly larger than your planter's dimensions. Slide the planter into the barnwood box from the back opening.
Fill with a miniature evergreen tree or pine sprigs and a few gift box decor accents. The rustic texture makes an ordinary planter extraordinary. Display on front porches, fireplace mantels or tabletops.
Mason Jar String Lights
Twinkling string lights instantly add a cozy holiday ambiance to any space. Instead of buying a pre-lit garland, use mason jars and string lights!
Start by marking where you want your lights spaced along the string. Remove the bulbs from the sockets at those points. Next, unscrew the mason jar lids and insert the string light sockets.
Fill the jars with mini ornaments, pinecones, cranberries or other decorative fillers. Screw the lids on just enough to hold the lights in place. Drape your homemade mason jar string lights around doorways, railings, above kitchen cabinets or on your Christmas tree. Light up the night!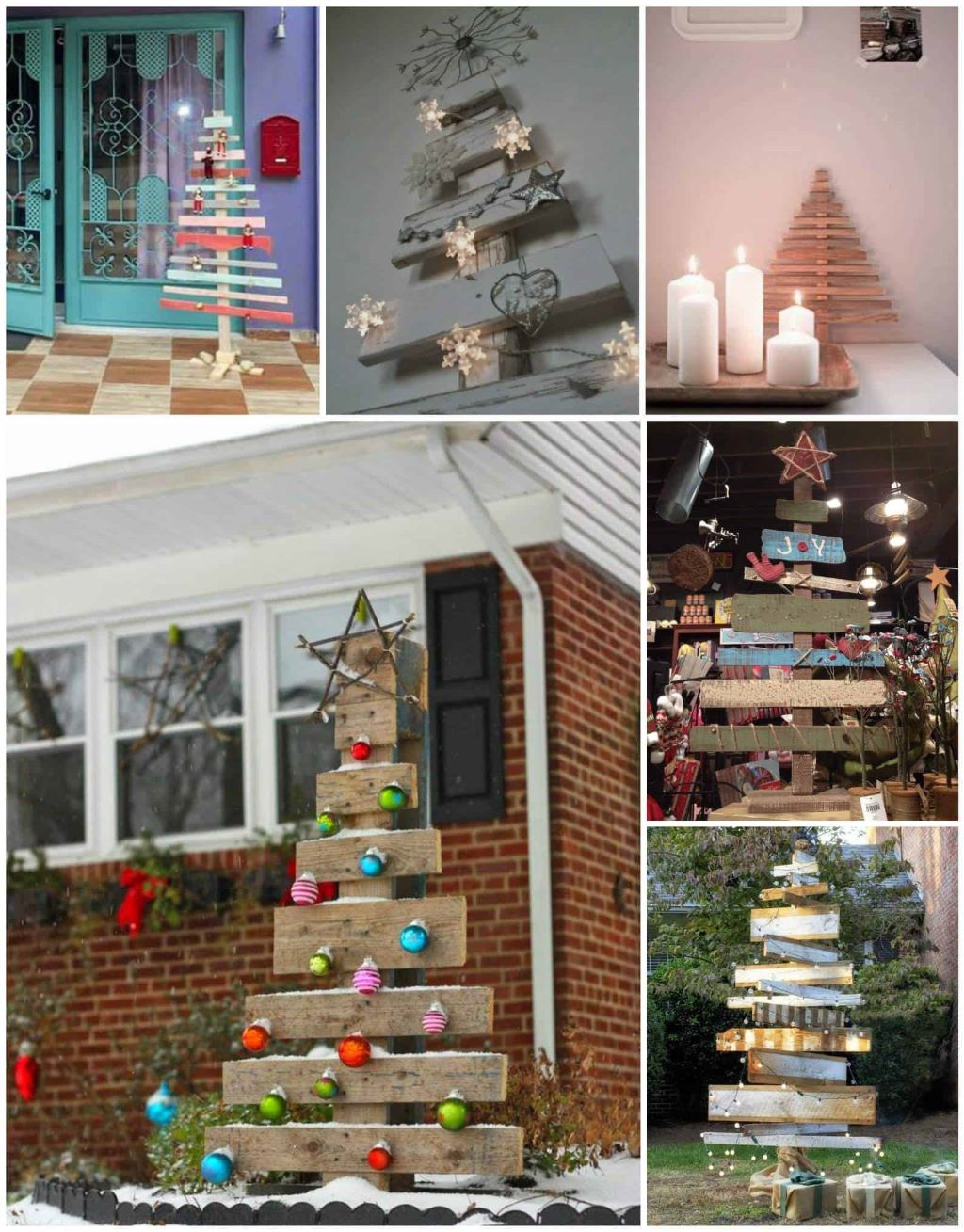 Wooden Christmas Tree Ideas
Let's shift gears to some wooden Christmas tree inspiration. We all love decorating the typical evergreen fir tree. But have you considered making your own "tree" out of wood?
All you need are a few pieces of scrap wood. Get creative with the shape and decor! Here are a few easy wooden tree DIY ideas:
Wood Stack Tree
One of the simplest wooden trees is made by stacking wood slices or blocks in a triangular tree shape.
Use slices of a log for a more natural look. Or stack square wood blocks screwed together for stability. Stain, paint or leave the wood bare.
Decorate with holiday greenery, pine cones, berries and ornaments. Add a tree topper star for the finishing touch! Display on tables, mantels or front porches.
Pallet Board Tree
Similar to the stacked wood tree, this version uses reclaimed pallet boards screwed together. Use full-length boards for the trunk and progressively shorter boards for the layers.
Lean against the wall or screw permanently into wall studs for extra support if desired. Paint it white for a snowy look or natural wood tones. Decorate with twinkle lights and ribbon garland. So rustic and whimsical!
Wooden Tree Wall Art
If you're short on space for a full wooden tree sculpture, try this flat wooden tree wall art instead. Just cut a simple Christmas tree shape out of plywood or another thin wood with a jigsaw.
Paint with chalkboard paint to make a fun DIY advent calendar! Attach tiny metal hooks and add mini chalkboard tags or bags with candy countdown treats. Or leave it wood-toned and decorated with painted designs.
Hang on a wall in your entryway or living room. This flat wooden tree takes up way less space while still spreading holiday cheer!
Creative Wooden Reindeer Ideas
No Christmas is complete without a visit from Santa's reindeer, right? Well you can have reindeer on display all season with these easy wooden reindeer decor ideas.
Reindeer Yard Silhouette
Welcome guests with this larger-than-life reindeer silhouette! Use plywood or other thin boards to cut out the shape. Make it as big as you want for maximum impact.
Paint or stain the wood, then attach to wooden posts or deck railing with sturdy screws. You could also attach it to a piece of plywood and drive metal stakes into the ground to stand it up in your yard. Add string lights for extra twinkle at night!
Mini Reindeer Yard Stakes
For pint-sized holiday cheer, craft miniature reindeer yard stakes. All you need is small wood squares, paint and dowels.
Paint or draw the head and antlers on wood squares. Glue onto dowels cut about 6-12 inches long. Insert into the ground along walkways, in planters or across your lawn.
Group little reindeer herds together for high festive impact. Kids will love making them too!
Wooden Reindeer Ornaments
Speaking of mini, these wooden reindeer Christmas ornaments are another fun DIY. Made from simple wood shapes and bits of buffalo check fabric, they work up in a jiffy.
Stack wood circles for the head and body, adding skinny rectangles for ears and legs. Glue in place, then glue on checkered fabric antlers and collar. Finish with a red pom pom nose!
Hang on the tree, swag on garland or give as personalized handmade gifts. Pop them in the mail with a sweet greeting to send cheer to faraway loved ones. Ho ho ho!
Christmas Wood Crafts
Let the kid in you run wild by creating these playful wooden Christmas crafts. All involve simple materials you probably have lying around.
Clothespin Gingerbread Men Ornaments
For the easiest wooden ornament ever, decorate clothespins with paint, glitter and googly eyes to transform them into mini gingerbread men. Use craft paint to make their icing details like buttons, mouth and gumdrops.
Glue on tiny candy cane pieces out of paper or glitter for an extra sweet touch. These make great DIY ornaments to do with kids. Hang on your tree or as gift toppers!
Wood Slice Christmas Gnomes
How cute are these tiny gnomes made from wood slices, fabric and trims? Paint the wood slices with hats, then accessorize with beards, collared shirts and little felt boots.
Give them personalities by choosing different styles of beards and mustaches. Attach a loop of ribbon to the back to hang as festive tree ornaments. Or display on mantels, shelves or tabletops to spread holiday magic.
Clothespin Christmas Trees
For more holiday fun, let kids create mini Christmas trees from clothespins and trims. Start by hot gluing clothespins together in a triangle tree shape.
Decorate with mini ornaments, beads, pom poms and anything else that fits into the clothespins. Finish by gluing a yellow star to the top. Display on tabletops, dressers, bookshelves or anywhere that needs a little Christmas spirit!
Outdoor Wooden Christmas Decorations
Let's head back outside for more ways to deck your home's exterior with gorgeous DIY wooden decor. No matter your home's style, you can create beautiful handmade accents.
Wooden Greeting Sign
Welcome guests to your home in style with this rustic "Hello" Christmas greeting sign. Use leftover board scraps for an eclectic look.
Cut and assemble into a tall rounded entrance sign. Paint white and add hand-painted red letters for a classic Christmas color scheme. Insert sturdy stakes into the ground or lean against exterior railings.
Add LED string lights along the edges for extra glow at night. This simple wooden sign makes a friendly holiday first impression!
Snow-Dusted Wooden Planters
Dress up plain wood planters or flower boxes with faux snowy frost. Simply spray-paint terra cotta pots or untreated wood planters with white paint. While still wet, apply glue and sprinkle with Epsom salts to look like freshly fallen snow.
Once dry, plant with frosty greens like eucalyptus, cedar, magnolia or pine boughs. Flank your front door or decorate porches and patios. The snowy planters offset all the lush greenery beautifully!
Wood Slice Holiday Wreaths
Wood slice wreaths make the wonderfully natural outdoor decor. Arrange similarly-sized slices into a ring and hold them together with floral wire until you're happy with the shape.
Decorate by weaving in pine, cedar, red berries, pinecones, and festive embellishments. Hang on doors, walls, lampposts or fences. Choose weather-resistant materials so your wreath withstands the outdoors.
Wooden Mantel Decor
Now, let's cozy up our fireplace mantels with DIY wooden Christmas decorations. Mantels are a great spot for holiday focal points in wood, fabric and greenery.
Wood Pallet Mantel
If your fireplace lacks a shelf mantel, create one easily using a wood pallet. Stain or whitewash first if desired. Then, secure firmly to the wall across the top of your fireplace.
Style with Christmas greenery like pine, cedar and fir. Incorporate pops of plaid or buffalo check with pillows, blankets or stockings. Arrange candlesticks, lanterns and holiday figurines for a festive mantel display! The rustic wood makes a perfect backdrop.
Wood Block Calendar Countdown
Countdown to Christmas with this clever advent calendar made from wood blocks stacked in a pyramid shape. Screw blocks together first if you want them permanently assembled.
Paint numbers on each block, then dress up plain blocks with washi tape as you countdown. Or skip the numbers and just decorate blocks with ribbon as you go. Place the "tree" on your mantel and watch the excitement build!
Wooden Stockings and Boxes
Part of a gorgeous mantel display includes stockings hung with care, of course! Rather than traditional red velvet, opt for wooden and burlap stockings for a natural rustic look. Or stack wooden crates in place of stockings.
Tie burlap sacks to the mantel filled with greenery to double as Christmas presents. Adorn with pine sprigs, holiday picks and plaid bows. The neutral wood and burlap complement all decor styles beautifully.
Fun Wooden Christmas Tree Ideas
Let's get more innovative with unusual Christmas "trees" made out of recycled wood. Who says it has to be a typical triangular fir? Go funky with these unique looks.
Wood Spool Tree
Put those leftover sewing spools to use building this charming wood spool Christmas tree! Start with a large spool upright as the base. Hot glue smaller spools side-by-side around it, staggering heights as you go up.
Keep layering, using smaller spools as you ascend towards the top. Spray paint spools in festive colors first if desired. Decorate with lights, ribbon garland and mini ornaments. The handmade imperfections make it so delightful!
Pallet Wood Tree
If you have access to free pallets, transform them into a super cool geometric midcentury inspired tree. Arrange full pallet boards in a zig-zag design so they overlap slightly.
Lean against the wall for support or attach permanently into wall studs. Decorate simply with white lights for a contemporary twist on the traditional Christmas tree. It makes a fabulous focal point!
Wood Block Tower Tree
How genius is this modular Christmas "tree"? Stack different size wood blocks with alternating orientations to build a funky abstract tower.
Play with different shapes like squares, rectangles and circles. Mix stains and paint colors too. Top with a bright yellow star!
This modern wood block sculpture steals the show. Display on mantels, side tables, gallery shelves or anywhere you need some striking style. Definitely one of the most unique wooden Christmas trees I've seen!
Wooden Christmas Gift Ideas
What better way to share some DIY holiday spirit than with handmade wooden Christmas gifts? You can make meaningful gifts using simple supplies. Here are some of my favorite ideas:
Wooden Snowflake Ornaments
Make rustic snowflake ornaments to adorn your loved ones' trees for years to come. Use a jigsaw to cut basic snowflake shapes out of plywood.
Apply wood-burning tools to "draw" and enhance the snowflake designs. Add linen cord for hanging. Personalize with recipient's name or date on the back. Such a special homemade present!
Custom Family Sign
Cherish family memories with this custom wooden family sign for their home. Use your Cricut or lathe to carve the family name. Add birth dates, anniversary date or other special dates. You could also Woodburn kids' names and birth years.
Stain or paint the background then seal well with polyurethane. Attach a sawtooth hanger to the back for easy hanging. A meaningful family keepsake they'll treasure forever!
Wooden Photo Ornament
Preserve favorite snapshots in these handmade wooden photo ornaments. Use a 1-inch hole saw bit to cut round wood discs. Print photos small enough to fit inside the hole. Glue snapshots into the openings.
Coat the discs in glue then cover in glitter for a sparkly background. Finish with ribbon to hang on the tree. What special memories to reminisce over year after year!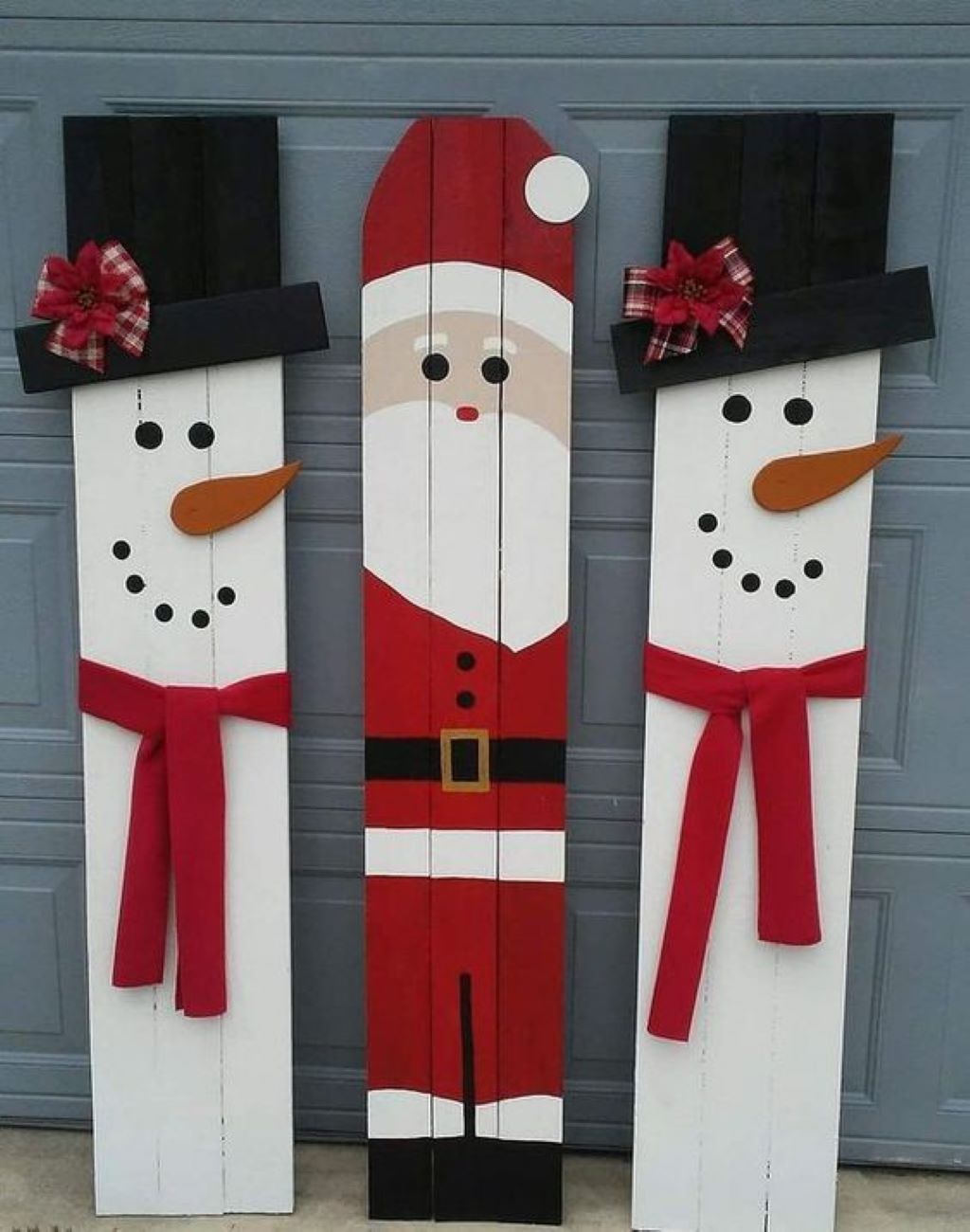 Wooden Window Boxes
Deck out your windows for the holidays with festive wooden window boxes. Line simple wooden boxes with burlap to prevent soil leakage. Plant with cool weather greenery like pine, holly, and winter blooms.
Attach securely to sills with weatherproof wood screws. Add Christmas picks, ornaments, and bows for extra holiday accents. Such an easy way to decorate windows for the season!
Wooden Lanterns
Light up porch steps and walkways with homemade wooden lanterns. Clean out tin cans and attach wooden bases using E-6000 adhesive.
Cut wood boards into square bases wide enough for the cans to fit into. Stain, seal, then glue. Place an LED tealight inside. Group down walkways to greet guests with holiday charm!
Wooden Gift Tags
Make your holiday gifting extra special with handmade wooden gift tags. Cut tag shapes from thin wood slices using a scroll saw. Ink, stamp or wood burn names and designs onto the front. Add a hole for stringing twine.
Personalized homemade tags add heartfelt meaning to gifts. Recipients can reuse them for ornaments too!
Wooden Spoon Snowmen
These wooden spoon snowmen make the cutest holiday decorations and handmade ornaments. All you need is a few common kitchen spoons, craft paint, glitter, felt and mini pompoms.
Paint the heads white and faces with orange noses. Dress up with top hats, scarves and buttons down their "coats". Add a ribbon loop to hang if making ornaments. Simple, yet full of whimsy!
Rustic Wooden Lanterns
Light up your home with the warm glow of rustic wooden lanterns. Clean out empty glass jars, then surround with slices of tree log rounds using craft glue.
You can also build cube frames out of scraps of fence wood. Add burlap panels between the slats. Nestle the jars inside and fill with battery-powered candles. Cluster them on tables, mantels and shelves to create magical ambiance.
I don't know about you, but I'm brimming with inspiration to make my home merry and bright! Hopefully you feel equipped to create your own gorgeous homemade wooden Christmas decorations.
Wishing you and yours a very happy holiday season. Get ready to deck those halls from floor to ceiling with handcrafted style and charm!
FAQs
What types of wood work best for Christmas decor?
Pine, cedar, birch, oak, and maple all make great choices for holiday decor. Opt for wood slices or planks around 1/4-1/2 inch thick for many projects. Stay away from pressure-treated lumber, which contains chemicals.
How do I get a natural rustic wood look?
Distressing techniques like sanding, scraping, and beating with chains will give wood a timeworn appearance. Using salvaged wood also imparts an aged, rustic vibe. Staining in weathered driftwood or whitewashed finishes enhances the worn look.
What's the best way to attach multiple wood pieces together?
For strength, use wood screws, nails, or wood glue to adhere pieces. Make sure ends are sanded smooth first. Clamps are helpful to hold pieces tightly in place while fastening. Drill pilot holes before driving screws to prevent splitting.
How should I seal wooden decor used outdoors?
Any projects displayed outside need a weatherproof sealant like outdoor polyurethane or exterior wood sealers. Apply several coats to protect the wood from moisture damage. Reseal annually as needed.
What are quick ways to decorate wood crafts for Christmas?
Paint with seasonal colors like red, green, and white. Add gingham ribbons and fabric trims for a rustic flair. Incorporate nature elements like pinecones, greenery, berries, and mini pine tree sprigs. Glitter, pom poms, and snowflake designs also look festive!
In summary
One of the things that make Christmas even more special is the warmth and coziness of wooden Christmas decorations. The different techniques and approaches to incorporating wood into your Christmas decor are infinite. By using the power of DIY, you can produce beautiful and unique handmade decorations that will add a touch of magic to your home during this festive season.
Let your imagination run wild and awaken your inner elf to create a personalized, one-of-a-kind holiday experience. May your holiday season be filled with joy, warmth, and unforgettable memories, all thanks to the charm and allure of handmade wooden decor, bringing a touch of nature and timeless elegance to your colorful Christmas festivities.
Tags:
christmas inspiration.
,
christmas ornaments
,
craft ideas
,
creative christmas
,
diy christmas
,
diy projects
,
festive diy
,
handmade decorations
,
holiday crafts
,
holiday home
,
home decor
,
homemade ornaments
,
rustic christmas
,
seasonal crafts
,
wooden decor