The leaves are changing colors, the air is getting crisp, and pumpkins are popping up on porches everywhere. That can only mean one thing – Thanksgiving is right around the corner! Thanksgiving is a time to gather with family and friends, reflect on what we're thankful for, and of course, enjoy a delicious turkey dinner. Adding some festive décor to your Thanksgiving table is a fun way to get in the holiday spirit. And what better way to do that than with some seasonal coloring placemats! Coloring is not just for the kids – it can be relaxing and enjoyable for adults too. Plus, when you make them yourself, you can customize them exactly the way you want. In this post, we'll provide several free printable Thanksgiving coloring placemat templates that you can download. These placemats feature classic Thanksgiving symbols like turkeys, autumn leaves, cornucopias, and more. Feel free to get creative with your coloring – use markers, colored pencils, crayons, or even watercolors if you want to get fancy. The only limit is your imagination!
We'll also give tips on how to print and assemble the placemats. By the time Thanksgiving rolls around, your table will be set with beautiful hand-colored placemats that get everyone excited for the big feast. Time to break out the coloring supplies!
Why Make Your Own Thanksgiving Coloring Placemats?
You may be wondering, why go through the effort of printing and Thanksgiving coloring placemats yourself when you could easily buy some pre-made? Here are a few of the best reasons to make DIY coloring placemats:
Cost Savings
Purchasing enough placemats for a large Thanksgiving gathering can get pricey. Making them yourself using free printables is much more budget-friendly. All you need is some paper, coloring supplies, and a printer.
Customization
From the design to the color palette, you choose exactly how your placemats will look. Tailor them to your table decor and let guests get creative coloring them! Store-bought placemats lack that personal touch.
Creative Activity
Placemat coloring is a fun activity to do with kids leading up to Thanksgiving, keeping them engaged and building excitement for the holiday. Adults can find it relaxing as well!
Special Souvenir
After dinner is over, have guests sign their coloring placemats. You can even date them! It will be a special keepsake craft to pull out each Thanksgiving.
Ease
These placemat templates print easily at home. Assembly only requires some simple cutting, coloring, and gluing or laminating. Much easier than sewing fabric placemats!
With so many benefits, it's easy to see why custom coloring placemats are the way to go. Keep reading to see all the possibilities and get templates you can start using today!
Free Printable Thanksgiving coloring Placemat Templates
We'll provide templates for four different styles of Thanksgiving coloring placemats: simple pumpkin placemats, cornucopia placemats, autumn leaf placemats, and turkey placemats.
Each template is available in a few sizes – standard paper (8.5×11 inches), legal (8.5×14 inches), and poster (11×17 inches) so they should fit on common paper sizes. Legal and poster sizes will give you a bit more coloring space! We recommend using heavier paper or cardstock for the best results.
To print, simply click the links below to download the PDF files. The placemat designs are formatted with printing in mind – all you have to do is send them to your home printer or a print shop. Easy peasy!
How to Print and Assemble Placemats
Printing and assembling DIY placemats is easy and fun. Here are some tips:
Supplies Needed
Placemat template PDF files (downloaded from links above)

Paper for printing – construction paper, cardstock, or poster paper will work best.

Coloring supplies – markers, colored pencils, crayons, paint, etc.

Scissors or craft knife

Ruler

Glue stick or double-sided tape

Laminator & laminating sheets (optional)
Printing Tips
For the best quality, print on higher weight paper or cardstock. This will help the placemats lie flat and hold up to spills.

Print a test page first to ensure template fits your paper size correctly. Re-scale the template PDF if needed.

For legal or poster sizes, make sure your printer can print the larger size paper. If not, print on multiple standard sheets.

Print in color for the full template backgrounds. If short on color ink, print grayscale.

For best results, do test prints on your actual paper/cardstock before printing the full quantity.
Cutting and Coloring Steps
Use scissors or a craft knife to carefully cut out the printed placemats. Cut along the solid outer lines.

Optional: To make a laminated placemat, slide the printed sheet inside a laminating sheet before cutting it out.

Use your preferred coloring supplies to decorate and color the placemat designs! Add names or other personal touches.

For a laminated placemat, run the colored placemat through a laminator according to the machine directions to seal it.

For a non-laminated version, carefully cut out the placemat following the solid lines again after coloring.
Assembly
To assemble multiple sheets into one placemat, arrange the pages in order.

Flip pages over and apply glue or double-sided tape to the backs along one edge.

Press the pages together, holding firmly for 30 seconds. Wipe away any excess glue.

Allow time for glue or tape to fully dry before using placemats.
And that's it – you now have beautiful custom coloring placemats ready for Thanksgiving dinner! Just set them on the table and provide coloring supplies for guests to personalize their spots.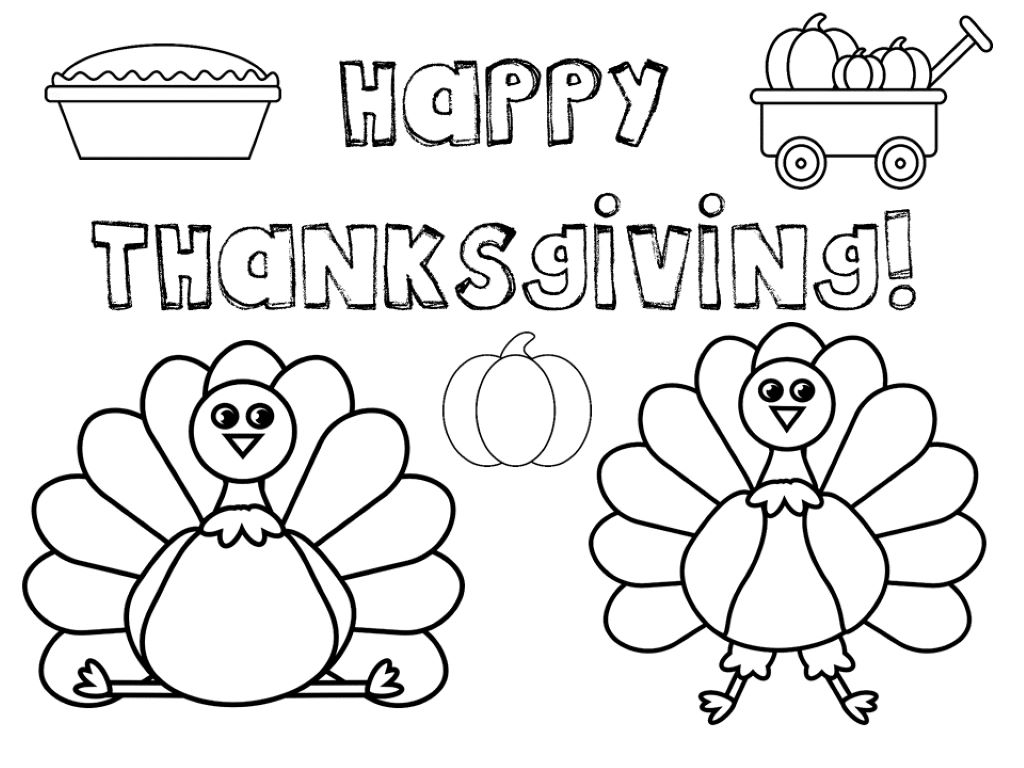 Coloring Your Placemats
The fun part of DIY placemats is getting creative decorating them by coloring! Here are some tips for coloring your printable placemat designs:
Choose your colors carefully

– Pick a color palette that matches your tablescape. Earth tones like red, orange, brown, and yellow are very "fall."

Add shades and textures

– Vary your pressure when applying colored pencil to create darker and lighter shades. Try different strokes like crosshatching or stippling for unique textures.

Blend colors

– With markers, color a gradient by overlapping and blending colors. Add depth by layering colored pencil colors.

Incorporate patterns

– Make sections pop by adding polka dots, plaid, stripes, or other repeating motifs. Patterns add visual interest.

Try new mediums

– Watercolor or acrylic paints allow you to wet-blend for smooth gradients. Brush pens give painterly strokes. Use crayons or pastels for waxier textures.

Fill the space creatively

– Don't just color the main image. Add extra doodles, designs, words, and personal touches in the blank areas.

Sign your work

– After Thanksgiving dinner, have guests sign their name, date, and a quick note on their placemat to make it a keepsake!
The more you play around with coloring techniques, the more skills you'll build. Coloring is fun at any age, so don't be afraid to experiment!
Displaying Your Finished Placemats
Once your placemats are colored up and assembled, you'll want to put them on display! Here are some tips:
Set out completed placemats at each table setting so guests can find their spots.

Lay placemats in reverse (colored side down) until mealtime to surprise guests with the big reveal.

Display extra placemats as wall art for seasonal decoration. Hang on hooks or lay in a frame.

Save signed and dated placemats from year to year as decorative Thanksgiving mementos.

Give placemats as Thanksgiving hostess gifts or neighbor gifts by rolling up and tying with ribbon.

Use placemats when serving Thanksgiving dinner other times of year to recall the memories.
However you choose to show them off, these colorful turkey, leaf, pumpkin, and cornucopia placemats are sure to impress. You may find placemat coloring becomes your new Thanksgiving tradition!
Frequently Asked Questions
What paper should I use to print the placemats?
For best results, print on heavyweight paper or cardstock. Construction paper, poster paper, or cardstock will give you sturdy placemats that lie flat. Standard copy paper may work but may wrinkle easily.
Can I print the placemats on regular computer paper?
Regular 20lb printer paper can work in a pinch, but is more likely to crease or rip. Placemats printed on lighter paper will need to be handled gently. For more durability, choose a heavier paper weight if possible.
How can I make the placemats reusable year to year?
Laminating provides the most durability and allows placemats to be wiped clean. Otherwise, placemats with marker/crayon will be hard to erase if used again. You can seal unlaminated placemats with a clear acrylic spray to help preserve them.
What's the best way to get crisp lines when cutting out the placemats?
Use a craft knife or scissors you're comfortable with. Cut on a self-healing mat with a metal ruler as a guide for straight lines. Take sharp, decisive cuts for clean edges. Work slowly and carefully.
What if my printer can't print large poster sizes?
Rather than enlarging, print the poster templates on multiple standard pages. Cut edges so pages can puzzle-piece together into one large placemat. Or tape pages side by side on the back before laminating or gluing into one placemat.
How early should I print and assemble the placemats?
We recommend printing and preparing your placemats 1-2 weeks in advance if possible. This gives you time to test print, troubleshoot any issues, and replace any messed up prints before your event.
Conclusion
Decorating for Thanksgiving is one of the best parts of the holiday, and setting a festive table is at the heart of it. With these free printable coloring placemats, you can easily add cheerful, seasonal flair to your holiday table on a budget.
Embrace the festive spirit with DIY wooden Christmas decor ideas, where the intricate pumpkin, leaf, cornucopia, and turkey designs offer a plethora of options for all ages to showcase their creative skills. Just as with Thanksgiving coloring placemats, imagine the joy of having guests personally color and sign their wooden ornaments, turning them into cherished keepsakes for the holiday season.
So download the templates, print some out on cardstock, grab some coloring supplies, and settle in for some relaxing craft time before the big feast. The colors of fall and heartfelt gratitude will shine through in these handmade placemats. Happy Thanksgiving!
Tags:
coloring placemats
,
diy crafts
,
family celebration
,
festive table
,
free printables
,
gratitude
,
holiday decorations
,
printable designs
,
thanksgiving
,
thanksgiving decor