We love the tropical style, especially now in summer. It is very colorful, fresh and fun and helps you create a cheerful decoration for your home. Today we stop at one of our favorite elements of this decorative style: pineapples. You can enter in the paintings, textiles, paper painted figures such as vases or decorative elements … We like very much! If you also do not miss these ideas to fill your home this summer pineapple.
Painted paper
If you fancy giving a whitewash one of the rooms of your home wallpaper pineapples, it will be a fun choice. We recommend you do not put it on every wall, but only one that monopolizes all eyes. You can choose the background color of pineapples, size and style … and so personalize your decor to the fullest. Of course, you should also like for the fall and winter because it's not something you can remove and put in every season…
Natural pinecones
And what about me decorating using natural pineapples? As you can too. You must empty one, and once you've enjoyed the taste of the fruit you can use the shell as a container. Look what else you can have pimps vases.
Wall Decal
If you wallpaper is perhaps a little excessive you can choose to place a decorative vinyl, smaller, on the kitchen wall, for example. It will give a touch of color to the room.
Textiles
Pineapples can appear anywhere in your home thanks to the prints for your textiles: quilts on the bed, on a cushion, tablecloths, towels or dishcloths. They can be drawings or embroidery. They are great for every room! They give you a fresh and colorful touch to your decor. You remember one DIY we did to create a cushion with tropical print, although it was not pineapple can help complement your decor …
You may also like to read another article on houseilove: Coasters tropical print
Paintings and films
If you like to decorate with pictures and films and if you chiflan pineapples can join both and get your hands on a sheet or box with a drawing of a pineapple. Or more. There are many styles to choose from, can be illustrations, wood, black and white or color …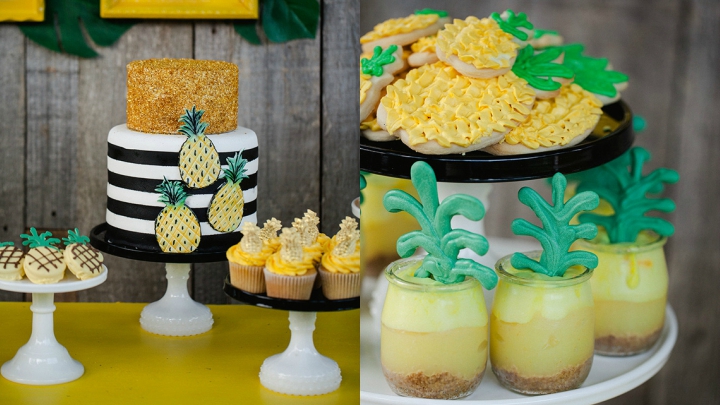 Tropical party
Summer is time to organize parties and tropical theme is always welcome. You can decorate your party with pineapples as protagonists. Get yourself a wreath of paper cones, for example, to acclimate the event, and you can also make cakes shaped pineapple, cookies, even a decorative yellow and green drinks as you see in the picture. Cool!
Decorative Accessories
Another option is to include decorative elements shaped pineapple somewhere in your home. On a special piece of furniture, the coffee table in the living room, on the bedside table (if a lamp can also be great), etc. I love having tones fluorine although they are complementarily White has a very special point too. You can also create them yourself planting, for example, a succulent in a yellow bowl. The plant will simulate a pineapple leaves and be very cool.
Tags:
Ideas for decorating
,
Pineapples