A kitchen with island is always very decorative and practical at the same time. There are different ways of designing these spaces, which can be large or even rather small and use the island to differentiate environments. Whatever your case, these ideas will help your kitchen with island acquire a unique personality and you get to give that special touch to the stay. Take good note of what we tell you below!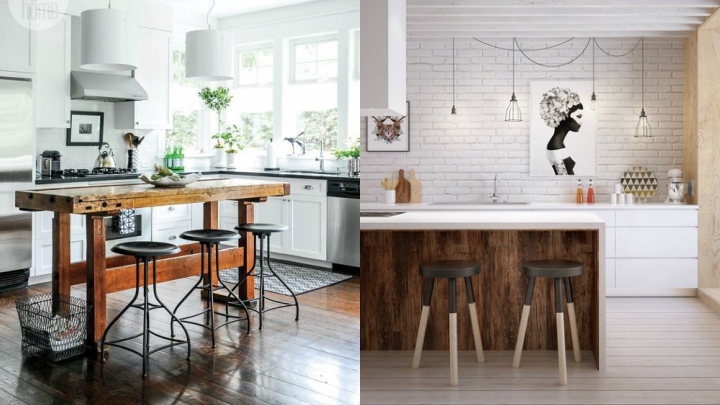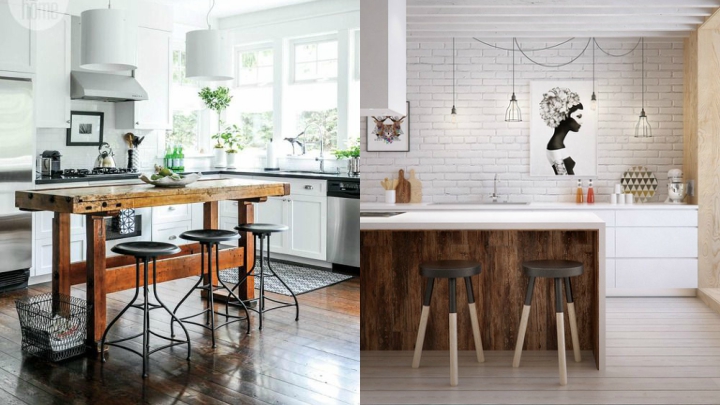 Island adapted to the style of the kitchen
The style of your kitchen will also mark the one you give to your island, in fact, this element is integrated in this room and to be part of it must adapt to this decoration. If you bet on the vintage style, for example, you can put a wooden island pickled or painted white, if you like the rustic style the wood will also be perfect, in natural color for example.
The stools
In the islands there is an element that becomes essential: the stools. Thanks to them we can sit around or on one of the sides, and you can put them in different ways, and also following different styles. They can be of wood, with back, adjustable, metallic … They will be necessary part of the decoration and also to find us always comfortable in the kitchen.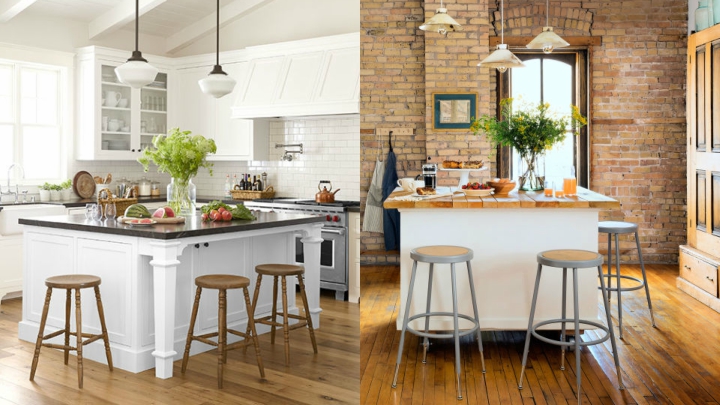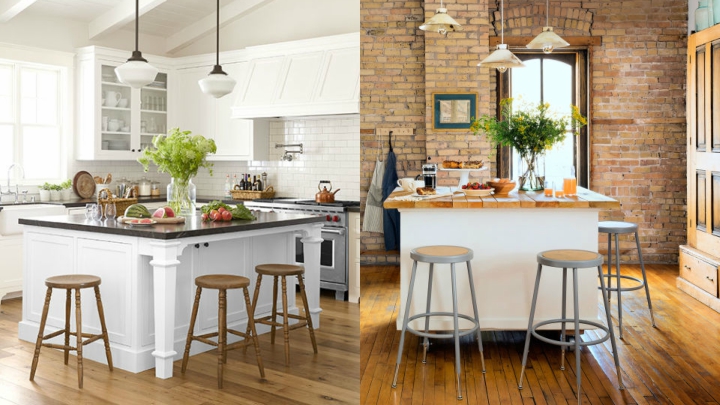 Bars that become islands
If your house is small do not give up having an island. In this case, it will be smaller, and it can be enough with a bar that you place in your kitchen to separate it from the rest of the house. With this small island you will be able to differentiate spaces and will also serve as breakfast bar, for example.
You may also like to read another article on houseilove: Ideas to design an integrated kitchen
Islands as a storage system
The island can fulfill a support function to cook, to differentiate spaces and you can also give an extra use: as a storage system. This can be achieved in different ways, either by placing shelves on the kitchen side, to put your recipe books or leave some dishes always by hand, or to do so towards the side that communicates with the dining room, for example, and create a nice bookstore taking advantage of this piece of furniture.
Low cost islands
If you are crafty and you want to customize your kitchen to the fullest you can encourage you to make an exclusive design for your island and make it with your own hands. An interesting idea is to use a Kallak shelf from Ikea (or several), place a wooden board and even some wheels if you want, or leave it fixed without wheels. You will have a very nice island that also, having the characteristic holes of this piece of furniture, will become extra storage space for your kitchen.
Lamps on the island
If your kitchen is large and you can afford to place large lamps on the island, the result will be very decorative. Another option is to put light bulbs in view, which are less bulky and also give it a churlish touch. If you have an industrial style, for example, you can put some metallic tulips and make a composition with several lamps that light your island.
Tags:
kitchen with island