Now that the good weather arrives, feel like enjoying the open air spaces. If you feel like gathering, your friends to eat or dine in good company the balcony can be a great place to do it. Of course, if it is not very big, you will not have many, so it is a good idea to distribute the space so that you are comfortable and at ease. Or if you do not have room for many people, maybe play an evening for two.
And what about the decor? It is a fundamental point of this meeting, so let's see some ideas to decorate your balcony and thus receive your guests as they deserve.
The lighting
If you have organized a meal the sunlight will brighten this encounter with your friends. If you can bother you, you will have to put some umbrella or lower the awning if you have. There are umbrellas that can be attached directly to the railing, without foot, which are very comfortable for the balconies. If this evening takes place at night, you should make sure that the table is well lit. You can place a central light and other more decorative like garlands or candles, for example.
The importance of details
Although you do not have too much room on your balcony, you cannot overlook the details. For example, you can make a completely personalized table services, sure that your guests are very surprised and do not expect something like that. You can also hang a sheet or picture on some of the walls or put a floral detail on the table. With very little you can get a lot.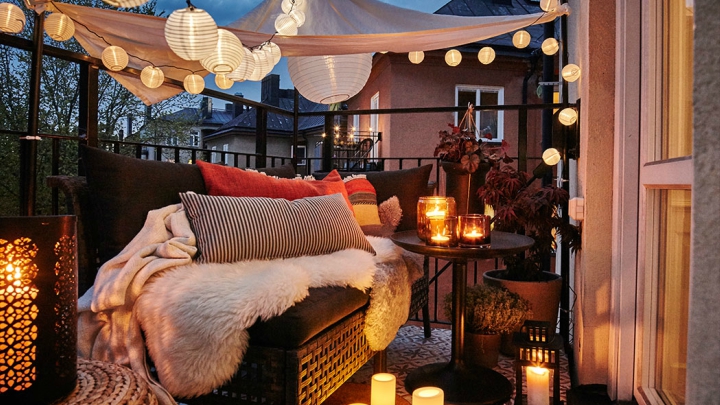 An appetizer on the center table
If your balcony only fit some sofas with a central table, you can prepare a casual snack. In this case, you can play with the decorative possibilities of the food itself and its presentation. Not having a big table where to be able to explayarte does not mean that you cannot give a chulísimo touch to this encounter. You can use special dishes and glasses to present the food and add some detail like wild flowers on this central table, for example.
You may also like to read another article on houseilove: Ideas for decorating an outdoor area with pool
Cushions on your balcony
You may have room on your balcony for a table and two chairs, for example, or you may have comfortable sofas and, as I said before, you can organize a meeting with friends in a more casual way. Decorate your sofas with cushions. You can put them of varied colors; choose a tone that serves as base, prints … As you like! The cushions are very decorative and, in addition, will make everyone more comfortable.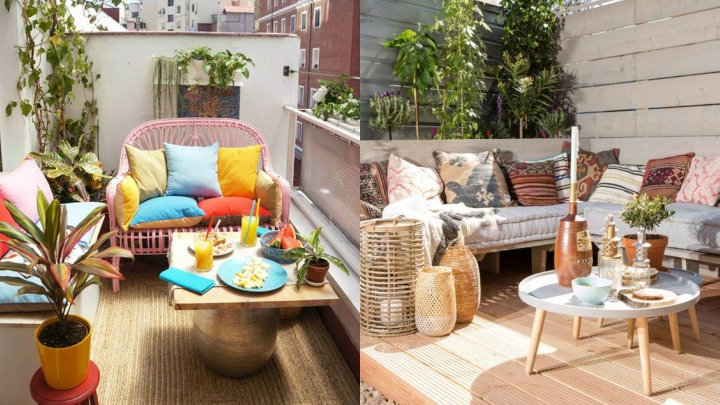 Some plants are always welcome
If you do not pay too much attention to the decoration of your balcony but you feel like giving it a special touch now that you have visit buy some plants or flowers. Bringing nature up to this corner can help you design a most welcoming space. You can opt for leafy plants or some seasonal flower that adds a stroke of color to your balcony.
Tags:
Decorate Balcony