Decorating following a specific style can bring a lot of personality to your home. This style you can capture in any of the rooms of your house, and this will make you have the option to play with the different elements that characterize it.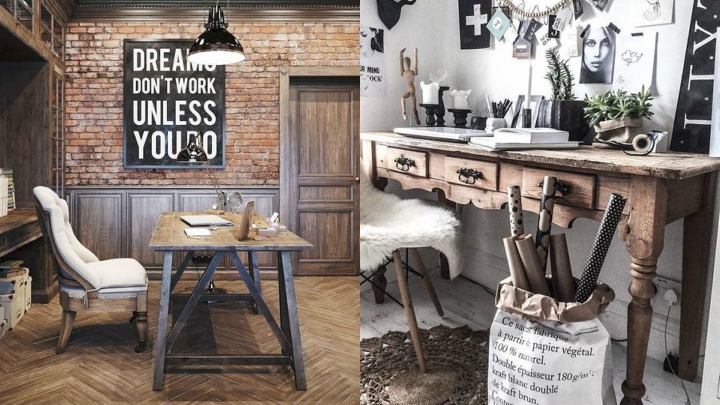 Today I want to focus on the rustic style and the office. What do you think of the combination? If you work from home, you have a room converted into a work area and you are passionate about rustic decoration you can not miss the ideas that I show you to turn your office into a cozy rustic office and, in addition, where concentration and creativity are favored.
The wood, essential
If there is something that characterizes the rustic style is the use of wood. Normally it is usually in dark tones, although if you see that it reduces luminosity to your work space you can use some more clarita. The stone is another material that is very well rustic spaces. When it comes to combining wood you can use other materials and fabrics that will make you feel great: the leather of the office chair, the cotton of a curtain or the metal of the legs of a table will create some very interesting contrasts.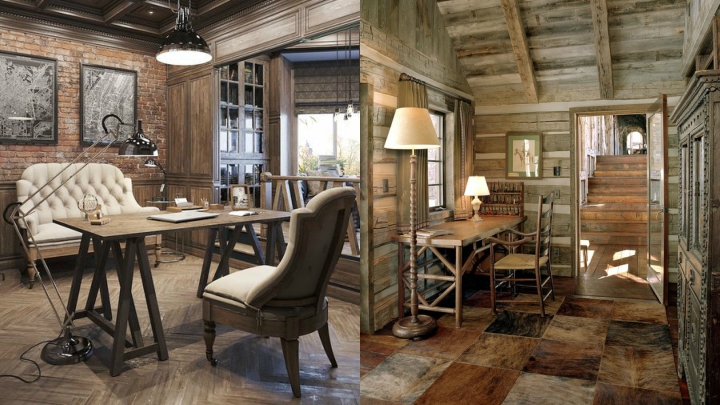 You may also like to read: Ideas for Decorating with French Charm Style
The importance of the details
In the office you must facilitate order and cleanliness to favor, consequently, concentration and creativity. Do not saturate it with many things, but it does introduce small details that make this space yours. It is important that you personalize it, without moving so you do not feel overwhelmed. To give that rustic touch we are looking for you can put a blanket on a chair in a corner, a nice rug, a sheet with natural motifs or a plant on the table or one of the shelves.
A little color
The wide range of colors available in the decoration helps you achieve different moods. Blue reduces stress and green helps us to be more calm and optimistic, for example. If you are looking for creativity, yellow and orange can help you. In this way, on this base of wood that we have in floor, furniture and even walls, it places small details of color. You can do it in some textile or in some decorative object like a lamp or some books. You can also bet on some smaller furniture, such as extra storage, in some shade that gives some joy to the dark wood.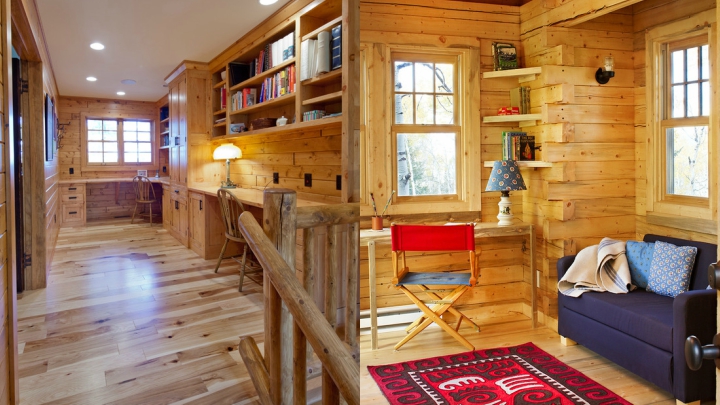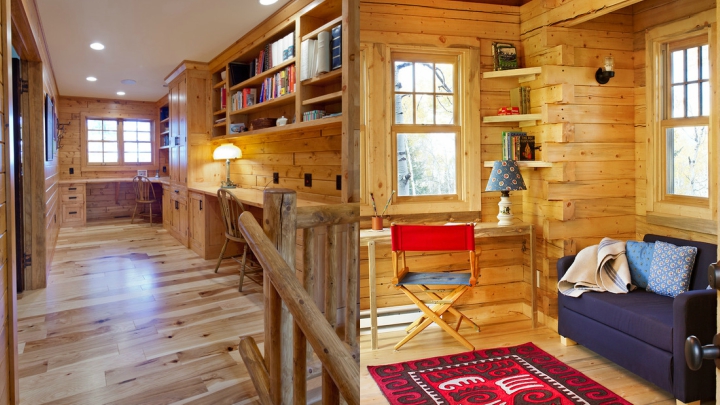 The lighting
Lighting in a work space is an aspect that you should never neglect. For your visual health and for your comfort. If you have opted for rather dark wood for your rustic office you should bear in mind that this room will have to be well lit so that, when there is no natural light during the day, work comfortably. Place a general light on the ceiling and a spot light on your desk. To give it the rustic look we look for wrought iron can be an excellent choice.
Tags:
rustic style office