The holidays are right around the corner, and you know what that means – it's time to deck those halls! As the host of Thanksgiving dinner this year, you want your home to feel warm, welcoming and festive for your family and friends. One of the best ways to set the tone is with Thanksgiving door decor. When guests arrive, the front door will be the first thing they see. You want it to wow them right from the start and get everyone into the holiday spirit. A beautifully decorated door creates an energetic and merry vibe, so your guests walk in ready to celebrate and give thanks.
Don't stress if you're not naturally creative or stuck on Thanksgiving door decor ideas. I've put together this handy guide with unique, easy Thanksgiving decorations that are sure to impress your guests… without taking up too much time or money. Keep reading for gorgeous looks that range from rustic chic to modern farmhouse!
Rustic Fall Wreaths
Nothing says "welcome" like a wreath on the front door. For Thanksgiving, look for wreaths that incorporate natural elements like dried leaves, acorns, pinecones, feathers and burlap. These organic materials in autumn colors evoke cozy cabin vibes and pair perfectly with plaid flannels and boots.
Craft a foraged wreath from items collected in your own backyard. Use a grapevine base and attach fallen leaves, small pinecones, curly willow branches, feathers and other finds with hot glue or wire. Feel free to get creative with the design!

Purchase a pre-made natural wreath base and adorn it with ribbon in harvest shades. Check craft stores for affordable options. Tie on extra greenery like red dogwood stems or yellow maple leaves.

Accent with a plaid bow or fabric autumn leaves. Burlap and cotton provide pleasing texture.

Add a woodland creature like a felt owl, fox or hedgehog for an unexpected touch.

Hang a classic pinecone wreath and weave in dried flowers, mini gourds, berries and bundles of wheat.
The simplicity of natural elements makes rustic wreaths a timeless choice. Let your wreath say "come on in for cozy comfort food and good company!"
Modern Farmhouse Signs
In the age of Instagram, a cute front door sign is a must for picture-perfect Thanksgiving door decor. Choose a rustic-chic sign that exudes modern farmhouse style with a whimsical message about gratitude, blessings, gatherings and family.
Opt for a distressed wood sign shaped like a turkey, leaf or pumpkin. Paint or stencil letters on like "Give Thanks" or "Let's Talk Turkey." Accent with burlap bow.

Print or hand letter adorable sayings onto wooden plaques, like "Come in, Gobble til you Wobble," "Grateful and Blessed" or "Happy Harvest."

Attach a mini chalkboard sign and write greetings like "The Turkey's In!" or "Welcome Friends, Give Thanks!" Change it up daily.

Paint messages like "Gather Together" or "Home Sweet Home" on wood slices or faux pumpkins for a farm-fresh vibe.

Frame classic quotes about gratitude on burlap or linen for a timeless effect. Think Psalms 100:4.

Carve "Thankful" or "Blessed" into a smooth plank of wood with simple block lettering.
The right Thanksgiving sign spreads cheerful and cozy vibes. Find a spot proudly display it near your front door or on the porch railing.
Harvest Flowers and Plants
While pumpkins and mums reign supreme, don't overlook the power of flowers and foliage to elevate your Thanksgiving door decor. For gorgeous color, texture and autumnal style, incorporate harvest blooms and botanicals:
Flowering kale and cabbages in shades of white, pink and purple give je ne sais quoi. Place in stone pots flanking the front door or lining the walkway.

Sunflowers are iconic for fall. Go for dwarf varieties in rustic burlap-wrapped pots, or find stems to place in a wheelbarrow.

Unusual blooms like dahlias, zinnias, sedums, chrysanthemums, asters, marigolds and amaranthus add vibrant pops of color.

For rich crimson hues, seek out flowering plants like cyclamen, celosia, salvia, begonias and succulents.

Ask your local florist for autumnal favorites like hypericum berries, flowering vines, ornamental kale or grasses. No green thumb required!

Accent with foliage greenery like eucalyptus, holly branches, curly willow, magnolia leaves, dogwood or birch stems.
Pull together harvest blooms in a galvanized bucket, watering can or wheelbarrow by the front walkway. The gorgeous colors paired with natural textures shout "fall!"
Wood Pallet Signs
Want to infuse industrial flair into your Thanksgiving decor? Rustic wood pallet signs are super on-trend. Upcycling shipping pallets into decor like signs, placards and monograms gives off modern farmhouse vibes for minimal cash.
Stencil or hand paint messages like "Give Thanks," "Gobble Gobble," or "Happy Thanksgiving" onto a mini pallet. Hang from jute rope on your pillar or door.

Stamp or stencil letters onto individual wood planks, then piece together into names or words. Spell out "Thankful & Blessed" or your family's last name over the door.

Glue wood slices, small pinecones, burlap and other natural embellishments onto a pallet background in the shape of a wreath or tree.

Attach a square pallet vertically next to your door. Use clothespins to clip up festive cards from friends and family.

Lean longer pallets against the wall near your porch as signage. Paint "The [Your Last Name] Residence" or "Give Thanks Here."
Infuse your Thanksgiving door decor with homespun charm using upcycled pallets. They're perfect for displaying messages, sentiments and decorations on a budget.
Warmholiday Pillows
An easy way to make your Thanksgiving decor feel cozy and complete is by adding warm, colorful pillows to your outdoor furniture. Choose patterns and materials that give off the rich vibes of the harvest season.
Pillows sewn from wool, cotton, jute and burlap fabrics look handmade and earthy. Bonus if they include buttons, stitching or embroidered accents.

Look for plaid and buffalo check pillows in colors like red, orange, brown and tan. Toss onto rocking chairs or benches.

Find pillows emblazoned or embroidered with words like "Grateful," "Blessed," "Thankful," or "Give Thanks." Very on-theme.

Printed pillows with autumn motifs like leaves, acorns, pinecones and pumpkins further reinforce the season.

Knitted or crocheted pillows in ochre, mustard and moss green tones say handcrafted charm. Layer textures and patterns.
You can never have too many cozy pillows when creating a welcoming porch or patio. Don't be afraid to pile them on! The more, the merrier.
Harvest Produce Displays
Want to go all out embracing the harvest spirit? Create mini produce displays using fruits, vegetables and plants native to the season. They make for gorgeous organic Thanksgiving door decor that screams fall:
Pile mini pumpkins, gourds, ears of corn, tiny bales of hay and baby squash into a vintage wheelbarrow, crate or basket. Drape floral tendrils like ivy all around the edges.

Display colorful heads of cabbage, kale and broccoli in galvanized buckets or watering cans. Intersperse wheat bundles and AUTUMN leaves.

Group baskets of apples and pears with accompanying branches and foliage. Prop a ladder against your home and arrange the baskets up the rungs.

Line your walkway with hay bales and pile corn stalks and vines on top. Pumpkins and sunflowers make great accents.

Create arrangements of dried corn cobs, nuts like acorns or walnuts, dried okra pods, green beans, wild grasses and autumn branches.
Showcase the gorgeous bounty of the harvest season in creative ways all around your porch, door, railings and walkway. Your guests will swoon over these organic displays.
Country-Chic Lanterns
As the evenings get darker earlier, outdoor lighting becomes key for illuminating your space and providing a warm, welcoming glow. Take a country-chic approach with these lantern ideas:
Line your walkway with votive candles in glass jars. Place inside paper bags weighed down with sand or rocks. Poke tiny holes in the bags to let the light shine through.

Set hurricane lanterns or glass terrariums filled with candles along your steps and porch. Place some on stacks of books or crates for different heights.

Hang strand lights from jute rope behind your wreath for a magical twinkling backdrop after dark.

Group candle-lit lanterns together on tables and shelves in uneven numbers like sets of 3, 5 or 7. Vary metals, shapes and sizes.

Nestle tea light candles or lanterns inside hollowed out mini pumpkins, acorns, and gourds. Line porch railing or edge of walkway.
Lighting immediately gives your home a cozy, lived-in feel. Embrace farmhouse charm and function with these easy lantern ideas. Your arriving guests will adore it.
Over-the-Top Pumpkin Displays
When it comes to classic Thanksgiving motifs, nothing tops the mighty pumpkin as the ultimate symbol of autumn. So go ahead and go overboard with door and porch displays overflowing with plump pumpkins:
Line your steps or walkway with a pumpkin procession. Mix sizes, shapes, colors and textures for variety.

Go for volume by piling loads of pumpkins on your porch, in giant boxes, into wheelbarrows, surrounding hay bales… everywhere.

Hollow out a large pumpkin and place a pillar candle inside for a jack-o-lantern effect. Etch patterns into smaller pumpkins to accent.

Perch pumpkins of graduated sizes in a galvanized tub or trough. Underplant with pansies or flowering kale.

Stack mini white and gray pumpkins into the empty spaces of a wooden crate or pallet board.

Nestle mini pumpkins into the holes and openings of a rustic ladder, stacked crates or wooden chair.

Attach pumpkin silhouettes made from wood, metal or plastic to your door, garage, or exterior walls. Painted to resemble real pumpkins.
Go ahead and bring on the pumpkin tribe. When it comes to this cheery orange squash, more is more for maximal seasonal impact!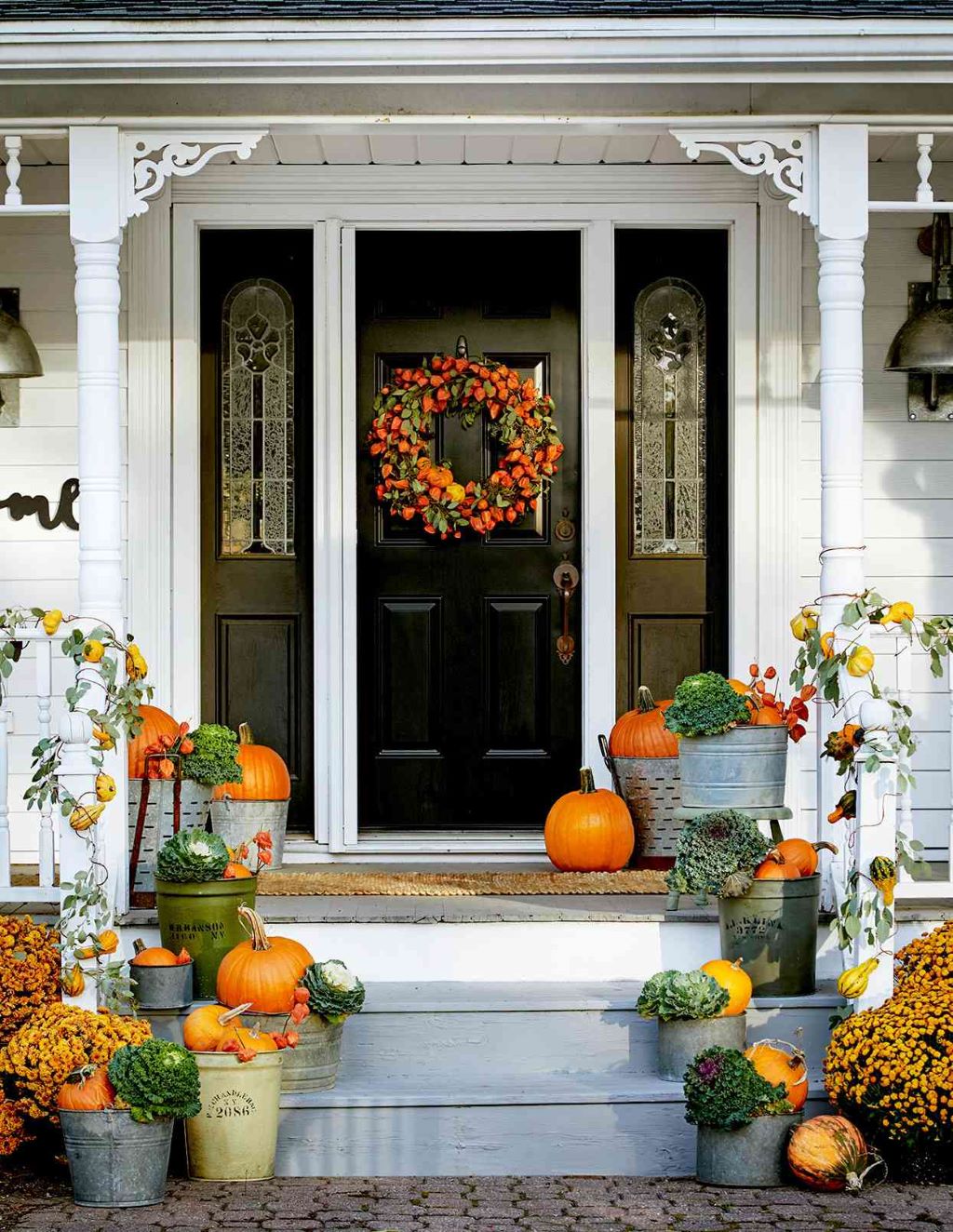 Burlap Accents
Want to infuse earthy texture into your Thanksgiving door decor? Incorporate natural burlap fabric everywhere. Its organic roughness beautifully juxtaposes the sleekness of wood, metal, and stone.
Wrap faux pumpkins or vases of autumn branches with burlap and tie on jute bows. Display on porch.

Drape your stair railings with burlap pennant banners tied on with twine.

Cut burlap into long strips and weave through your porch railings back and forth like a ribbon.

Line a galvanized tub or trough with burlap, then fill with pumpkins and gourds.

Wrap burlap rectangles around porch columns and secure with simple twine bows.

Craft mini burlap wreaths to hang along exterior walls and embellish with spring accents.
Burlap gives everything a relaxed, farm-fresh edge. Incorporate it wherever possible for texture, warmth and fall feasting vibes.
Hay Bales and Corn Stalks
For inexpensive organic matter, look no further than standard barnyard staples like hay bales and dried corn stalks. Arrange them creatively to imbue farmy flair:
Stack square and round hay bales on your porch, around your door, along the railing, or lining the walkway.

Drape corn stalks and bundles of dried flowers casually over hay bales for the perfect farm photo op.

Use hay bales as pedestals by displaying pumpkins, pots or buckets on top.

Fill a galvanized tub, wheelbarrow or wagon with hay for a quick textural display.

Prop corn stalks in cast iron urns or bundles against railings and walls for architectural height.

Weave corn stalks, vines, sunflowers, and grasses together into mini fall wreaths. Hang them along your door and exterior.
Hay and corn instantly evoke images of county fairs, corn mazes, and harvest season. Incorporate them generously for quintessential autumnal ambiance.
Plaid Everything
Another way to deck everything out for autumn is by covering your decor in festive plaid. Checkered and buffalo plaids in shades of red, black, gray, and tan scream Thanksgiving appeal.
Hunt down plaid pillows for your rocking chairs, benches, porch swings, and outdoor seating. Toss them everywhere!

Drape plaid blankets over railings or pile them on hay bales. Roll down the top to reveal the cheery lining.

Wrap plaid ribbons around pillars, railings, wreaths, and banisters for an easy pop of pattern.

Line plaid tablecloths over buffet tables, drink stations, or serving areas for a cohesive seasonal look.

Fold plaid napkins into squares, tie them with twine or jute, and tuck into galvanized buckets, jars, or planters.
Plaid offers timeless flair with just enough farmhouse edge. Add this classic pattern generously throughout your Thanksgiving door decor.
Rustic Wood Elements
For texture, warmth, and coziness, infuse reclaimed wood elements wherever possible. Tease out the rustic details already present in your architecture using wood boards, crates, ladders and boxes:
Lean old ladders against the walls near your front door. Hang wreaths from the rungs and display flower pots on the steps.

Nail wood crates or pallets to your exterior walls. Stuff them with pillows, lanterns, flowers, or other decorations.

Line your walkway with cut wood slices as luminaries. Place tea lights in the centers and light up your path after dark.

Stack antique wooden boxes, crates or baskets on your porch to hold harvest Thanksgiving door decor. The older and rustier, the better.

Attach an old "pick your own" sign on your gate or front door. Prop up a vintage crate overflowing with mini pumpkins or apples.

Surround planters and pots with wood rounds in varying sizes to give height and dimension.
Salvaged wood adds oodles of chippy, homey character. Incorporate reclaimed planks, slices, crates, and crumbling boxes wherever possible. Your decor will feel comfortably lived-in.
Autumn Botanical Prints
For your interior entryway decor, adorn the walls with framed autumn botanical prints. Vintage-style images of leaves, flowers, plants and produce add whimsy and color.
Search Etsy or thrift shops for classic nature and seed catalog prints from the 1960s onward. Frame in simple black frames.

Print your own photos of autumn landscapes, leaves changing color, bare trees, and seasonal produce like pomegranates and squash.

Look for wall prints of someone foraging bundles of flowers or gathering bushels of apples. Very quaint.

Botanical anatomy prints of plants like sunflowers, roses, and dahlias make excellent wall art. Find antique ones for a curious effect.
Surround your front door with these homages to nature and the harvest season. It's a refined way to extend your porch decor indoors.
Terracotta Pots and Succulents
For low maintenance decor, creatively display terracotta planters overflowing with succulents and cacti. These desert plants perfectly evoke autumn colors with their rich crimson, purple and orange hues.
Flank your door with matching terracotta pots. Opt for round, angular, or scalloped designs. Underplant succulents with moss or pebbles.

Create a vertical garden by staggering potted succulents on the porch wall. Hang some planters for extra height.

Line up a collection of pots, watering cans, urns and glass containers along the railing or steps. Plant each one with colorful succulents.

Mix different shapes of terracotta pots like squares, rounds, ovals, spirals and diamonds. Keep the succulents low and overflowing.
Succulents are ideal for beginners and busy hosts since they require little maintenance. Displaying them in timeless terracotta pots will make your entry a vibrant focal point.
Café String Lights
To give your porch or patio an intimate French bistro vibe, crisscross strands of cafe string lights overhead. A lattice of glowing bulbs immediately warms up the space for evening gatherings.
Drape lights from trees to cover your yard in a sparkling canopy. Add leaf garlands for an ethereal autumn glow.

Criss-cross lights above your dining tables for ambiance during Thanksgiving meals outside.

Outline windows, doors, railings, and rooflines with continuous strands of lights.

Enclose your porch with lights by running them vertically and horizontally all along the ceiling and pillars.

Wrap tree trunks and branches in lights for a whimsical, firefly effect. Outline pathways too.
The right lighting can make any space feel special. Bathe your outdoor areas in a dreamy glow by embracing strings of cafe lights this Thanksgiving.
Cozy Throws and Blankets
Your outdoor decor isn't complete until you add cozy throws and blankets to your seating areas. Choose autumnal colors and natural, textural fabrics for an inviting look.
Drape wool, cotton and knit blankets over chairs and benches. Fold down the top edges for a layered effect.

Add fuzzy throws in plaids, buffalo check, stripes and solids. Consider textures like fleece, velvet and faux fur.

Knitted and woven fringed throws in earth tones like ochre, crimson, mustard, and moss give off vintage vibes.

Handmade quilts and crocheted blankets look charmingly homemade. Ask talented family members if they'd like to contribute their creations.

Style natural blankets made of jute, burlap, linen and wool in harvest shades. The rougher and more organic, the better.
Your guests will love being able to cozy up as the evening gets cooler. Make sure to provide plentiful blankets that evoke hygge and comfort.
Coordinating Napkins
Thanksgiving is all about sharing meals with loved ones. So make your tablescapes sing by folding coordinated napkins at each place setting. Play with texture, pattern, and color for lively individual touches.
Fold white linens into origami shapes like turkeys, trees, or flowers. Use maple leaves as embellishments.

Wrap cutlery in different plaid or print napkins tied with twine, ribbon, or raffia. Rustic chic.

Line woven baskets with cloth napkins in complementary colors. Allow ends to drape over the edges.

Nestle stacks of autumnal napkin rings at each seat made from mini gourds, acorns, feathers, leaves, etc.

Cluster assorted glasses and roll napkins into each one. Spill flowers and herbs out the top for a "picked from the garden" look.

Embroider guests' initials or names on personalized seasonal napkins as keepsakes.
Special napkin details make it clear you want your guests to sit back and savor the occasion. Take the time to unfold and refold each one thoughtfully.
Autumnal Centerpieces
No Thanksgiving table is complete without a show-stopping seasonal centerpiece. Opt for arrangements with organic elements, autumn colors, and floral touches:
Hollow out a large white pumpkin and fill with roses, mums, berries and foliage. Surround vases with gourds of varying shapes and sizes.

Create a woodland scene within a distressed paint-stained tray using acorns, pinecones, moss, seed pods, dried leaves, feathers, and clusters of flowers.

Nestle pillar candles into beds of dried corn husks, wheat, or grasses. Encircle the bases with crab apples, nuts, pomegranates, and pheasant feathers.

Weave foliage like magnolia leaves and twigs through half-painted white pumpkins. Accent with hypericum berries, flowering kale, and other blooms.

Arrange vibrant dahlias, zinnias, celosia, and fall wildflowers in a ceramic jug or jug wrapped in burlap. Surround with mini gourds.
Take inspiration from nature's harvest bounty. Incorporate fruits, foliage, nuts and blooms in autumn tones for an unforgettable tablescape focal point.
Chalkboard Menus and Signs
Make your gathering feel extra special by creating beautiful handwritten chalkboard menus and signs. Frame and display them to guide guests through your thoughtfully planned Thanksgiving feast.
Write out your holiday menu on a large framed blackboard. Include appetizers, sides, main entrees and desserts. Draw decorative borders.

Craft a drink station sign with options like spiced cider, mulled wine and cranberry sangria listed on mini chalkboards.

Draw cute pilgrim and turkey sketches to direct guests to food stations. Write "Main Eats," "Autumn Harvest Buffet," "Pie Fixins Bar."

List side dishes on individual small chalkboards. Prop each one next to the corresponding serving platter so guests can identify foods.

Outline your dessert spread with tiny chalkboards describing pies, cakes, cookies, puddings and other sweet treats.
Hand-lettered chalk signs make everything feel personal. Guests will appreciate the handcrafted charm as they serve themselves.
Painted Leaves
For a interactive project with kids, have them decorate colorful paper or natural leaves with holiday messages. Display them artistically on your door or around your entryway. Some ideas:
Paint and glitter realistic looking faux foliage. Write "Give Thanks" on the leaves, or have kids color them with markers.

Print out leaf outlines and have kids color them with crayons, watercolors or fall themes. Hole punch and string them up.

Mail paper leaf shapes to family members beforehand. Ask them to write what they're thankful for. Hang the replies on a small tree.

Distress real leaves by dipping them in tea or baking them. Have kids write notes of gratitude on them to display.

Attach leaves to wood discs with miniature clothespins. Guests can write what they're thankful for and hang on a gratitude tree.
Hand-decorated leaves doubling as gratitude notes will make kids feel like they contributed. Plus, the messages warm guests' hearts as they arrive.
DIY Woven Wreaths
Set the seasonal mood with homemade wreaths woven from foraged branches. Collect fallen twigs, curly vines, dried grasses, corn husks, and leaves on a nature walk, then fashion them into rustic wreaths with hot glue and floral wire.
Weave slender willow or birch branches into loose rings and shapes. Accent with clusters of red berries for pops of color.

Incorporate large dramatic autumn leaves like oak, maple and ginkgo. Glue or wire them at intervals along the branches.

Add whimsical elements like feathers, acorns, and clusters of dried pods and flowers. Keep it organic.

Accent a neutral wreath with a bold plaid bow or fabric foliage. Check thrift stores for fabric scraps to upcycle.

Hang wreaths over doors, on porches, along the railing, above mantels, or along the front gate.
Rustic handmade wreaths feel special since they came straight from nature. Display them prominently to welcome guests into your autumnal oasis.
Cinnamon Pinecones
For festive fall fragrance and color, collect pinecones on a walk and let kids brush them with a cinnamon sugar mixture. Tuck the aromatic cones all around your porch and interior.
Mix cinnamon and sugar together. Provide craft brushes for kids to brush it onto each pinecone petal.

Set the coated pinecones out to harden. Once dry, tie jute around the stems for hanging.

Group the pinecones in galvanized buckets, wood planter boxes, wicker baskets, or terra cotta pots.

Wrap them up with fabric scraps and ribbon to make decorative sachets. Tuck into drawers or display in bowls.

String them up with twine along railings and botanical prints. Nestle into existing porch decor and wreaths.
As pinecones release their cozy cinnamon aroma, they'll evoke hygge and the nostalgia of the season for everyone.
Gratitude Tree
Designate a small tree, wreath, or even just a bundle of branches to creatively display notes and cards from your guests sharing what they're grateful for.
Cut leaf or acorn shapes from cardstock, hole punch them, and tie ribbons through to hang as ornaments. Leave pins, yarn and pens out for messages.

Set out blank cards and envelopes that guests can fill out giving thanks. Hang the sealed notes from clips on a garland of fall foliage.

Attach a small felt tree on a wall or board. Provide sticky notes for people to jot messages on and stick to the gratitude tree.

Hang twine criss-crossed from an autumn branch wreath. Use clothespins to attach cards from guests.

Set up a long table with blank note cards, pens, leaves, washi tape, glitter glue, stickers, etc. for people to craft gratitude notes. Display them in a basket.
The gratitude tree makes thankfulness interactive and communal. Guests will enjoy contributing their thoughts and reading each other's notes.
Seasonal Scented Candles
Fill your home with cozy aromas like cinnamon apple, pumpkin pie spice, maple pecan, and leaves with scented candles perfect for fall.
Group together seasonal candles in different shapes, sizes and scents along your entry table, mantel, or shelves.

Place candle holders on plates of dried leaves, pinecones, acorns, and other foraged items from outside for a nature-inspired look.

Opt for candles in warm hues like crimson, burnt orange, and mustard yellow. Metallic accents like gold, copper, and bronze look luxe.

Infuse your dining table with delicious scents by nestling miniature candles amongst your autumnal centerpieces.

Fill glass terrariums with sand and chunks of wax from spent candles. Arrange on tables surrounded by tea lights.
The right festive fragrances transport guests and set the scene the moment they walk in. Keep wicks trimmed and candles lit to spread cozy aromas.
Harvest-Inspired Cocktails
Get into the autumn spirit by offering seasonal cocktail options with ingredients like cider, cranberries, pomegranate, brandy, bourbon, and spice.
Serve up hot spiced cider and cold hard cider in assorted mugs and glasses. Skewer cinnamon sticks for stirrers.

Infuse a punchbowl of cranberry juice cocktail with fresh oranges, cinnamon sticks, whole cloves, and brandy. Ladle into mini glasses.

Mix up Pomegranate Martinis featuring vodka, triple sec, and pomegranate juice or grenadine. Garnish glasses with pomegranate seeds.

Offer a hot Buttered Rum cider simmering in crockpots, topped with cinnamon sugar butter stirrers.

Provide a wide selection of fall beers like pumpkin ale, amber ale, and Oktoberfest lagers. Chill in ice baths.
Cocktails incorporating quintessential fall flavors make the occasion feel abundantly seasonal. Infuse your drink station with autumn's harvest bounty.
Entryway Vignettes
Pull together an inviting autumnal entry by thoughtfully styling console tables, shelves, sideboards, or stair landings with collected vignettes. Here are some inspiring ideas:
A white pumpkin alongside stacked antique books, ceramic jugs, and mini gourds in a large basket.

A cluster of candles surrounded by wreaths of dried grasses and flowers. Prop old books underneath.

A chalkboard easel with "Happy Thanksgiving" surrounded by terra cotta pots planted with succulents.

Collections of pinecones, acorns, and walnuts artfully combined withwheat bundles, feathers, leaves, and flowers.

Galvanized buckets overflowing with mini pumpkins, ornamental kale, and dried okra pods.
Though simple, adverse collections of organic objects, candles, and seasonal accents evoke the textures of Thanksgiving. Display them creatively as guests arrive.
Fallen Leaves
Take advantage of autumn's free bounty by gathering fallen leaves to use as rustic Thanksgiving door decor. Leaves make stunning temporary art arranged simply in wreaths, garlands, centerpieces, and table runners.
Collect a variety of leaf shapes and colors like maple, oak, birch, dogwood, and aspen. The variety makes designs special.

Weave leaves into the holes of a moss-covered wreath form or grapevine base. Wire sprigs of berry branches throughout.

Create a garland by wiring leaves together in a line and draping down the table, railing, fireplace, or entryway.

Float colorful leaves in glass vases, bowls, or jars to create ephemeral centerpieces. Place tealights in the water alongside.

Scatter loose leaves casually down the center of your table atop autumnal table linens. Simple and organic.
Take time before the leaves disappear to gather nature's free bounty. Let gorgeous fall foliage be your colorful, temporary art.
Natural Wood Signs
Rustic wood signs made from planks, slices, and rounds lend homespun character to your Thanksgiving decor. Paint or stencil seasonal quotes and blessings on them.
Stencil "Give Thanks" onto round wood cutouts and hang them along the porch railing with jute cord.

Paint cheery blessings like "Grateful & Blessed" onto rough-hewn plank signs made from salvaged barnwood.

Print phrases like "Let Us Give Thanks" on wood boards in simple block font. Lean against railings or prop near the walkway.

Carve inspiring words like "Gratitude," "Harvest," and "Bounty" into slices of log rounds. Layer them on shelves or stack on porch steps.

Attach vintage seed sack fabric or burlap to wood boards. Stencil the words "Blessed Beyond Measure" using whitewash paint or chalk.
Sending uplifting messages sets a tone of thankfulness for the day. Display rustic wood signs prominently to greet guests with gratitude.
Turkey Feather Accents
Greet guests with lighthearted whimsy by tucking turkey feathers into existing decor. Let the feathers lend playful texture and reinforce the Thanksgiving spirit.
Wrap stems with floral wire or tape and insert into floral arrangements and centerpieces. Consider different sizes and patterns.

Use feathers to embellish wreaths, garlands, and table runners by wiring them on at intervals. Add poufs of tulle or raffia for extra flair.

Embellish place cards and table tents by tying feathers onto corners with twine or decorative ribbon.

Glue feathers onto the edges of votive candles for a fun turkey touch. Arrange the votives creatively on tables and shelves.

Stick feathers into the tops of ceramic vases and pitchers of flowers. Allow them to spill over edges.
With their rich colors and patterns, turkey feathers add personality everywhere. Tuck them into decor for playful details guests will appreciate.
Autumn Foliage Garlands
One glance at gorgeous garlands swagged along your home's interior entryway or exterior spaces and guests will know fall has arrived. Create DIY garlands bursting with seasonal foliage.
Collect fallen leaves, red and yellow maple stems, birch boughs, pine sprigs, bare branches, seed pods, etc.

Wire them together attaching leaves and stems at intervals. Swag long garlands over mantels, railings, doors, and staircases.

Intersperse faux autumn leaves if you can't find enough natural ones. Embellish with berries, feathers, and pheasant tails.

Wrap bare tree branches with strips of burlap or wide ribbon. Accent with felt or faux leaves attached with mini clothespins.

Incorporate harvest fruits like mini gourds and pumpkins. Wrap stems in floral wire and dot them along the garland for bursts of color.
Autumn foliage garlands evoke the nostalgia of leaf peeping season. Display them prominently so guests breathe in the autumnal ambiance.
Turkey Figurines
Inject playful personality throughout your decor with ceramic, wooden, plush, or figurine turkeys. They provide nostalgic nods to the quintessential Thanksgiving bird.
Arrange carved wood turkeys along the porch railing or line them up along a shelf or walkway. Paint to accentuate details.

Display ceramic turkeys in cozy tableaus – peeking out of baskets or nestled by pumpkins and gourds.

Have kids line up their toy and plush turkeys on entryway stairs or along the banister.

Attach turkey silhouettes – flat wooden or metal outlines – on walls as fun signs directing guests.

Place brass, ceramic, or glass turkeys of different sizes along the center of the dining table or scattered around.
Turkeys make it clear the feast day has arrived! Incorporate figural turkeys as a playful detail for guests to discover as they explore your home.
Warm and Cozy Accessories
Finally, fill out your tailored Thanksgiving decor with thoughtful details and accessories that provide comfort and coziness.
Soft woolen blankets in traditional patterns laid over chair arms

Bowls of nuts like pecans and walnuts for snacking

Trays of sweet gourmet chocolates and caramels

Pitchers of lemonade, mulled cider, and cranberry punch

Bottles of wine breathing under linen napkins

Cutting boards stacked with artisan breads and cheeses

Lanterns and candles emitting a warm, welcoming glow
The little touches make all the difference in helping guests relax and settle in. Infuse your space with warmth so it feels like a soothing retreat.
Last Thoughts
As you prepare to gather with loved ones and reflect on gratitude this season, may your home welcome guests with cozy wide open arms! Infuse it with autumn's harvest charm using natural textures, rich colors, and rustic touches.
Display handmade wreaths, create seasonal vignettes, layer in pops of plaid, and artfully arrange foraged leaves and organic elements. Adorn your home with vintage Thanksgiving decorations, where each carefully chosen piece harmonizes with your thoughtful Thanksgiving door decor details, creating a nostalgic ambiance that sets a heartwarming scene for friends and family to cherish forever.
Frequently Asked Questions
When should I decorate for Thanksgiving?
Most people decorate their homes for Thanksgiving 1-2 weeks before. Some enthusiastic hosts start decking the halls right after Halloween! But anytime in early to mid-November is fine.
What are good Thanksgiving color schemes?
Traditional Thanksgiving colors are earth tones like burgundy, mustard, olive green, and rust orange. Accent with pops of black, white, gray, and natural wood tones. Plaids and autumnal patterns also evoke Thanksgiving.
How can I decorate my entryway for Thanksgiving on a budget?
Inexpensive ideas include a natural wreath of foraged branches, twine and paper leaves, a chalkboard sign with a holiday quote, a mini hay bale with pumpkins on top, and inexpensive candles lining the walkway in paper bags or mason jars.
What foods can I incorporate into my Thanksgiving decor?
Great edible decor ideas are wreaths of dried fruit slices, a cornucopia or wheelbarrow overflowing with mini pumpkins and gourds, an entryway table display with nuts and fruits like pomegranates, mini bales of hay, dried corn stalks and ears of jewel corn.
How can I make my Thanksgiving table decor feel special?
Ideas include a runner of autumn leaves down the table center, a chalkboard menu displayed on an easel, simple white pumpkins accented with foliage as centerpieces, pinecones and candles clustered creatively as decoration, and handwritten place cards.
Tags:
autumn elegance
,
creative ideas
,
diy decor
,
door decor
,
festive entryway
,
guest impressions
,
holiday welcome
,
home inspiration
,
seasonal decor
,
thanksgiving
,
thanksgiving decorations
,
thanksgiving inspiration.
,
wow factor