Are you looking forward to receiving your Christmas gifts? There is still a lot and, therefore, we have plenty of time to prepare the best decoration for those days. Today I'm going to show you three crafts with which you can make original and fun Christmas socks to hang in your home. Even if you do not have a chimney, nothing happens; surely whoever brings the surprises will know where to reach them. They are made with different materials and techniques so you can choose the one you like best. We start!
1. Recycle an old sweater
The first craft I've seen in the blog Sweet Paul and consists of turning an old sweater into a decorative and nice Christmas sock. For this you will need …
An old jersey (even if it has colors or Christmas motifs, better)
Sewing machine
Two pieces of white paper
Fabric for the back of the sock
A ribbon
Scissors
The first thing you will do is a sock pattern; you can do it by freehand or get some template from the Internet. Then, cut the fabric with this shape and also the part of the sweater you want to use. Next, it will touch to sew both parts, leaving the top part open so that all the presents fit. In the upper corner, sew the ribbon to hang it where you prefer.
You may also like to read: Ideas for decorating the basement at Christmas
2. Fabric sock
The second sock that I propose is made of cloth. The idea is from the Ikea website, with photographs by Mats Ekdahl. In this case you will have to procure from:
Fabric of 130 x 85 centimeters
Another fabric of 80 x 40 centimeters, which we will use for the hem of the sock
Sewing machine
Chalk for fabric or marker
Scissors
First, you are going to fold the chosen fabric to create your sock from two halves. With the chalk or the marker draw on it the shape you want to give your sock (you can use a template as before). We have the fabric inside out, say, and the part of the fabric that is folded will be the straight part of the sock. Cut out there.
Then, unfold the fabric and sew the fabric of the hem at the top. When you have it ready, re-fold the sock and sew the rounded part. Turn the sock so that the seams are inward and turn the hem so that the top is more chubby.
3. Felt sock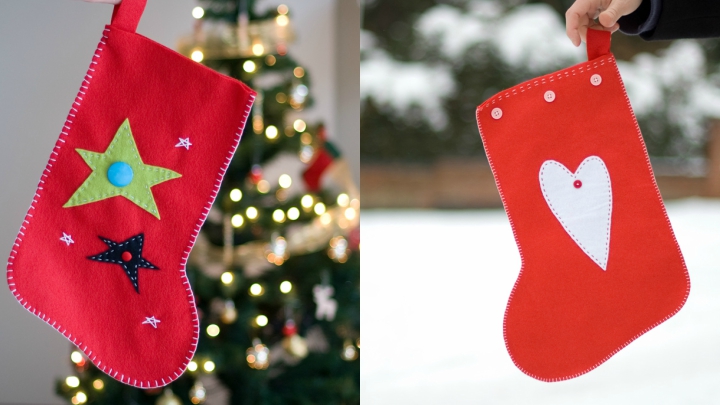 The felt is very grateful for crafts material. It will also serve to make a Christmas sock cool. The necessary materials are …
Felt colors
One A3 or two A4 paper (for the template or pattern of the sock)
Pins and needles
Embroidery thread
When you have the pattern ready put it on top of the felt and hold it with pins. You will need to cut two socks in the same direction, to create the front part, the one seen, and the one behind. You can cut them at the same time by putting two pieces of felt together, and this way you make sure they are the same. Then, sew both sides with the threads and decorate the area that is visible as you like: with stars, pompoms, snowmen, gingerbread cookies, firs, snowflakes …
With these three ideas, you will be able to design your Christmas socks totally to your liking. You just have to choose the one you like the most and give it your personal touch by choosing your favorite colors and motifs. Which one has caught your attention the most? You have a lot of room to prepare a very chic Christmas decoration. And I will continue to bring you more ideas …
Tags:
Christmas Decoration
,
Christmas Socks