Do you have a small balcony and dream of having your little garden paradise? Well, you're in luck because balcony gardening is the answer to your green dreams! It doesn't matter if you've never planted a seed in your life; with the right tools and a bit of enthusiasm, you can turn your tiny balcony into a thriving green space that's not only beautiful but also productive. In this beginner's guide to balcony gardening, we'll walk you through the basics and provide you with all the tips and tricks you need to succeed.
Small Balcony, Big Potential
Let's start with the obvious: your balcony may be small, but it's packed with potential. No matter how tiny your outdoor space is, you can transform it into a lush oasis. Whether you live in a bustling city or a cozy suburban neighborhood, balcony gardening can bring a touch of nature right to your doorstep.
Before you get started, take a moment to visualize what you want your balcony garden to look like. Do you want a vibrant flower garden, a herb haven, or maybe even a small vegetable patch? Your balcony can become a reflection of your personality and style. So, let's dig into the essentials to make it happen.
The Right Tools for the Job
Just like a chef needs quality knives to prepare a delicious meal, a balcony gardener needs the right tools to cultivate a thriving garden. Here are some essential tools to get you started:
1. Containers: Your choice of containers will define the style and functionality of your garden. You can use traditional pots, hanging baskets, or even vertical planters. The key is to ensure they have proper drainage to prevent waterlogging.
2. Soil: Invest in good-quality potting soil, preferably one formulated for the type of plants you intend to grow. Avoid using garden soil as it may not drain well and could contain pests and diseases.
3. Watering can or hose: Your plants need water, and unless you have a convenient water source on your balcony, you'll need a watering can or a hose with a nozzle for precise watering.
4. Pruners: To keep your plants healthy and thriving, you'll need a pair of pruners for trimming and deadheading. This will help your balcony garden stay neat and promote new growth.
5. Trowel and hand fork: These hand tools are invaluable for transplanting, weeding, and general garden maintenance. They are small and easy to store in your balcony garden toolkit.
6. Gloves: Gardening gloves will protect your hands and keep them clean while working with soil and plants.
7. Fertilizer: Depending on the type of plants you grow, you may need fertilizer. Consider slow-release granules for a consistent nutrient supply.
Container Garden Ideas: What to Grow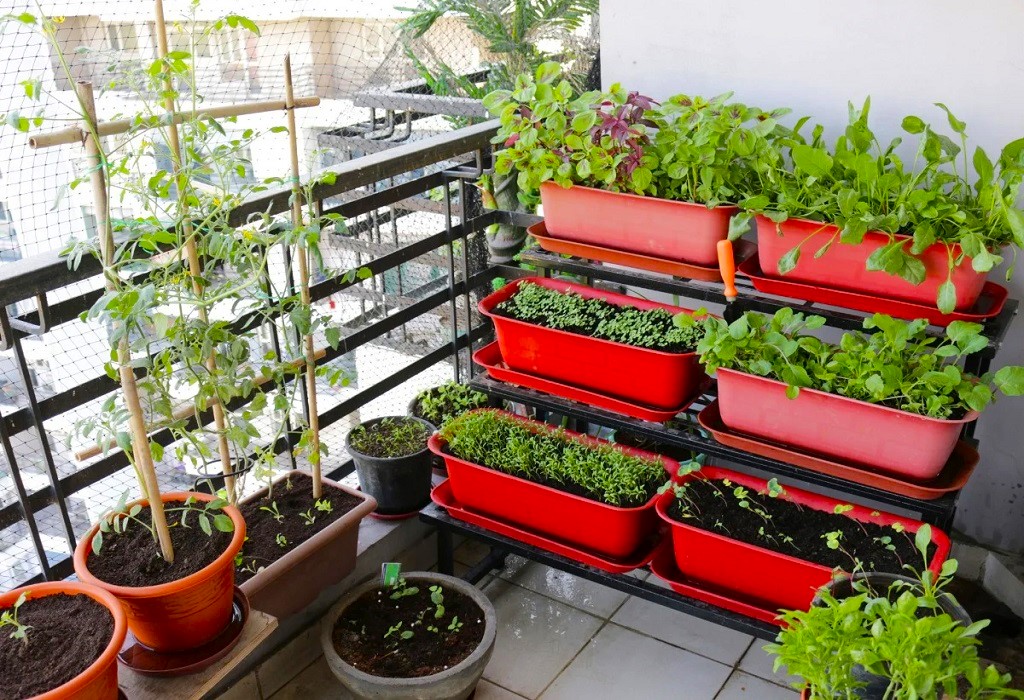 Now that you've got your tools ready, it's time to think about what you want to grow in your balcony garden. The good news is that you have a wide range of options, and your choice depends on your preferences and the amount of sunlight your balcony receives. Here are some ideas:
1. Flowers: Brighten up your space with colorful flowers like petunias, marigolds, or geraniums. Hanging baskets or window boxes can be a great choice to add vertical interest.
2. Herbs: Fresh herbs like basil, mint, rosemary, and parsley can be grown in small pots. They not only provide you with fresh ingredients for your cooking but also add a delightful aroma to your balcony.
3. Vegetables: Some veggies thrive in containers. Tomatoes, peppers, and dwarf varieties of beans and peas are excellent choices. You can also grow salad greens like lettuce and spinach.
4. Succulents and Cacti: If you have limited sunlight, succulents and cacti are low-maintenance options that add a trendy touch to your balcony.
5. Climbing Plants: Consider growing climbing plants like Morning Glory or ivy, which can cover railings and walls, creating a lush, green backdrop.
Remember that the size of your containers will determine the size of the plants you can grow. Smaller containers are suitable for herbs and small flowers, while larger ones can accommodate vegetables and larger shrubs.
Balcony Garden Maintenance: Keep It Simple
Balcony gardening isn't just about planting and enjoying your beautiful green space; it's also about maintenance. The good news is that maintaining a balcony garden can be quite simple, even for beginners. Here are some tips to keep your garden thriving:
1. Watering: The most critical aspect of maintenance is watering. Check your plants regularly to see if they need water. Stick your finger into the soil – if it's dry about an inch down, it's time to water. Be mindful not to overwater, as this can lead to root rot.
2. Fertilizing: Depending on the plants you're growing, you may need to fertilize every few weeks. Follow the recommendations on the fertilizer packaging and avoid over-fertilizing, which can harm your plants.
3. Pruning: Regularly trim back any dead or yellowing leaves and spent flowers. This not only keeps your garden looking tidy but also encourages new growth.
4. Pest Control: Keep an eye out for pests like aphids, mealybugs, or snails. If you notice any, deal with them promptly using eco-friendly solutions or insecticidal soap.
5. Sunlight: Ensure your plants receive the right amount of sunlight. Be aware of the sunlight patterns on your balcony and move your pots as needed to keep your plants healthy.
6. Repotting: As your plants grow, they may become root-bound. This means it's time to repot them into a larger container to allow for proper root development.
It's All About Balance
Balcony gardening is a bit like finding the right balance in life. You need to balance your time, attention, and resources to create a harmonious green space. Just like you'd adjust your schedule to make time for a hobby or prioritize relationships, your balcony garden needs care and commitment. But the best part is that it's all worth it when you see your plants thrive and your tiny balcony come to life.
FAQ – Your Balcony Gardening Questions Answered
1. Can I grow vegetables on a small balcony?
Absolutely! Small balconies are perfect for growing vegetables like cherry tomatoes, peppers, and lettuce. Just make sure you choose the right containers and provide enough sunlight.
2. What if I don't have much sunlight on my balcony?
If your balcony receives limited sunlight, opt for shade-tolerant plants like ferns, peace lilies, or snake plants. You can also consider using grow lights to supplement the light.
3. How often should I water my balcony plants?
The frequency of watering depends on various factors like the type of plants, container size, and weather. As a general rule, water your plants when the top inch of soil feels dry. In hot weather, you may need to water more frequently.
4. Can I compost on my balcony?
Composting on a small balcony can be challenging, but it's not impossible. Consider using a small, specialized composting bin or worm composting to manage kitchen scraps.
5. How can I make my balcony garden more environmentally friendly?
You can make your balcony garden eco-friendly by using organic fertilizers, collecting rainwater for watering, choosing native plants, and avoiding chemical pesticides. These practices reduce your environmental impact and promote sustainability.
Remember, your balcony garden is a reflection of your personality and style, so feel free to get creative and experiment with different plants and designs. With a little care, patience, and love, your small balcony can be transformed into a green oasis that brings joy and serenity to your everyday life. Happy gardening!