Any time and place can be good to relax. Listening to music quietly, reading a book or simply not thinking about anything. Today I propose a perfect manuality to design that special seat where to be able to enjoy your time of relax. It is a hanging hammock, ideal to place in a corner dedicated to relaxation you may have next to a window to enjoy good natural lighting. Let's see how you can do it, you can spend good times in it …
The materials you will need
This DIY I've seen on the blog A Beautiful Mess and to make the hammock have used materials strong enough and resilient enough to withstand about 90 kilos of weight. So it is perfect for both children and adults.
– 1 wooden rod about 3 centimeters in diameter for about 90 in length. Oak, for example, is a sturdy wood.
– A braided polypropylene rope about 4 meters long.
– A smooth canvas of about 2 square meters.
– Two carabiners to hold the rope to the roof and the canvas.
– Black paint for canvas.
– Paint brush.
– You will also need scissors, sewing machine, iron and drill.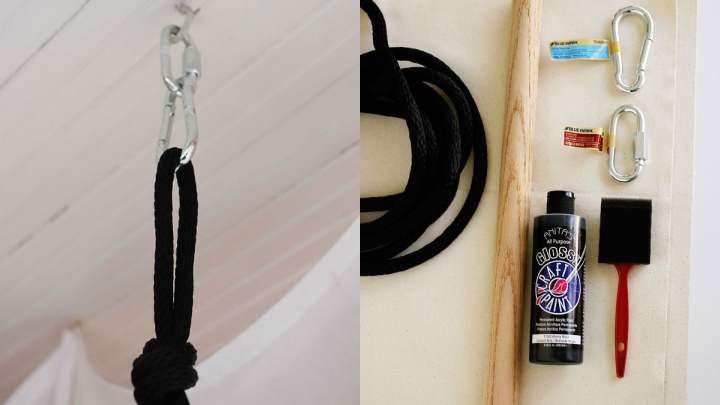 First steps
Fold the fabric in half and set it flat, making a crease on the left side. Measures about 17 centimeters from the upper right edge and mark. With a ruler, draw a line from that top, mark in the lower right corner and cut through both pieces. Open the canvas. Then fold the top edge slightly more than an inch and iron. Fold again and iron again. Sew the bottom of the crease and repeat with the longer bottom edge.
You may also like to read another article on houseilove: Decorate with wind chimes
Hold the rope
Then turn the fabric 90 degrees to the left so that the longest edge is to the right. You will create some pockets so that the rope slides through each side. Fold every corner about 4 inches and iron, then fold the top edge a little over an inch and re-iron. Then I leave you all the images of the process so that you see it step by step, you will become clearer …
Paint the canvas
Then sew along the bottom edge that you have folded and repeat on the other side. Make a 5 and 10 centimeter mark on both ends of the rod and drill. Place the canvas on a cardboard so that it has a solid base and paint the design that you like. If you do not want to paint, you can make a hammock with a cloth and stamped.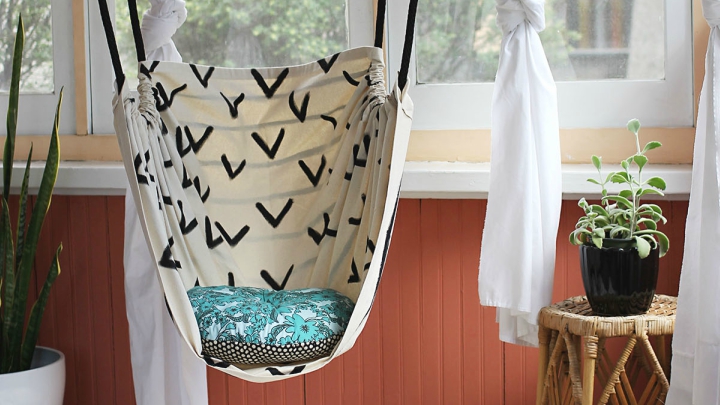 Tie the rope and hang it
To tie the rope, it is best to get fixated on the images of this craft, so you can see where they have made the knots. Find the center of the rope through the top of the wooden bar and make another knot. Join the rope with the carabiners and fasten the hook that you screwed on your roof. Make sure that all knots are well made and firm so that the seat is straight and stable. You can put a cushion inside to make it more comfortable.