We have seen repeatedly that the order is a fundamental part of the decor. And is that as much as you want to design a nice interior for your home, if you do not keep it organized, you will lose all the charm. There are decorative ways to sort your things, from the practical and aesthetic wicker baskets until these organizers that you are able to do yourself thanks to the instructions we see in today's post. You will see how easy it is to keep your work or study space tidy.
Pineapple tray
Let's start with a first craft that consists of customizing a pineapple shaped tray. As we have seen in the beginning, you can place it on the desk of the office, so that all the things about it are in a safe place, especially small ones that tend to scatter around the table. On the other hand, it occurs to me that you can also use it in the lobby, for example, to be able to leave the keys and small objects that usually prowl around any place without much order. So you will have everything by hand in one place. In any case, it is a very simple DIY that you can customize to the maximum. I'll tell you how they have done in the blog Design Improvised so that later, if you want, give them your particular touch and emplees other colors and even otherwise for your tray.
The materials
– A tray of wood. In this case it is pineapple shaped and is very decorative in itself, but if you find it difficult to find it you can make this organizer with another square, round or any shape you like.
– Paint your favorite colors to combine or contrast with the rest of the decoration.
– Paint brushes.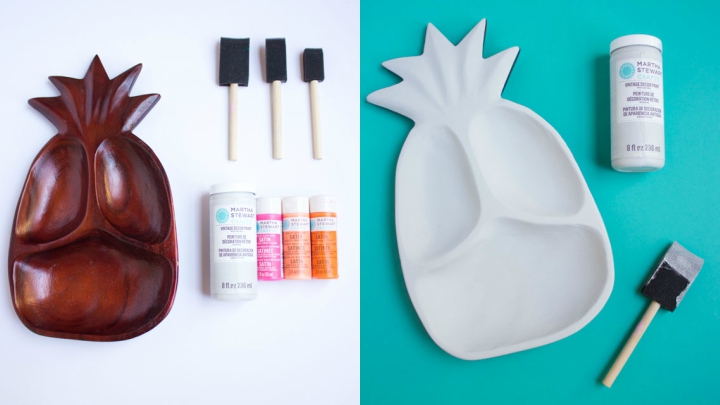 How to make your pineapple organizer
The first thing you have to do is paint the top of the tray with white paint. You can give it two layers so it has enough coverage. The bottom has left the color of natural wood and makes a very beautiful contrast. You can paint all white if you prefer. Or even the base of another color.
You may also like to read another article on houseilove: Multipurpose tray-shaped pineapple
The compartments
Now, paint each of the inner compartments of the tray. In this step you can use the colors that you like, in this tutorial they have been used very bright and vivid hues like pink, orange, yellow or green. Very tropical to match the pineapple. Apply two layers if you want it to be well covered and let dry. Then, you just have to fill this organizer with those utensils of your office that you need to have more at hand.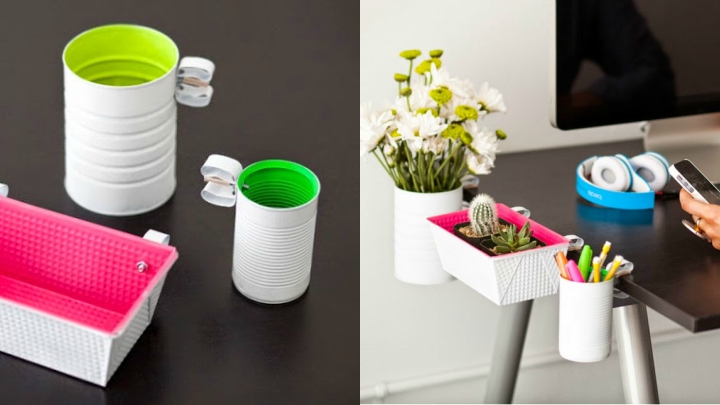 Another manual to keep your office organized
Come up with an extra and in this case is another craft that will help maintain order in your area of work or study. It's from the blog Brit + Co and to do so you're going to need:
– Metal cans and a mold.
– A drill.
– Some clips.
– Nuts, bolts and washers
– Spray paint.
The process
To make these boat organizers the first thing we will do is drill a hole with the drill in the metal cans and in the mold. Then we paint them with the spray, of the colors that you like, here they have left the outside in white and the interior of different colors. You should also paint the hooks that join the organizers to your table and must be screwed into each of them. To make them strong enough and to hold tightly to the edge of the table, you can put them on a cardboard or a thin sheet of wood.
Tags:
crafts
,
DIY
,
office