Does the style vintage is your favorite and want to give a special look to your bathroom? Then the ideas that we see today you will like … It is using furniture, materials and appropriate details for this stay has a lot of personality and a touch vintage so characteristic. We help you to do it, you just have to take into account some simple guidelines. It may suffice with small modifications to achieve this. Go for it!
Sanitary ware
A first idea to decorate your bathroom with style vintage is doing through health, that is, bet on sinks and toilets with this retro style so decorative. You can choose white porcelain sinks with faucets also have aesthetic vintage, finished in chrome or brass, for example.
The bathtub
Undoubtedly the most personality sanitary vintage can bring to your bathroom is the bathtub. You need space for it, but if you cannot place a stop with legs or even without legs, but is completely visible. These two examples are quite illustrative. They are different styles but very nice both. And so decorative that they make us fall down before them, do not you think?
Wooden floors
Another idea for a touch vintage to the bathroom is to place wooden floor. Of course, it should be treated to withstand moisture and water could drop you. They may be more difficult to care for and maintain, but the result is spectacular. However, if you do not want to put a wooden floor in the bathroom today there are a lot of options such as vinyl floors, which you can place on the tiles, or ceramic floors that imitate this material.
You may also like to read another article on houseilove: Minimalist tubs

Decorative details
The finishing touch to these baths arrives with the details that you put in them. Going to look great one vase with flowers, for example, a beautiful sight towels, soap stylish vintage, some lanterns … There are plenty of options!
Mirrors and Bathroom Furniture
Large mirrors with large gilt frames … A classic in your bathroom vintage. In addition to being very decorative they will help you to make the space visually wider, although having these dimensions you must already have a wall large enough for that. However, there are smaller ones that create a precious effect equally. Complement your mirror with a cabinet aged wooden sink and you'll see how nice it is.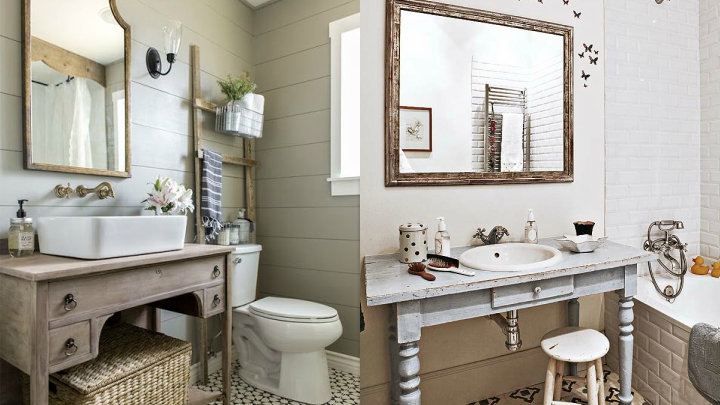 Painted paper
The wallpaper is highly decorative. Wonderful for the bathroom! In this case we recommend the same as for the floor: make sure it is resistant to moisture. There are specially designed for these stays choices so sure you give the equipment perfect for your bathroom. They can look great with a floral pattern, for example.
Tiles
If you prefer tiles lifetime, we have always seen in the bathroom, choose designs with retro aesthetics. They can be with some pattern or only white, square or rectangular. And they can occupy the whole wall or only half, and leave the rest painted.
Tags:
bathroom
,
vintage style