Cacti are a decorative resource with many possibilities. And I do not mean only the plants! Also you can include in your walls and textile items such as stamping pads, or even have a cushion that. And if you like crafts, you can also do with your own hands one of fabric. Today we will see some ideas for decorating with cactus. Environments look great in Nordic style, but actually, you can place anywhere. Stick with it.
Cactus plants
Let's start with the cactus as such plants, these decorative elements that fit well in any room and transmit joy despite having the surly appearance for its kebabs … They are easy to care for and always prove effective. In addition, there are many alternatives to place.
Cactus in glass containers
One of the ways I like is the cactus in glass containers. I love how they look in round vases fishbowl and in jars Mason Jars as we see in these two photographs that serve as examples.
Cactus in ceramic cups
An idea to decorate your kitchen with cactus is to plant several of them, of the little ones, in ceramic cups of different shapes and colors. You can place several of them on a shelf. You will see how nice decoration gets for this stay, bringing a note of very original color. If you prefer a style vintage, put them in metal cans.
Different sizes and shapes
The nice thing is that cacti have many species, sizes and shapes, so it is possible to find one that best fits the decor of your home. For example, you can make a composition with several small or placing a very large and high in a corner of the room, in a large pot also.
You may also like to read another article on houseilove: 7 Ways to decorate with boxes
Cactus prints
Cactus prints can be introduced into the cushion covers or quilt, even on the sheets, in order to create a fun and colorful decoration. There are also cushions in the shape of a cactus, very decorative and perfect to dress up your sofa or an armchair in an original way.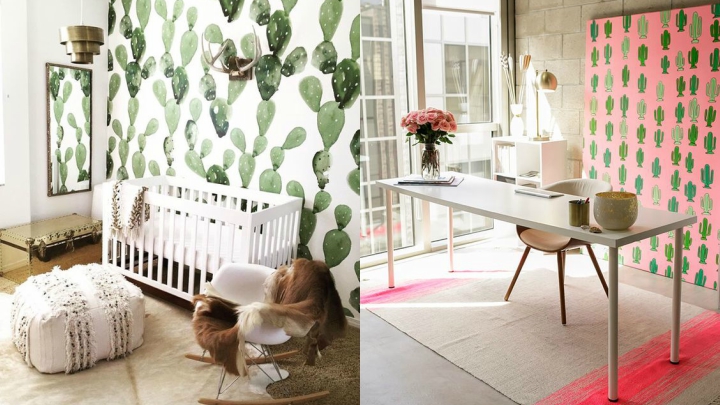 Cactus wallpaper
Another way to enjoy the cactus without placing a prick is painted with this paper print. We recommend you do it only on a wall if you do not want to end up a bit dizzy so plant … In the example on the right have used a sheet to decorate the wall, and also looks good …
What cactus stay put?
Cacti, as mentioned before, are great in virtually any room. The can place in your office, also in the lounge or even in the kitchen. With well lit it is practically sufficient. Feel great to the Nordic environments, since on a white decor highlighted much and combined with wood create very warm and cozy spaces.
Decorative objects shaped cactus
But there is more. Shaped cactus lamps, vases shaped cactus, organizers rings shaped cactus, coat racks … There are many decorative elements that can have your favorite plant as a protagonist.
Tags:
cactus
,
Ideas to decorate